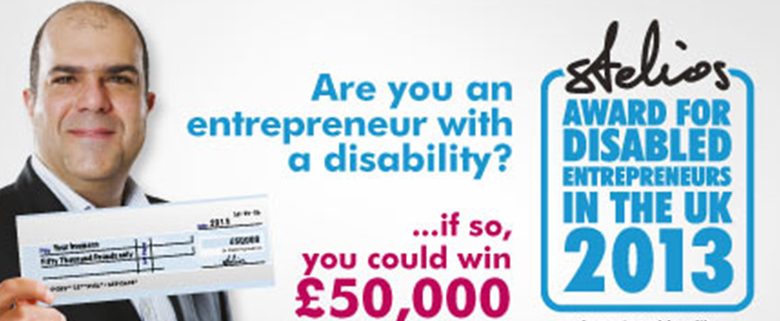 The Stelios Award for Disabled Entrepreneurs is back, and the winner gets £50,000 – the largest cash prize of its kind. Maybe it's time for you to apply…
The award recognises talents of business owners with a disability or long-term health condition. £50,000 is up for grabs as easyJet founder Sir Stelios Haji-Ioannou is calling for talented disabled entrepreneurs to apply for this year's Stelios Award for Disabled Entrepreneurs in the UK.
The winner of the award, now in its eighth year, will be presented with a £50,000 cash prize at a special ceremony in London later this year.
The award, jointly run by the Stelios Philanthropic Foundation and the charity Leonard Cheshire Disability, recognises the achievements of disabled entrepreneurs who have overcome challenges to set up their own businesses.
Last year's winner, James King, has invested the £50,000 winning prize into strengthening his business, Oliver James Garden Rooms. He overcame the challenges of having a progressive eye condition, Retinitis Pigmentosa, to set up his garden room extensions firm, and began trading in 2011.
Now with a workforce of seven and a turnover of almost £300,000, James works with homeowners across Buckinghamshire, Bedfordshire, Northamptonshire and Hertfordshire.
James said of the benefits to his business:
It's a huge lift when you think that a successful business tycoon can see a future in your business and believes in you.

Winning the award has enabled me to employ two new members of staff, create a building manual and put our own bespoke IT systems in place. We've designed a more efficient way of working with our customers from initial enquiry to finished Garden Room which will allow us to grow capacity far into the future.
Sir Stelios says:
I am passionate about encouraging entrepreneurship, and the previous winners of this award offer proof that there are many highly talented disabled entrepreneurs out there.

Removing the barriers disabled people face in business is essential. I hope the Stelios Award for Disabled Entrepreneurs will change that by highlighting their achievements and contribution to society.

We want to hear from talented disabled entrepreneurs who are able to show they have got what it takes to run a successful business and meet a real need in the market.
The deadline for applications is Friday 19 September 2014. To apply or download an application form visit www.leonardcheshire.org/stelios or call 020 7112 1489 (choose option 1). Alternative formats are available on request.
By Stelios Award for Disabled Entrepreneurs
Check out…
Get in touch by messaging us on Facebook, tweeting us @DHorizons, emailing us at editor@disabilityhorizons.com or leaving your comments below.