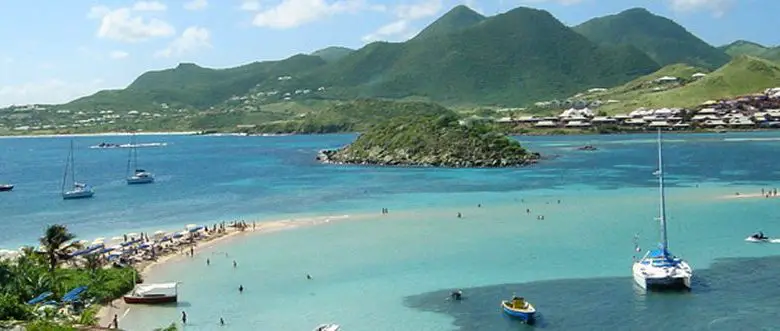 Travel & Holidays
Accessible Caribbean island: from a travel addict and wheelchair user
Cory Lee is a 24 year old travel addict and wheelchair user. After being diagnosed with Spinal Muscular Atrophy at a young age, he swore he would never let it stop him from seeing and exploring the world. Since then, he has traveled across 14 countries. Here, we talk to Cory about travelling to and around St Martin in the Caribbean.
I've long said that cruising is the best way to travel as a wheelchair user because it allows you to see many destinations without having to transfer in and out of a plane. Cruises also tend to be fully accessible, and on my cruise with Carnival Cruise Lines to the Caribbean, we had a wheelchair accessible room that even had a large roll-in shower.
It turns out that accessibility at sea is completely possible! On our eight night cruise we visited four different ports: Grand Turk, St. Thomas, St. Martin, and San Juan. Honestly, I expected San Juan, Puerto Rico to be my favorite port, but St. Martin went above and beyond my expectations.
Before arriving in St. Martin, or St Maarten as it's called in the Caribbean, I honestly did not know anything about the island. I probably couldn't even have located it on a map. That's a little embarrassing considering the fact that I am a travel blogger, but whatever… it's the truth.
Even though I knew zilch about the place, I was still really excited to explore the island and add not one, but two new countries to my list. That's right, the island is technically two countries with one side being Dutch and the other side being French. Since I am on a mission to eventually join the Traveler's Century Club, a club for people who have visited 100 countries or more, hitting up two countries in one stop made me very happy.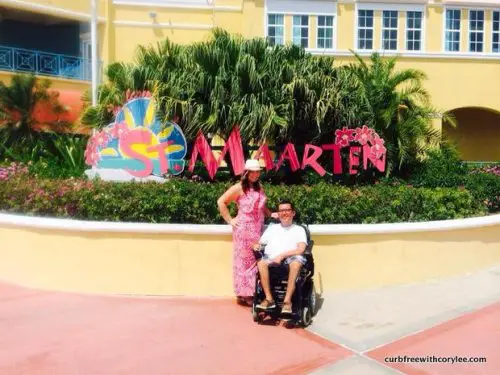 Our cruise ship docked on the Dutch side in Philipsburg, which was a great starting point for our day. Accessible Ventures (phone number: 721-522-3147) is a company that offers wheelchair accessible tours of both sides of the island in an adapted van with a lift. The van is big enough for about ten people and two wheelchairs, but it was just my friend Kela and I on our tour.
It is a set price no matter how many people are on the tour, so we ended up paying a higher price per person than if we were in a group of ten. For our three hour tour it was $200 for the two of us. Sure, that's a bit much, but I couldn't find any other accessible tours in St. Martin, so I just sucked it up and forked over the cash as I was desperate for a good tour.
Sometimes there are advantages to being in a wheelchair (reduced admission to theme parks, free parking, etc), but there aren't any when it comes to the price of and limited option with tours. Some of the other tours that Carnival Cruise Lines offered were just $50 per person, but none of these tours were accessible –  charging more for accessible tours is probably my biggest pet peeve.
Our driver was extremely nice however and tried to ensure that we were always smiling and having fun. He told us a few jokes and some interesting facts about the island.
We drove all around the Dutch side first, visiting various beaches and getting some great photos. One interesting beach that we visited was called the Adam & Eve beach at Orient Bay. This beach is different from the others because it is a fully nude beach. We didn't spot any supermodels as we drove by it. But instead, we only saw an old man.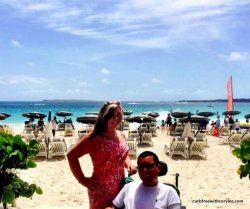 Next, our driver took us over to the French side of the island. We stopped in Marigot, the capital of St. Martin, and got to walk around for about 45 minutes. Kela and I strolled along the beach, shopped in the outdoor markets, and even drank some delicious pineapple juice. This juice was freshly made at a small place called The Coconut Man – I am nearly salivating just thinking about it now…
I truly loved my time in the beautiful St. Martin and I was impressed more than I thought I would be. Even though our wheelchair accessible tour was rather costly, I thought that it was worth every penny and I am very happy that we did it. When you're in paradise, I guess that you have to be willing to pay the price.
By Cory Lee
You can find out more about Cory's travels by visiting Cory Lee's travel blog, curbfreewithcorylee.com. You can also follow him on Twitter @coryleetweets.
Check out…
• New Forest National Park accessible adventure story
• Top 10 tips for a hassle-free accessible holiday
• Accessible walks: take a walk on the wheeled side
Get in touch by messaging us on Facebook, tweeting us @DHorizons, emailing us at editor@disabilityhorizons.com or leaving your comments below.