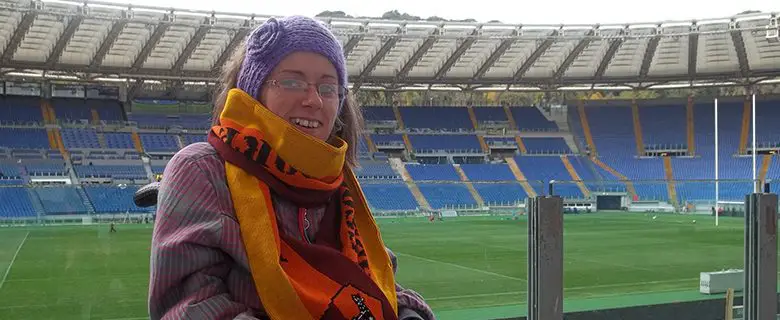 Would you like to go on an amazing trip abroad but you are a wheelchair user? Are you afraid of the potential barriers? I recently visited the ancient city of Rome and fell in love with it.
My name is Kasia and I have a motor disability. I had the chance to visit Rome in 2012 having taken part in a trip held by The Travel without Borders Foundation. Visiting Rome was my dream and I found that the city is an open and easy place for people with a motor disability. I would like to tell you about my adventure. Let's get started.
Accessible accommodation
In Rome, when you have a disability and are taking part in a trip held by a foundation, association or parish, you can use free accommodation. Founded in 2000, John Paul II Pilgrim House is one example of accommodation available for people with a disability and is fully accessible. There is a lift, wide doors, spacious rooms, accessible wet rooms and it is step-free. The house offers free food too; breakfast, lunch and dinner. The Pilgrim House has an allowance of one assistant for two people with a disability.
You need to submit a written application to the management of John Paul II Pilgrim House (in Italian) in order to book a stay. There are some obstacles: the waiting period can be about 12 months, the accommodation isn't available between June and August, and your stay can be no longer than 7 days.
Must-see in Rome
As Rome is a cultural and historical haven, there are so many amazing places to visit. These are some of the most important sites in Rome that I saw or could have planned to see, with some details about their accessibility.
The Vatican Museums – staff help visitors with disabilities showing the route, lifts and accessible toilets
The Sistine Chapel – staff are helpful here, showing people the route and the platform lift
St. Peter's Square and Basilica – fully accessible and if you get lost, just ask a Swiss Guard and they'll help you out
Pantheon – ramps, spacious, wide pathways
Trevi Fountain – very overcrowded, cobbled around the fountain, steps next to the fountain
The Spanish Steps – no lift
The Colosseum – rugged ground in front of the building, but there are ramps, lifts, accessible toilets
The Roman Forum – bumpy path , cobbles and , abrupt turns, so not easily accessible
The Palatine Hill – not accessible at all and there is an uphill cobbled route, there are two melexes to hire
The CapitolineHill – steep ramps
Basilica of Saint Mary Major – ramps
St Paul's Outside the Walls – ramps
The Lateran Basilica – quite steep ramps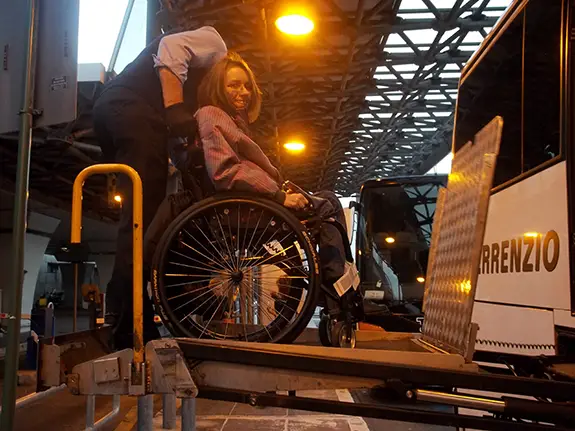 Accessible Transport
I (together with a travel group) travelled to Rome by plane. It was a great way to cover the distance between Poland and Italy – the journey lasted 2 hours. We had a special entrance to baggage check-in, personal check-in and support whilst heading to the plane. Everybody using a wheelchair had the support of two personal assistants getting in and out of the plane (in Rome it took a little longer due to the Italian style of working).
On the trip I travelled occasionally by an accessible bus with a lift, but most of the time the group travelled by foot (or by wheelchair). People using wheelchairs needed some support where there were bumpy roads, curbs or cobbles. I didn't use public transport during the trip so I can't comment on how accessible it is.
At The Coast
I spent a few hours in Ostia, which is the district of Rome situated about 30km from the city centre. There was not accessible access directly on to the beach, but the time I spent there was wonderful: amazing views, the sound of the sea and so relaxing… I wanted to stop time! I had a chance to eat delicious pizza there too.
Surprise – Stadio Olimpico!
Thanks to one of the other attendees of the trip, I was lucky to visit The National Stadium of Rome. It impressed us because it is fully accessible – places dedicated to fans with a disability, lack of stairs or kerbs, ramps, accessible toilets, and a support area accessible for players, referees and trainers with a disability.
Summing up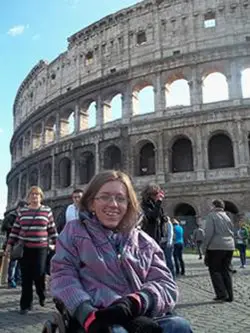 Rome is a city bustling with tourists, and I can see why, it's so beautiful. There are nice views, and some places where you will meet high kerbs, uneven (bumpy) pavements and some inclines, but many places are designed with people with disabilities in mind. You'll find platform lifts, ramps, accessible toilets, and good customer service.
I had a wonderful time in a beautiful, sunny Rome with a great group. I would like to thank Marta Ostrowska and Ewelina, my sister, who helped to make the dream of that amazing trip came true! The unique architecture, weather, friendly people, style and taste of aromatic Italian coffee and delicious seafood are all reasons that I'll return again…
By Kasia Hawrylo
Check out…
• Accessibility in Tokyo: the good, the bad and the annoying
• Disability behind and in front of the camera
• Spinal muscular atrophy adventure: travelling to conquer Europe
Get in touch by messaging us on Facebook, tweeting us @DHorizons, emailing us at editor@disabilityhorizons.com or leaving your comments below.