Josh Grisdale has cerebral palsy and has been living in Tokyo for nearly a decade. He runs Accessible Japan, a source of information on accessibility in Japan including general tips tourist attraction reviews and more!
At 6 months of age I was diagnosed with severe cerebral palsy and have used an electric wheelchair since the age of 3. However, there has never been any doubt in my mind that I was going to let that hold me back from leaving frozen Canada and move to the object of my affection – Japan.
The first time I visited Japan was back in 2000. Back then using the train had its challenges. Not every station had an elevator, and if there was one, it was often not for public use. So there were many times I have had to get out at a nearby station and drive the rest of the way in my wheelchair.
The first time I went to Akihabara, I was guided through staff-only areas and unceremoniously exited the station via a back alley where the garbage was thrown out! Another time I was carried down a number of flights of stairs by 6 station staff – a mixture of utter fear and gratitude that I still remember 15 years later.
A few years later in 2007, I moved to Japan permanently. A question I often get from both Japanese people and foreigners is "isn't it harder to live here than in Canada for a person with a disability?"
The answer is a resounding "no!" Japan is a great place for accessibility. It didn't used to be, but that's not the case anymore.
Here are 3 great things about accessibility in Japan.
1) Tourist Attractions
A number of years back, Japan put into force a law to ensure accessibility at many places throughout Japan. However, the real reason for the rapid improvement in accessibility is likely to be due to the aging population and the bubble economy of a few decades ago – there are many seniors in Japan with a disposable income who love to travel.
As many of Japan's tourist attractions are cultural heritage sites, attention is paid to integrating accessibility features with the aesthetics of the site. This may mean entering via a hidden side entrance, but more often than not it will come in the form of a ramp made of aged wood or an elevator designed to look like a temple building. Many of these integrations are not immediately obvious, so before giving up, make sure you ask a staff member or security guard.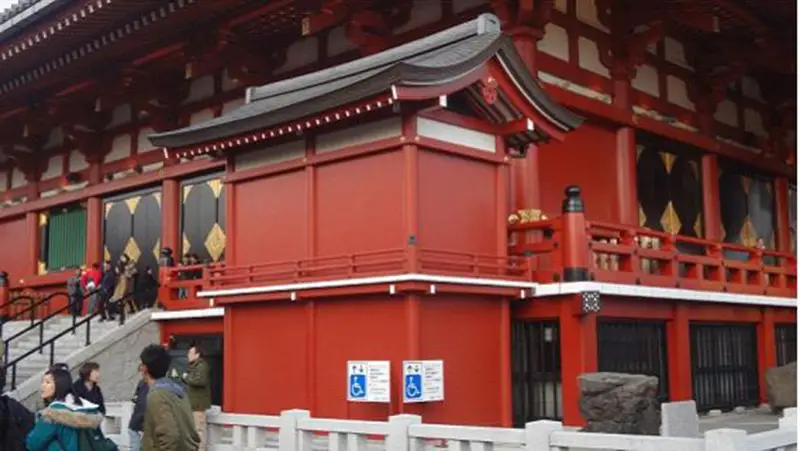 2) Transportation
Tokyo's sprawling public transit system looks like a colourful and incomprehensible plate of spaghetti, but here is a secret: it's actually easier if you have a disability. No need to follow signs in underground labyrinths, if you have a physical disability, simply tell the staff member at the ticket gate where you want to go and then wait while they make arrangements.
They will call ahead to your destination (including any transfers along the way) and then a staff member will direct you to the track. After helping you on the train with a portable slope, you can rest easy knowing that another staff member will be waiting to help you get off. Check out this video to see it in action:
The Bullet Train, or Shinkansen, also features spaces for wheelchairs (including a private compartment if needed) and a toilet that is large enough to handle a wheelchair.
3) Toilets
When traveling in another country, what to do when nature calls is an issue whether you are disabled or not. However, for those with disabilities it can be even more stressful as there are far more regular washrooms in the world than accessible ones.
Instead of a slightly enlarged stall at the back of the washroom that can be hard to use with an attendant, Japan has the 'multipurpose toilet'.
These extra wide accessible toilets are an entirely separate room located between the men's and women's toilets. They are designed not just for people with disabilities, but also for seniors and mothers with young children. They're equipped with handrails, diaper changing board, baby chair, sinks for cleaning ostmate bags, as well as emergency call buttons.
These toilets are also readily available. They can also be easily found at tourist attractions, public buildings, department stores, larger supermarkets and in parks. Extra Tip: you can also use the Check a Toilet app when you're on the go.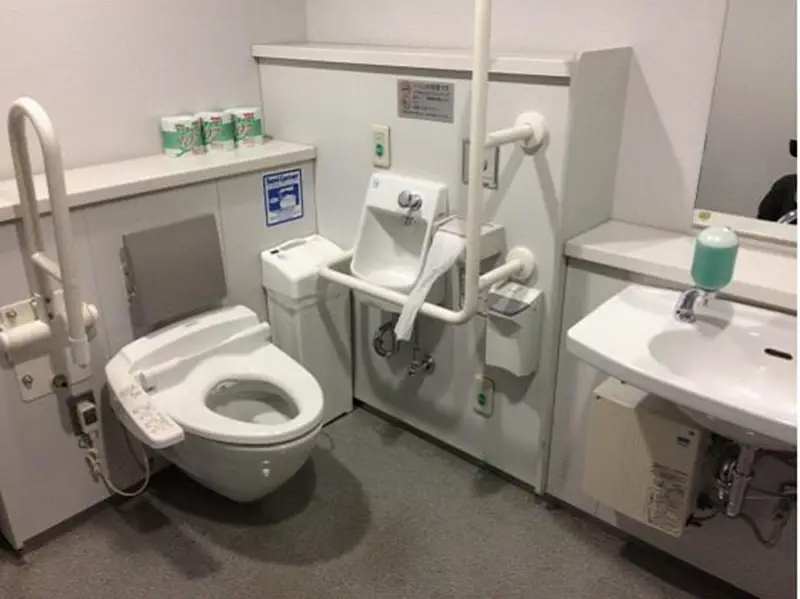 In 2020, Tokyo will be holding the Olympics and Paralympics and is working harder than ever to make the city easier to access for all.
Come visit Japan – it's easier than you think.
By Josh Grisdale
Follow Accessible Japan on Facebook and Twitter.
If you're planning your next holiday, why not visit our new travel site, Accomable, to find accessible accommodation not just in the UK, but across the world.