Here's an interesting fact, wherever you are in Britain, you are never more than 75 miles away from the coast! This really means you're never more than 75 miles away from Britain's most popular tourist attraction and best of all, it's free! Robert Obey explains.

If you've visited our blog TheBimblers.com you'll know there's nothing more we love than a bimble along the coast. But, how much of it can be explored in a wheelchair? How much of Britain's coastline is accessible to people with mobility problems?
Accessible Coastal Walks
Great Britain has an estimated eleven thousand miles of coastline. Mainland Britain, however, has approximately five thousand miles of walkable coast, that's five thousand miles of diverse terrain, dramatic scenery, Victorian promenades, quaint villages and industrialisation, all of which adds to its charm.
As you read the post, remember, the coastline is a living, breathing thing. It's dynamic, shaped daily by the weather, sea, flora and fauna and of course, humans.
Plans are in place to create a national coastal path circumnavigating the whole of Great Britain. Essentially, existing paths will be joined to new sections, some of which will be accessible and wheelchair friendly.
In the meantime, those of us with limited mobility can still enjoy many accessible routes on the coast. To whet your appetite, we'd like to share 10 of our favourite coastal walks.
England
At present, England doesn't have a joined up national coastal path. There are still many fantastic walks on locally managed paths. Depending on your individual level of mobility, some walks are more suitable than others.
1 – Holderness Coast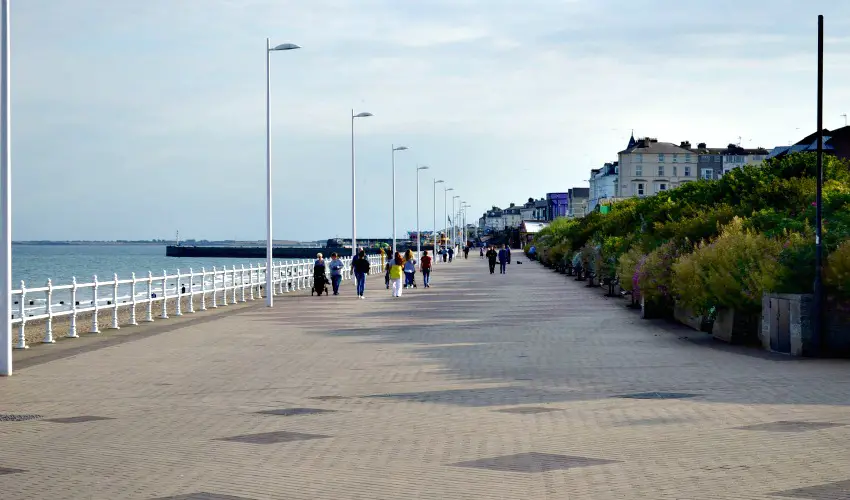 Not a coastal area often mentioned, the Holderness Coast which runs from the Humber Estuary to Bridlington on the North East Coast of England has many accessible walks.
The best walks are generally in the seaside towns of Hornsea, Withernsea and Bridlington, with the latter being our favourite.
Bridlington is a town of two beaches, north and south. From our perspective, the whole promenade is wheelchair-friendly and offers majestic views of the award winning beaches and chalk cliffs of Flamborough.
2 – Cumbrian Coast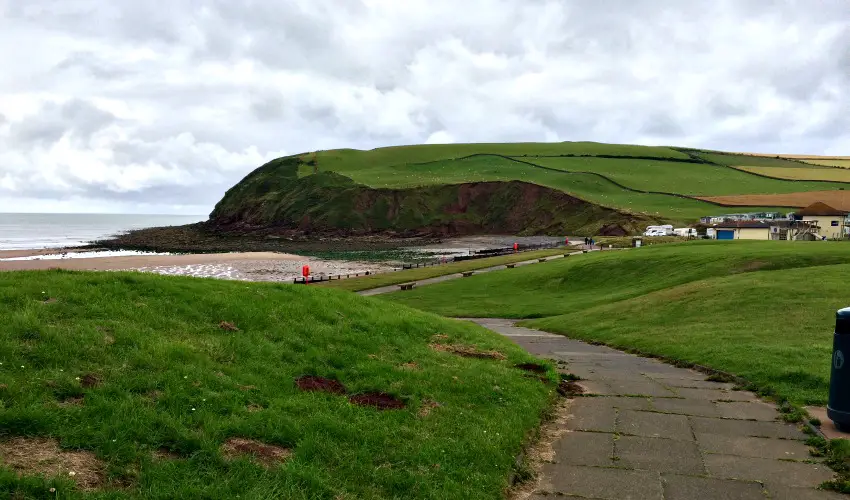 Famed for its hills, fells and lakes, Cumbria might not be at the forefront of your mind when you think of a coastal walk.
Easy access routes are mainly in the coastal towns including Barrow in Furness, Whitehaven and Workington.
For a short, yet pleasant walk, we'd recommend visiting St Bees in the western lakes. St Bees is the start of Wainwrights Coast to Coast Walk. There're plenty of parking spaces in the bay, access down to the beach and seafront and a pleasant walk along the sea wall.
3 – Morecambe Bay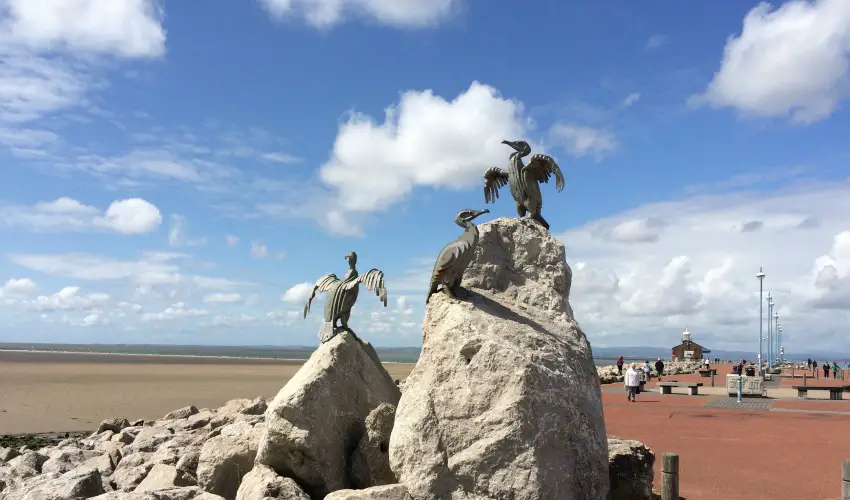 Morecambe deserves a special mention. Often overlooked for its famous northern cousins, Morecambe seafront and promenade has undergone a massive transformation, designed specifically with access in mind.
You can walk for miles along the updated promenade, which helpfully has flat breaks in any uneven surfaces or take a pleasant stroll out into Morecambe Bay on the wheelchair friendly Stone Jetty.
4 – Bournemouth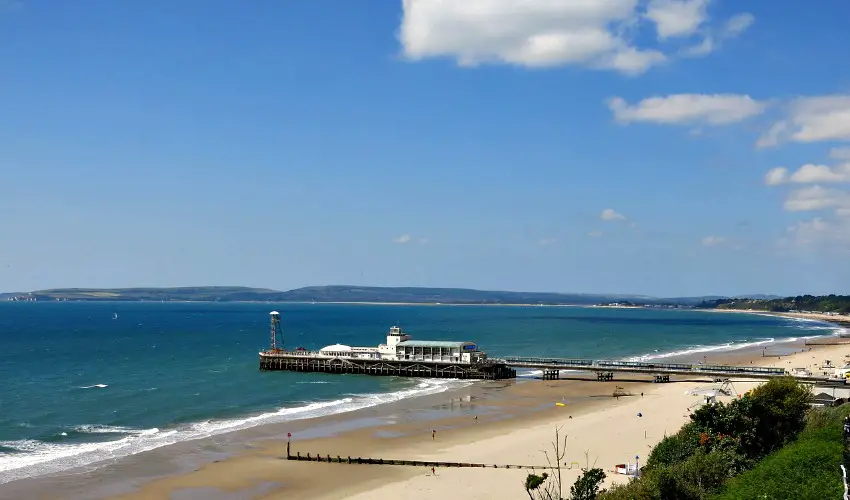 We haven't travelled much in southern England, but one of many walks we want to do is Bournemouth Promenade.
Not only does the promenade offer great accessibility, but also an accessible beach, disabled friendly beach huts, beach wheelchair hire and a wheelchair friendly land train.
Bournemouth clearly takes accessibility seriously and for that reason alone, it's a coastal walk we absolutely should do.
England Coastal Walk Resources
England Coast Path and National Trail
South West Coast Path
—————————————————————————————————————————————
Scotland
Scotland is unique in Britain when it comes to walking because it has a freedom to roam policy. What that means to us, is that we are free to walk wherever we want (within reason). Obviously, we have our own limitations, but there's still a plenty of accessible walks to enjoy.
5 – Stranraer and the Ayrshire Coast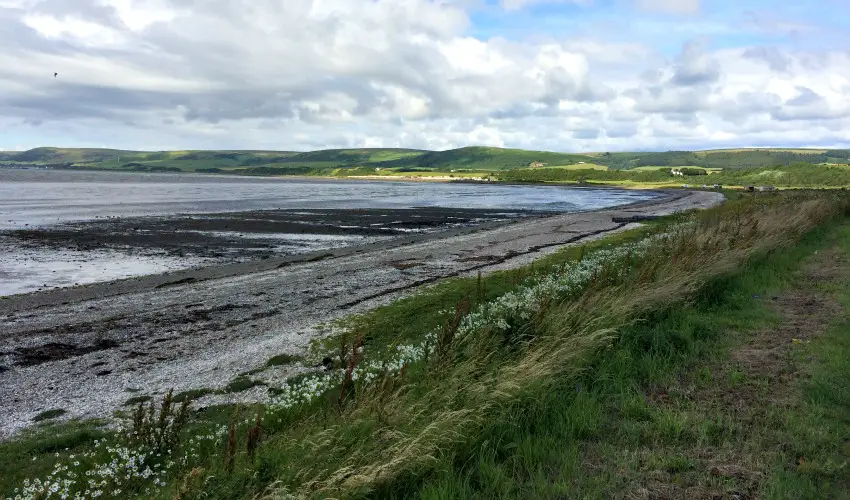 This beautiful coastline in south-west Scotland offer miles of wheelchair friendly paths. Once you get out into the countryside the paths become unsuitable for most, but you can still see much of the coast on the promenades and harbours.
Stranraer offers a pleasant walk on the shores of Loch Ryan. Starting in Stranraer harbour you can walk to around this impressive sea loch or there are plenty of parking areas around the loch if you prefer to park up and take shorter walks.
Alternatively if you're further up the coast, pop into Ballantrae, Lendalfoot and Girvan, all of which have accessible walks on the seafront.
We're looking forward to walking the coastline in Ayr and Troon; we're especially excited about visiting Largs, which seems to get the most positive feedback from previous visitors.
6 – Oban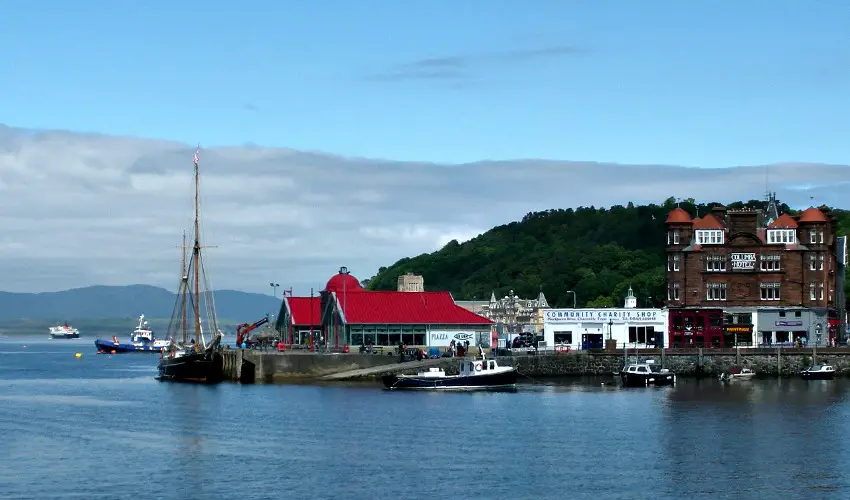 It's been awhile since we visited Oban on the west coast of Scotland. The last time we were there we didn't need a wheelchair. Whenever we think of Scotland, we think of Oban because it holds so many special memories, and, for this reason, it's a walk we need to return to.
Known as the seafood capital of Scotland, Oban is one of those places you just can't help falling in love with and a walk around the bay just deepens this affection.
7 – Fife Coastal Path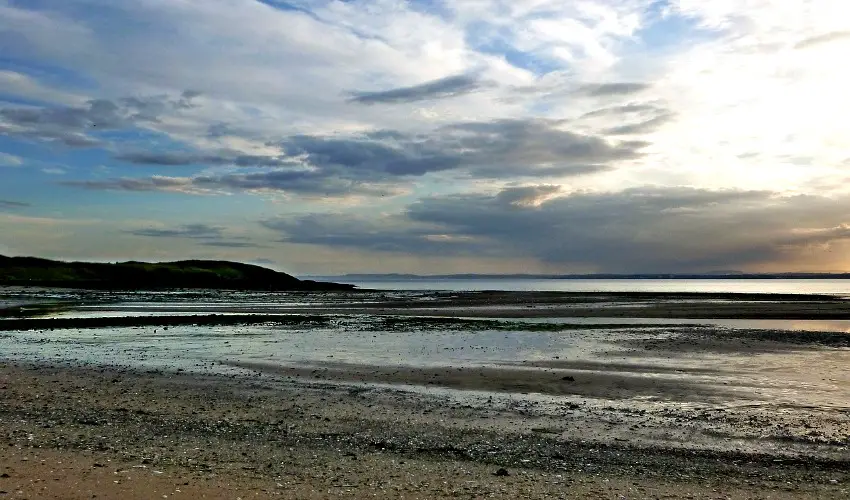 A clearly mapped out path on the east coast of Scotland offers plenty of accessible walks. Again, the ones suitable for us are mainly in and around small fishing harbours and holiday destinations.
We haven't had the pleasure of visiting them all, so rather than naming one walk, we'd recommend a road trip along the coast calling into Burntisland, Pittenweem and St Andrews.
Once in St Andrews, obviously take a walk around the university town, but also get yourself down onto the shoreline for some easy access walks and stunning views across Fife and the North Sea.
Scotland Coastal Walk Resources
—————————————————————————————————————————————
Wales
The Wales Coast Path is Great Britain's only countrywide coastal path. Opened in May 2012, it's 870 miles in length and a challenge by anyone's standards. Fortunately, there are many accessible sections we can explore. We especially like the promenade routes passing through Wale's seaside towns:
8 – North Wales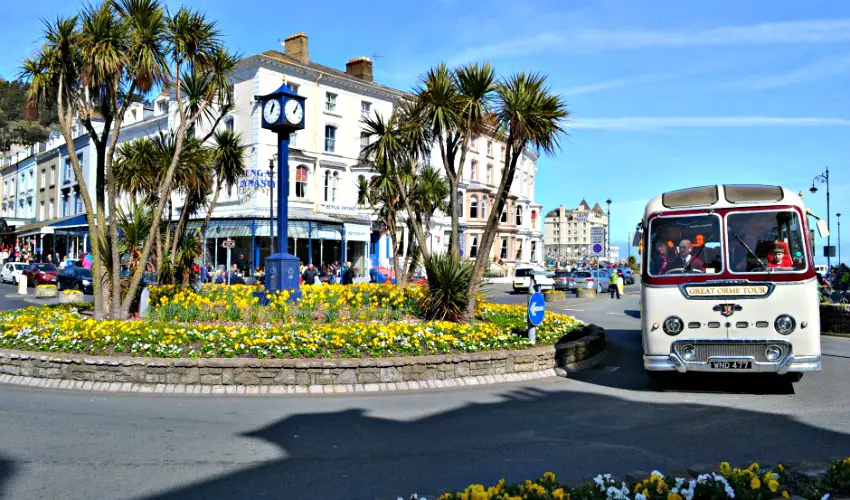 Seaside towns in North Wales are generally accessible due their popularity with holidaymakers. Mile upon mile of flat promenade means you can literally walk from one town to the next without stepping off a pavement.
A particular favourite of ours is a promenade walk in Llandudno. If there is such a place, Llandudno is access paradise. A bold claim, but after walking the full length of the promenade, pier and town, we didn't encounter one barrier. In addition, Llandudno is not over commercialised and has maintained its Victorian charm.
9 – Bangor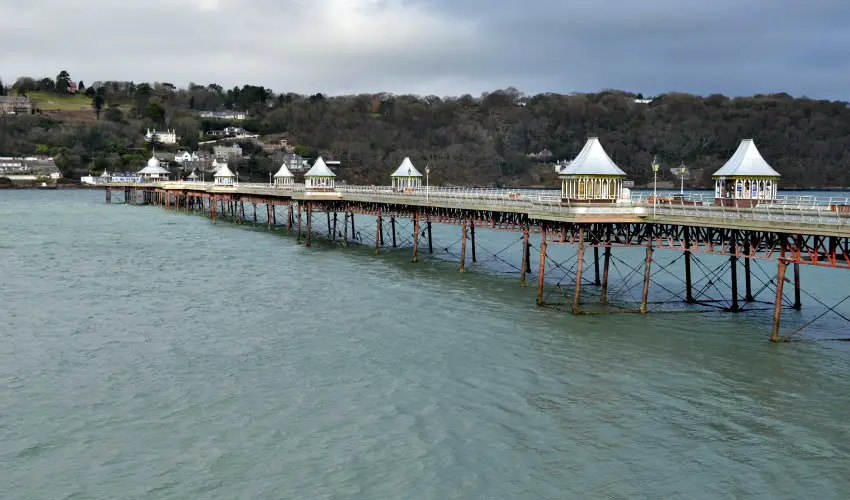 On the Menai Strait is the fantastic Bangor Pier (Garth Pier). This 1500 feet long pier is the second longest in Wales. On a clear day you get brilliant views of the straits and Anglesey. It's not a long walk, but its certainly a pretty one.
10 – Cardiff Bay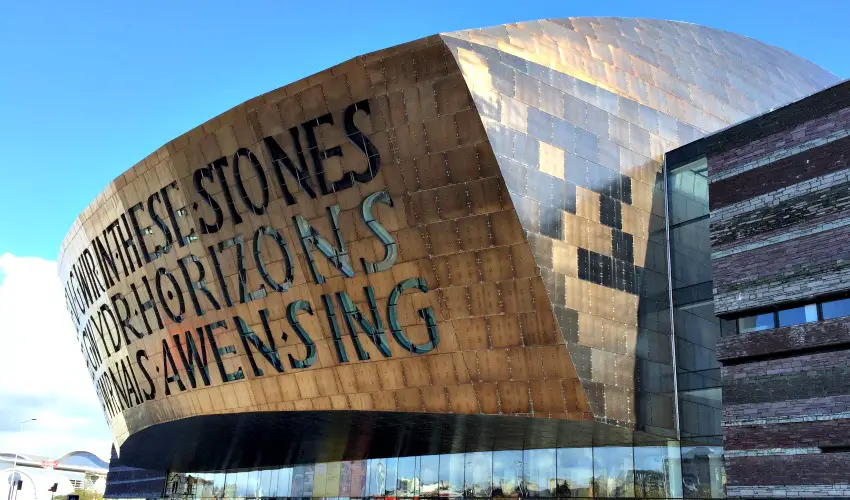 Cardiff, Wales's capital city might not be the place you'd expect to find a coastal walk, but, Cardiff Bay and Barrage is truly a walk you shouldn't miss!
The bay area is actually part of the Wales Coast Path. As you'd expect in an area which home to the Welsh Parliament, Millennium Centre, Dr Who Exhibition, Norwegian Church and numerous other tourist gems – it's completely wheelchair accessible.
Wales Coastal Walk Resources
—————————————————————————————————————————————
10 Accessible Coastal Walks
We hope you enjoyed our overview of 10 accessible walks on Great Britain's coast. These are only a very small selection of walks available to us; we firmly believe the only limitation is our imagination.
We're lucky to have such a diverse coastline. Whether you enjoy a short walk, casual coastal wheel or a full-blown expedition on a Tramper, the coast is open to all of us!
We hope you enjoyed this post and we'd love to hear your coastal walk stories. Where do you like to walk, where can we find a hidden gems, which section of coast is accessible – please share your recommendations in the comments section.
By Robert Obey
Get in touch by messaging us on Facebook, tweeting us @DHorizons, emailing us at editor@disabilityhorizons.com or leaving your comments below.
If you're planning your next holiday, why not pop over to our new travel site, Accomable, to find accessible accommodation not just in the UK, but across the world.