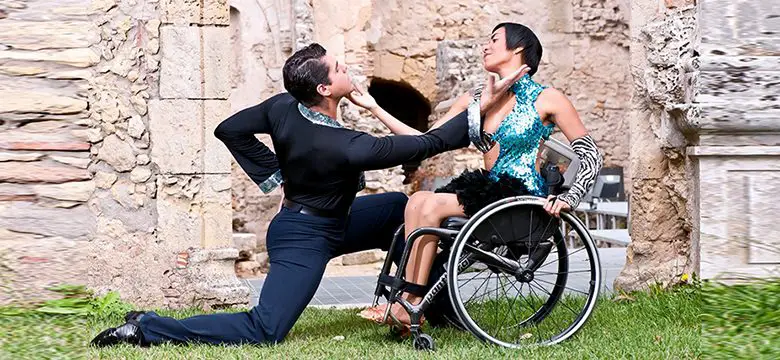 Nuno Sabroso was a former national Latin and ballroom dance competitor in his home country of Portugal. When he was approached by Daniele Oliveira – a wheelchair user – to be her standing partner, he had no idea that within a few years they would be among the best couples in the world.
Wheelchair user Paula Moulton from Manchester attended a dance class out of curiosity with her university friend Gary. Less than a year later they were UK national wheelchair dance champions.
Nuno and Paula share their respective journeys with Disability Horizons as the Wheelchair Dance Sport Association (UK) celebrates its 10th anniversary.
Nuno
Please can you tell Disability Horizons readers a bit about yourself.
I was born in the heart of Lisbon, Portugal. I began ballroom and Latin dancing at the age of 9 when I also entered into my first competition. I continued to train and compete until the age of 18. At that point, I became interested in the broader performing arts, so undertook a BA in Dance. This allowed me to develop my skills in a wide variety of dance forms.
For my final year project I created a performance with disabled dancers, both wheelchair users and people with learning disabilities. In 2009 I was approached by wheelchair dancer Daniele Oliveira, who wanted to compete with me. Although I had competed nationally in ballroom and Latin dance, I had not had any experience of competitive wheelchair dancing. However, after just a few years of dedicated training, we were in the world top three rankings, competing and performing all over the world.
In 2013, after a successful dance career in Lisbon, I was ready for a new challenge. It was then that I decided to come to one of the world's leading dance capitals, London. I love living in London as there are so many opportunities to be creative. I enjoy teaching people of all ages, levels, backgrounds and abilities.
What first interested you in wanting to teach wheelchair dance?
I really enjoyed my experience of producing an inclusive dance performance for my final year BA project, but it was a stroke of luck that Daniele approached me to be her competitive wheelchair dance partner. The experience completely challenged my preconception of disability, and made me a better dancer.
It also made me reflect on my approach and attitude to life. I met so many wheelchair dancers while training, all with such passion and dedication. They constantly challenged themselves, with no excuses. My time competing and performing in wheelchair dance is a career highlight and represents my happiest time dancing.
There is a real camaraderie in wheelchair dance that I haven't experienced anywhere else. Daniele and I have performed and competed in more than 30 countries around the world, and we have met some amazing people and have formed memories that will stay with us forever.
How do you adapt the dance moves to work around various disabilities?
As a teacher and dancer, I adapt my approach to every individual's needs, whatever their ability. I teach people of different personalities, interests, sizes etc. So there is no set model on how you teach someone who, for example, uses a wheelchair. I think of dance as a language, and something anyone can learn if it is tailored to them.
What things do you need to consider when choreographing a routine for someone with a disability?
It is important to develop an understanding of the individual you are creating a routine with so that what you create is authentic to them. With wheelchair dance there are some practical considerations. For example, a manual wheelchair allows you to create more movement, whereas with an electric wheelchair, you'll need to work with the rhythm and mechanics of the machine.
But there is no specific set of tools that can be applied to everyone with a disability. It's about working with each person, creating a connection and developing a routine that they can identify with and therefore communicate to the audience.
What has been your most memorable performance?
My most memorable performance was earlier this year with Daniele, at the 10th anniversary gala dinner for the Wheelchair Dance Sport Association (WDSA) at the Straford Theatre in London. We hadn't performed together in three years, so when we danced to such an appreciative audience, it brought back so many wonderful, happy memories.
It was fantastic that the WDSA invited Daniele to London to be a part of showcasing wheelchair dance to an influential audience. Their response and enthusiasm gave me hope for the future of wheelchair dance in the UK and developing the talent in the country.
You're a role model for inclusive dance as you've made dreams come true for two young ladies with learning disabilities by performing a dance routine with them. Can you describe what that moment was like for you?
When you're doing something you love, you don't necessarily realise the impact you might be having. It was only on the night of the gala, when I actually performed with the two ladies, that I realised just how important and special the evening was.
It was fantastic to get so much positive feedback, to hear people say they were inspired and to receive a standing ovation! But I don't see myself as a role model – I am just doing what I love and this is something any dancer or dance teacher can do. Inclusive dance should be part of every dancing opportunity, not just something a few people are commended for doing.
What would you say are your top 5 tips on becoming a successful dancer?
Above everything, the most important tip is having a real passion for dance. Enjoy it and immerse yourself in the experience, rather than being focused on 'results'. Too many people make dance about chasing medals and bringing home trophies. This often means that in the process they get frustrated and lose sight of what matters.
My other tips would be:
being connected – with what you do, who you are, your dance partner, your environment, your music
be genuine
work on your skills and technique
be committed.
What are your goals and aspirations for the future?
I would love to create a performance company with disabled and non-disabled artists that pushes boundaries and explores taboo themes. I want to use music, song and dance to make people think, to challenge perceptions and conventions and to build people's self-confidence.
Paula
Please can you tell readers a bit about yourself.
I live in Manchester and have been dancing for five years. I love my assistance dog called Indie. I've always been a bit of a tom boy, but for some reason I just love to dance. My dance partner Gary and I were the undefeated Amateur Combi Latin Champions for three years. We then progressed to compete as the UK's first Top Class Wheelchair Dance Sport in the International Paralympic Committee competitions. We've also competed in many other competitions for Great Britain.
As well as competing, Gary and I decided to set up Strictly Wheels Foundation together. It's is a charity based in Manchester, but that works throughout the UK, to promote wheelchair dancing. We do this by providing demonstrations, showcase performances and workshops. We are probably most publicly known for our appearance on Britain's Got Talent in 2012 – our audition received four votes and we made it to the live semi-finals.
How did you get started in wheelchair dancing?
After receiving numerous emails about a dance course, I decided to give it ago. I attended the taster class with my friend Gary, who I have known since my university days. We'd watched a show called Dancing on Wheels and loved it, so when the opportunity came our way, we just went for it. That was six years ago and I haven't stopped dancing since.
Gary had danced a little as a teenager, but neither of us really had much experience. One of my sisters is a ballet teacher, and the other is a choreographer. I tried ballet, but didn't enjoy it. However, when I tried Latin and ballroom dancing, I loved it immediately. Although it has a clear structure, I enjoy the freedom of movement and self-expression it also allows.
When did you start competing and what was the experience like for you?
We participated in our first UK competition after dancing together for only about seven months. To our amazement we won! Shortly after, we went to Holland for an international competition and danced at amateur level. Again, despite competing against more than 20 couples, and having just entered for the experience, we ended up winning the Latin section. The experience was just amazing, and something I will remember for the rest of my life. It was fantastic to participate with no expectations whatsoever, to have a really enjoyable time dance – and then to win!
What has been the highlight of your career so far?
Definitely winning the first competition in Holland because it was just such a surprise. There have been so many career highlights since, but being invited as guests to watch Strictly Come Dancing in Blackpool last year was very special.
How does your disability affect you when dancing and in day-to-day life, and how do you overcome it?
With dancing, I have to be very careful as I has severe damage to my shoulder and pelvis, which makes it very difficult to sit in the correct position in my wheelchair. My right arm doesn't go above shoulder level, so that has to be factored into all our choreography. My arm can be lifted, but it cannot move independently, so we have to be creative with our routines. It has also taken me a long time to learn how to spin as sitting upright is important.
In everyday life, the challenges are less now that I have Indie, who helps me with opening doors, for example. I can struggle to bend forward in my power chair, which I use in my day-to-day life – I use a manual chair for dance training.
Other challenges include managing my energy levels, so it's important that I get enough sleep, eat the right things and take on enough fluid. When you dance, you don't always realise how much you perspire. I also need support with getting to competitions, getting dressed, etc. I have a good synchronicity with my dance partner Gary, and he is a great support.
If you were given the opportunity to dance with a famous celebrity, who would you choose any why?
That's easy – Artem from Strictly! I just love the way he dances, his style, his connectivity and he really engages with his partners. I have noticed that many amazing dancers have no connection or chemistry with their partners. They often dance separately, rather than with each other. Connection is one of the most important things when dancing as a couple, and that has nothing to do with how good a technical dancer you are.
What advice would you give to any other disabled people interested in perusing a career in wheelchair dance?
I would say the most important thing, after finding a dance partner, is to get to know them well. If you don't trust them implicitly, it makes things much harder. Wheelchair dance couples can be a mixed wheelchair/standing partnership (called 'combi') or two wheelchair dancers ('duo').
It can be difficult to find a partner, so speak to local dance schools. Don't get too hung up on special equipment, wear comfortable clothes and don't expect too much too soon. It takes time to build up the skills, but keep at it. I find that with dancers I teach, it's actually often the standing partner that can struggle with the demands of wheelchair dancing – it's hard work!
What are your goals and aspirations for the future?
For me, I would like to finish in the top 10 in the world! But my wider ambition is for everyone to have access to a wheelchair dance club, whether they wish to dance for performance, art, their wellbeing, fun or to compete.
At a competitive level, I would love to see wheelchair dance in the UK reach the same level as some of our European neighbours, and for it to receive the recognition from Sport England that would take it to the next level.
Interview by Zubee
Check out…
Get in touch by messaging us on Facebook, tweeting us @DHorizons, emailing us at editor@disabilityhorizons.com or leaving your comments below.