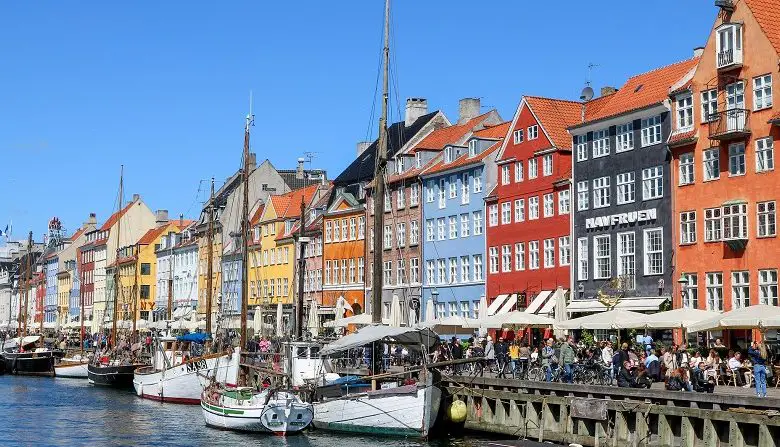 Wheelchair user Derry Felton was determined not to let an early setback ruin his holiday to Copenhagen – and it didn't. Find out how accessible Copenhagen is, including the transport network and host of beautiful attractions.
My name is Derry Felton and I am a wheelchair user, unable to use any of my limbs due to a spinal cord injury at C2/C3 level. Despite my disability, however, I love travelling. This is the story of a recent trip I made to Copenhagen.
Not so accessible accommodation – at first
For the first time, I had booked accommodation via Airbnb – a lovely-looking four-bedroom bungalow in a town just outside Copenhagen. When we arrived, however, my fears around accessibility came true – there were large steps at every entrance to the house.
I was furious. I had asked the owners numerous times whether the house was accessible and they had constantly assured me that it was. My travelling companions and I frantically searched the internet for alternative places to stay.
At one point, it looked as though we were going to have to pay crazy money to stay anywhere else. Fortunately, the taxi driver was extremely nice and made a phone call to a colleague who recommended a cheaper alternative near the airport.
When we arrived, we were told there were wheelchair-accessible rooms available – a massive relief.
Tired already, we went up to our rooms and unpacked. I was determined not to let this bad experience ruin my holiday. So, we had a short break and then headed out into the city.
Transport in Copenhagen
The underground in Copenhagen is absolutely fantastic for people with disabilities. Every station is accessible via an elevator and you can just wheel your chair on to each train from the platform.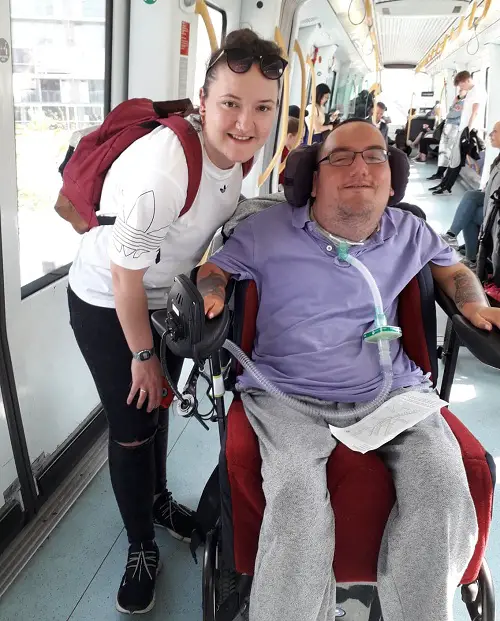 To get to our first destination, Tivoli Gardens, we walked through Stroget, a beautiful area to do some shopping and grab something to eat. We didn't stop anywhere as we were passing through. I am also not sure my power wheelchair would have fit in any of the stores, although I think a thinner manual chair using would.
Tivoli Gardens is a large theme park with beautiful gardens and fun attractions. In fact, it is what inspired Walt Disney to create Disneyworld. However, it is quite expensive, although I did manage to get two free carer tickets. Wheelchair users can get on some of the rides, but you must be able to transfer from your chair.
After Tivoli, we went to City HallSquare, which is just a five-minute walk away. It is a nice large area with a few interesting monuments, including the grand City Hall – a good end to my opening day in the city.
Day two – Rosenborg Castle and the Little Mermaid!
First on the list for day two was Rosenborg Castle. It sits in the middle of large gardens and features a statue of Hans Christen Andersen, as well as other notable figures from Danish history.
The castle itself is not accessible for wheelchair users, so we walked around the perimeter gazing at the incredible 17thh-century architecture. Next to it is an army barracks where we watched a group of soldiers practising marching.
The next stop was the Little Mermaid statue, which is perched on some stones in the harbour. After reading a number of reviews, I had thought it was small and that visiting it was a waste of time. However, it was in fact really cool – such an iconic monument. I even brought a miniature Little Mermaid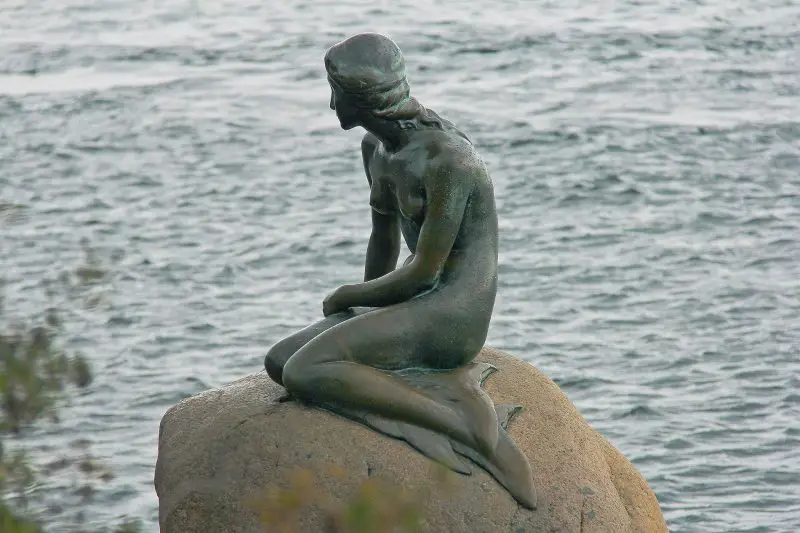 Nyhavn – Copenhagen's city centre
Afterwards, we walked past a spectacular fountain, looked at boats down in the docks, passed by Amalienborg Palace the home of the Danish royal family – then headed into Nyhavn, the beautiful city centre of Copenhagen (seen at the top of the page).
Nyhavn is a fascinating area because of the brightly-coloured houses that stand alongside the canal, interspersed between bars and restaurants. Most of these are up or downstairs, but you can sit outside. It's also beautiful to simply walk around.
Unfortunately, the battery on my electric chair was starting to run out at this point, which would have meant a long and hard push back for the people with me. But we were able to charge the chair in a nearby restaurant, where an oyster and a couple of langoustines went down very well as we waited.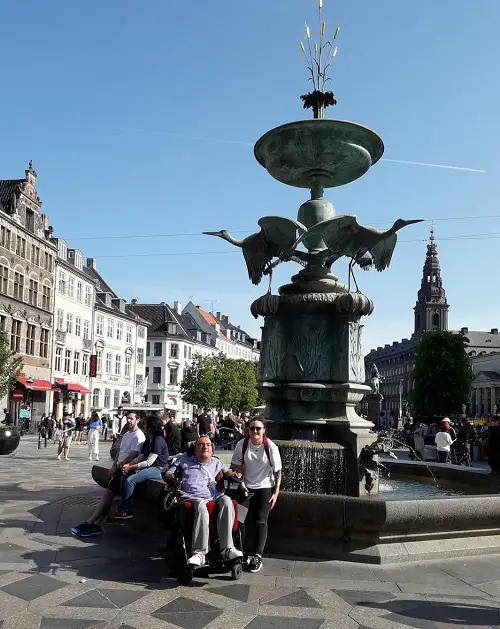 Copenhagen at night
We went back to the hotel, gave the chair a longer charge and then myself and two carers went out again. It was dark now and I wanted to have a drink and dance, so I asked at reception where was good locally.
The receptionist suggested that we go to the SkyBar, a ten-minute walk from the hotel. As it is at the top of a 25-storey five-star hotel, I wasn't sure whether I would be allowed in because I wasn't staying there. But I confidently went through the reception, trying to avoid eye contact with anyone that worked there – and we were in!
We took the lift to the top of the hotel where the bar is situated and had a couple of drinks. It is a really impressive bar – very sophisticated and relaxed with amazing views of the city. I didn't stay too long as I wanted to be up early the following morning.
Day three – shopping and more sightseeing
The last day of our trip started off with an impromptu visit to the biggest shopping centre in Scandinavia, a few steps away from the hotel. This was fully accessible, with lifts, flat entries to shops etc.
Then, we paid a visit to the Church of Our Saviour, a very grand church and one for Denmark's most famous. It, unfortunately, isn't wheelchair-accessible though. Nevertheless, it was great to see and was in walking distance of our next attraction – the Royal Kitchen Museum, which was accessible by a chair-lift.
It may not sound very interesting, but it actually was. It is set up in the same way it would have been in the 1800s. There were some interesting videos projected on the walls, showing what it would have looked like on a busy night when it was being used to prepare gala dinners for the Danish Royal Family and their guests.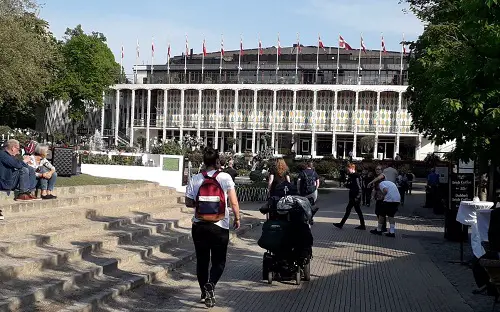 The next attraction was Copenhagen's flagship Lego shop. The popular construction toy was invented in Denmark and there is a wide range of products available – some of which you can only buy in Denmark. I purchased a Hans Christian Andersen-inspired set, which now sits proudly in my living room!
The last attraction we visited was The Round Tower. It is the oldest functioning observatory in Europe, and has an interior spiral ramp, leading to a flight of stairs, which will take you to the roof.
Wheelchair-users can't get to the top of the tower, but it is worth experiencing the unusual structure and its art gallery. It has different exhibitions every few months – when we visited, each piece of art as representing light, colour and perception. I enjoy going to art galleries, so this was a lot of fun.
Indeed, the whole trip was a fun and exciting holiday, and I'm looking forward to many more in the coming years.
Oh, and in case you're wondering what happened with the bungalow I initially booked, I emailed Airbnb as soon as I got home and it refunded my money.
By Derry Felton
More on Disability Horizons…