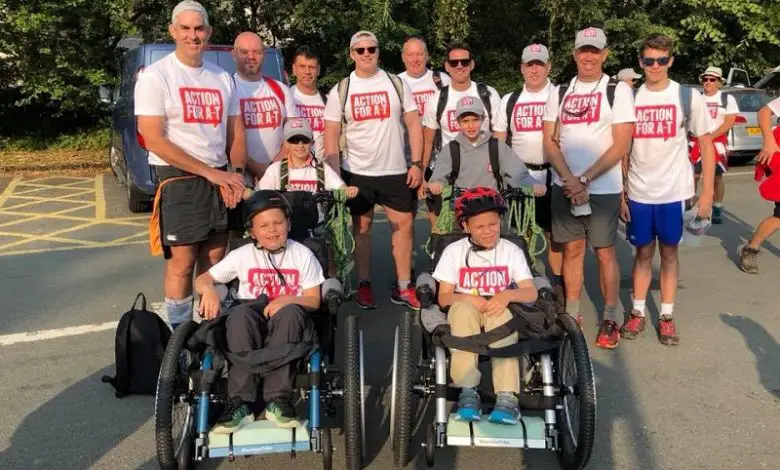 Travel & Holidays
How an all-terrain wheelchair can help you achieve personal challenges
An all-terrain wheelchair or trike can unlock a world of possibilities and adventures, from exploring rugged and unfamiliar ground to scaling new heights up mountain trails. Wheelchair company, Mountain Trike, shares three experiences from disabled travellers who challenged themselves and achieved greatness.
We at the Mountain Trike company have a number of all-terrain wheelchairs available to suit various abilities. Most of our customers are looking for a wheelchair that will help them to regularly access the outdoors and are capable of going off-road.
This isn't just so that they can explore the countryside, but urban settings too as these can be just as tricky to travel over using a regular wheelchair.
But many Mountain Trike customers purchase their wheelchair or trike for a specific adventure. It's usually something that's a personal challenge or goal, which they often combine with raising funds for charities close to their hearts.
These have included competing in races, travelling across unbelievable routes and climbing mountains. Whatever they are, they never fail to impress.
We have a really good community spirit among our customers and regularly keep in contact to hear all about their adventures. Here are just a few of their stories…
Yorkshire Three Peaks challenge in an all-terrain wheelchair
Since first test-riding our original Mountain Trike, David Needham from Leicestershire knew that it was exactly what he needed.
He was diagnosed with Motor Neurone Disease (MND) in 2014, a condition that progressively damages the nervous system and leads to paralysis and is eventually fatal. With a young family and previously having been an extremely active sportsman, it took some time for David to come to terms with his condition.
Fast forward two years and David was getting itchy feet. He wanted to get active again, but needed to first get over the mental hurdle of becoming a wheelchair user, having previously been insistent on using crutches and braces on his legs.
David's wife suggested giving wheelchair rugby a try. Having taken part in a training session, he quickly realised that becoming a wheelchair user actually opens doors rather than closes them.
Over time, David noticed that, although his condition continued to progress slowly, playing sport was countering many of the symptoms. This helped him to think about what else he had lost to the disease that he could potentially clawback.
Top of his list was long walks and time with his young family, and making that possible is how David found the Mountain Trike company. After hiring a Mountain Trike for a family holiday, he knew he wanted to own one.
With financial help from a charity and some fundraising, in 2016 David received his own Mountain Trike. Since that day David hasn't stopped thinking about challenges and fundraising opportunities to help others in a similar position to him.
In August 2017, the first challenge David set himself was to take on the highest of three peaks in the Yorkshire Dales. David chose local hospice LOROS and the charity Leicestershire and Rutland MNDA to fundraise for.
Having trained both physically and mentally, David and his team of foot-fundraisers aced the 24-mile challenge. It included climbs of nearly 1,600 metres and took a total of 17-and-a-half hours. He was the first person to climb the Yorkshire Three Peaks in an all-terrain wheelchair.
David has since gone on to complete a number of endurance events, including the Leicester Marathon, the Leicester 10k race and more recently the Old Packhorse Way, a historical trail in the Lake District.
David was due to take part in the London Marathon this weekend, which has now been postponed to October due to Covid-19. So that he can continue to support the charities during the UK lockdown, this Sunday he is planning on rowing 25km from home, MD symptoms allowing.
Mount Snowdon conquered by two disabled children
Reaching the summit of Mount Snowdon, the highest peak in Wales, is a popular challenge for many. But it comes with many challenges – the terrain, unpredictable weather, not to mention the treacherous return journey down. It takes months of preparation, training, a huge support team and determination.
For those needing the assistance of a wheelchair, it feels like an impossible challenge. However, many wheelchair users have climbed to the top and Mountain Trike owners are among these.
Back in 2018, twin brothers Ruben and Zach, aged 10 at the time, achieved their goal of reaching the summit of Mount Snowdon. The boys were raising funds for Action for A-T, a charity that funds research into finding a cure for Ataxia Telangiectasia (A-T) or treatments that delay or prevent the disabling effects of the condition.
Both boys have A-T and an MT Push all-terrain wheelchair. These chairs have been invaluable for the family, enabling them to enjoy days out together and take on this mammoth task.
Their determination and support team made it possible for their goal to become a reality, whilst raising in excess of £22,000 for the A-T charity.
This was the first time the MT Push had been used to get to the summit of Mount Snowdon, and it was fantastic to see them help the boys accomplish their exhilarating challenge.
10k race completed in a wheelchair in super-speed time
For Amanda Davidson, her Mountain Trike gives her life without limits. Amanda was a Metropolitan Police officer when she was attacked, sustaining multiple back injuries and forcing her to take early retirement.
Following a number of health issues, which included developing Lupus, having a stroke and then Lupus attacking the site of her spinal fixation, Amanda needed to use a wheelchair.
Alongside her chair, the charity Support Dogs was significant in changing her life. Training her labrador puppy was her first challenge as she wanted to do this herself without the support of an electric wheelchair to aid her.
This is when Amanda discovered the Mountain Trike, which can be powered by using a unique lever-drive system. This self-propels the wheelchair forward by driving the two front wheels independently using the right amount of force and control to safely operate the Trike.
It has transformed her life. Nowhere is off-limits and Amanda has raised lots of money for Support Dogs. She was the first wheelchair participant in Fright Hike, an 18-mile hike in the dark around Sherwood Forest.
She was also delighted to have completed a 10k race in her Mountain Trike in an impressive 1 hour 33 minutes.
Amazingly, Amanda also reached the summit of Mount Snowdon in her Mountain Trike – an outstanding achievement. It took a year to organise and she describes it as the most stressful but proudest thing she has ever done.
Africa's highest peak Mount Kilimanjaro
Three Mountain Trike customers – Ian, Aaron and Geraint – have achieved one of the toughest and perhaps ultimate mountain climbs, making it to the summit of Mount Kilimanjaro.
It is the world's highest free-standing mountain at 5,895m – a feat attempted by 15,000 people a year, but completed by only 40%.
Commenting on his achievement, Geraint said, "If you've got a goal, if you want to do something, no matter what it is… set your mind to it, focus and do it."
For more information about the Mountain Trike company and its range of all-terrain wheelchairs and trikes visit its website.
By Mountain Trike
More on Disability Horizons…