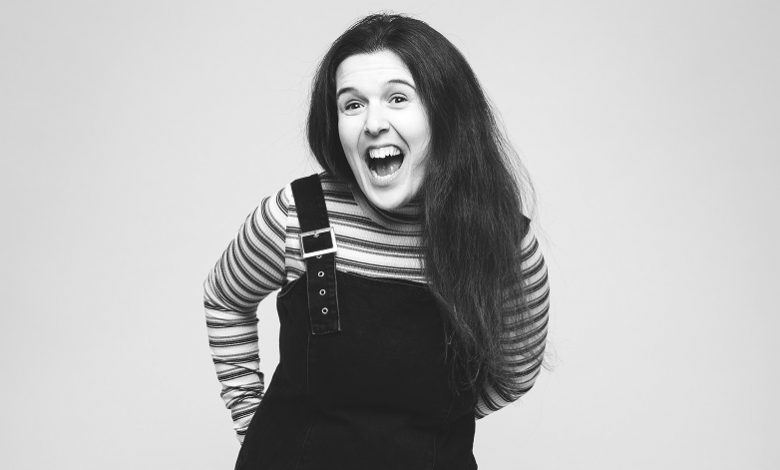 Rosie Jones is a disabled comedian, actress and scriptwriter, who has cerebral palsy. Having started her career as a TV researcher and then scriptwriter, she is now a regular on popular comedy shows including The Last Leg, Mock the Week, 8 Out of 10 Cats Does Countdown and Hypothetical.
She has also acted, appearing in Silent Witness and Shakespeare & Hathaway, and been nominated for a number of awards. Our writer, Emma Purcell, got the opportunity to interview Rosie about her stand-up and television career.
Disabled comedian Rosie Jones, who is from Bridlington in the North of England, started her career in 2011 as a researcher for Objective Media Group. Part of Channel 4's disability training scheme, it was a year-long programme where she worked on a variety of shows.
After a period unemployment and numerous knockbacks, some because of her disability, in 2015 she began a screenwriting class with National Film and Television School.
In 2016 she wrote for The Last Leg when it covered that year's Paralympics. She's also written for Harry Hill's Alien Fun Capsule, Would I Lie to You? and 8 Out of 10 Cats, among others.
Her talent as a comedy writer saw her in the final of the Funny Women awards in 2016, be named as one of nine hilarious women to look out for in 2017 by the Metro newspaper, and get second place in Leicester Mercury's New Comedian of the Year 2018.
Having seen comedians get laughs for her lines, she decided she wanted to be the one on stage delivering them. She also wanted to have a better representation of disability on television and stage.
Now very much a comedian in her own right, her stand-up comedy has seen her perform at the Edinburgh Fringe Festival in 2017 and again in 2018.
Her more recent show there, called Fifteen Minutes, was critically acclaimed and featured on the BBC's Edinburgh Nights, a show about the festival.
In 2018 she also performed at the Greenwich Comedy Festival, and in 2019 at Spectacular (a one-off event for Comic Relief) and the Women of the World Festival.
As well as stand-up and primetime panel comedy shows, she has also appeared on the podcast The Guilty Feminist, the series Things Not to Say, Fred at the Stand and The News Quiz with Nish Kumar, and the BBC web series Period Dramas.
She's also daddled in acting, playing disabled character Serena in Silent Witness in 2018, tackling emotional issues around hate crime and the way it's addressed. She also appeared in the light-hearted crime drama, Shakespeare & Hathaway, in 2020.
Last year she launched a podcast with fellow comedian Helen Bauer, called Daddy Look at Me. It sees Rosie and Helen, alongside famous guests, discussing what they did to get attention during childhood.
TOMORROW me and @HelenBaBauer are back for another series of Daddy Look At Me, and we're starting with a bang – it's only @RomeshRanga.
Subscribe Now:https://t.co/xY43wEuzrk pic.twitter.com/T6HAwl05ad

— Rosie Jones (@josierones) March 4, 2020

Read on to find out more about Rosie's varied career and disability in her own words.
Rosie Jones' disability
What type of cerebral palsy do you have and how does it impact on your daily life?
I have a rare type of cerebral palsy called Ataxic Cerebral Palsy. It means that I have a low muscle tone. It affects my speech, mobility and fine motor skills.
What was your childhood like as a disabled person?
I had a lovely childhood. I have amazing parents, who told me that I could be whatever I wanted to be.
I grew up in a world where I never saw my disability as a disadvantage, or a bad thing, it was just part of me.
Rosie Jones on becoming a comedian
What inspired you to become a stand-up comedian?
I grew up in a funny family. We'd spend every evening at the dinner table, making each other laugh, so I always knew the importance of humour. But never in a million years did I expect that I would become a stand-up comedian.
It was only when I started working in TV, behind the camera, that I realised that there were very few disabled comedians.
At first, I was angry, but then I realised that I had a unique point of view, which was rarely heard in comedy. I wanted my story to be heard.
Have you always been confident making jokes and mocking your disability on stage?
Yes, because I have spent my whole life making jokes about my disability. I find that humour is a great way to diffuse a situation.
Whenever I meet somebody who seems to be a bit uncomfortable about my disability, I crack a joke, and it instantly makes things a lot less awkward.
Where was your first stand-up performance and what was the audience reaction?
It was at a tiny little comedy club in Dalston. It was empty. Only around 10 people were there and I had gone to watch my friend perform improv comedy.
At the end, the MC asked whether anybody else wanted to give it a go and I thought "yes, why not?" I went up there with zero preparation, but I loved it, and I've never looked back.
What is the strangest comment you've received from a heckler while performing?
I'm quite lucky because I don't get heckled an awful lot. You have to be pretty brave to heckle somebody with a speech disability!
Do you have a stand-up tour lined up in 2020 or 2021?
No plans yet, but I gig all across the country normally, so I still get around.
Rosie Jones' television roles
 

View this post on Instagram

 
You were originally a researcher on The Last Leg. How did you get this position and what did your role involve?
I was a freelance researcher, so I worked on a lot of comedy entertainment shows, including The Last Leg, Harry Hill and Would I Lie to You. I started as part of a Channel 4 Production Trainee course and I worked my way up the ladder.
I loved it, particularly because my job was always different, depending on the TV show. Tasks usually included generating game ideas for the show and writing biographies on the guests.
With a list of comedy shows to your name now, which is your favourite and why?
Oh, it's hard to choose one because I love them all in different ways. I think I have the most fun on The Last Leg. As I was a researcher on the show before I became a comedian it always feels like I'm going home.
Recently on The Last Leg, you made a controversial comment about the teenage activist Greta Thunberg. What do you think of those people who criticised you over it?
I won't repeat the joke here, because it's a rude one, but I made a comparison between Greta and the past-times of other sixteen-year-old girls in Britain today.
Most of the criticism came from a place of misunderstanding – they thought I was insulting Greta, which I wasn't.
I also think it got a lot of criticism purely because it was right after the Christmas period. I bore the brunt of a lot of pent up anger from people who had just spent a fortnight with their family.
 

View this post on Instagram

 
Rosie Jones on becoming an actress
Having moved to into acting alongside comedy, what was it like appearing on Silent Witness?
Wonderful – a true dream come true! It was my first proper acting role, so I was nervous, but it was so great, and I'm still in touch with some of the crew now!
Tell us more about your role on the daytime comedy Shakespeare & Hathaway?
I played a barmy ghost hunter called Penelope – I loved her. Interestingly, nowhere in the script did it say she was disabled. Obviously, she was (I am not that good of an actor!) but it was so refreshing to play a part where a character's disability wasn't classed as a character trait.
Bloody loved filming this. https://t.co/sF5s5i8hKC

— Rosie Jones (@josierones) January 31, 2020
Rosie Jones as a scriptwriter
How did you get involved in helping write the second series of Netflix's Sex Education?
I'm actually not sure. I think the producer had seen me perform at a comedy gig and thought I'd be a good fit for the team. We then had a few Skype interviews with Laurie Nunn, the creator, and I got the job!
It was such a good show to be part of, and I'm so proud of the second series.
Can you tell us anything about the sitcoms you're writing at the moment?
I'm writing several, all at various points at the production process and all annoyingly under wraps. So watch this space!
My highlight of 2020 has happened already… I've just met a man who told me that, "I didn't sound disabled on email." What a guy.

— Rosie Jones (@josierones) January 15, 2020
What advice would you give to other disabled people aspiring to be comedians, actors and/or writers?  
Do it! Just do it! The entertainment industry is at its richest when it is full of different, diverse voices. I'm biased, but I truly believe that I have the best job in the world!
You can follow Rosie Jones on Twitter and Instagram.
By Emma Purcell – follow her blog Rock For Disability.
Image credits: Claire Haigh
More on Disability Horizons…