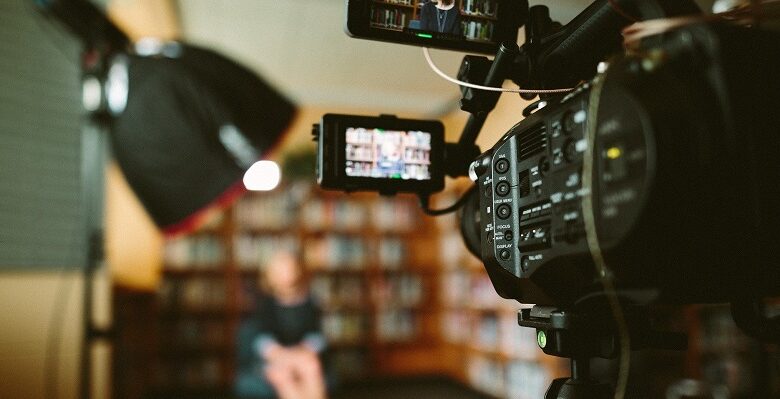 Emma West, who has Kniest Syndrome, worked at the BBC for a number of years. Based on her experiences working in TV and as a disabled person. she looks at the representation of disability in popular culture in 2020.
I spent a decade working at the BBC, initially as a researcher and then as a directing assistant producer.
After starting out in the Disability Programmes Unit – best known for its magazine series From The Edge and cutting edge documentaries – I went on to work in the BBC's Children's, Entertainment, and Factual programming departments. The days were often very long but the job had kudos and the social life was great!
Disability representation in 2020
It's now been 16 years since I left and when I was asked to write this article about the representation of disabled people on TV and in films in 2020, I wanted to be ultra enthusiastic. I wanted to be able to say that disabled people have become increasingly prominent on our screens over the last decade or so.
Indeed, there are some great examples of very natural inclusions of disabled characters, where the disability isn't necessarily the focus, particularly in TV drama series:
Liz Carr – Silent Witness
Peter Dinklage – Game of Thrones
James Moore – Emmerdale
Amy Conachan- Hollyoaks
Lisa Hammond – Vera and Eastenders
Liam Bairstow – Coronation Street
Ruth Madeley – Years and Years
Travis Smith – The A Word
RJ Mitte – Breaking Bad
Daniel Laurie – Call the Midwife and Vera
Sam Barnard – The Undateables, Grantchester and Casualty
Shannon Murray – Holby, Casualty, Class, Eastenders and Silent Witness.
There are also some positive representations on CBeebies too, in Something Special (shame about the terrible title) and CBBC's My Life.
I occasionally notice the incidental inclusion of disabled presenters, contestants and contributors across the small screen channels too, such as Lucy Martin having presented BBC weather and Cerrie Brunell, whose screen career started on CBeebies.
And Ade Adepitan is a regular face on the BBC, Alex Brooker on The Last Leg and Paralympics, along with Sophie Morgan.
Film examples are rarer but include Zack Gottsagen in The Peanut Butter Falcon, Maisie Sly in The Silent Child, and Peter Dinklage in Three Billboards Outside Ebbing, Missouri.
But given that there are 13.3 million disabled people in the UK, I think it's fair to say that we are still grossly underrepresented on both the big and small screen. Disabled people are still a "did you see" novelty rather than the norm.
Disabled characters played by non-disabled actors
Disability representation is also marred by casting directors still choosing non-disabled actors to play disabled characters. This is effectively no different from the appalling tradition of 'blacking up' actors.
Recent examples of this include 'deaf' Ben Mitchell, currently played by Max Bowden in Eastenders, and 'amputee' Cormoran Strike, played by Tom Burke in the brilliant Strike series – both of who are non-disabled.
Granted, the actor Anna Cannings, who played blind character Della Winn in Strike is actually blind herself. But rather than the media publishing articles celebrating how clever the producers were to fake Tom's amputee status, why aren't they asking why an amputee wasn't cast for the role?
So what needs to change?
When I asked around the general feeling was that disabled people only really hit the screens in a significant way every four years through coverage of the Paralympics.
Such coverage, along with news items about disabled people climbing huge mountains or sailing across oceans – aka 'inspiration porn' – is considered to be a world away from representing the day-to-day reality of life as a disabled person.
We are occasionally given our own 'special' seasons of programmes, for example, the BBC will air its Exploring Disability Through Art season in November 2020 to coincide with the 25th anniversary of the Disability Discrimination Act.
Whilst I've no doubt that this will include some great, quality disability programming, I think broadcasters, production companies and casting directors need to up their game.
They need to continue to increase their use of real disabled actors in drama series, together with increasing the inclusion of disabled people. This includes the incidental inclusion of disabled presenters, contestants, and contributors in entertainment and factual programming, as well as on the news.
For example, a deaf person on the news talking about climate change; a blind architect in a documentary about architecture; an amputee arguing for welfare reform on a current affairs programme; a wheelchair-using doctor in an observational documentary, or an autistic person in a soap – i.e. incidental and non-incidental inclusion of people with visible and invisible disabilities.
There are a few things that could help drive this. The first is disabled actors, presenters, contributors and contestants putting themselves forward for inclusion agencies, such as VisABLE People and Zebedee Management, who are helping with some aspects of this.
This also requires researchers, assistant producers, directors and casting directors to all buy into the idea that including disabled people opens up a wealth of talent for them to include in their programming, as well as real authenticity.
Broadcasters and production companies also need to employ disabled programme-makers to drive things behind the scenes as this is proven to be very effective.
A great example of this is CBBC's Commissioning Editor Kez Margrie, a disabled person herself, whose content in factual and factual entertainment genres has a tendency to include disabled contributors.
I can't wait to see Liz Carr popping up again after having left Silent Witness to star in the Hollywood sci-fi movie Infinite, and I applaud all of the examples above. But I'd like to get to a point where we're not playing 'spot the disabled person.'
When we can stop playing that game then we'll know we've truly arrived on the big, and small, screen.
Read Emma's previous articles on the advantages and disadvantages her child having inherited her disability and 7 ways to boost your mental wellbeing during the Covid-19 pandemic. 
By Emma West
More on Disability Horizons…