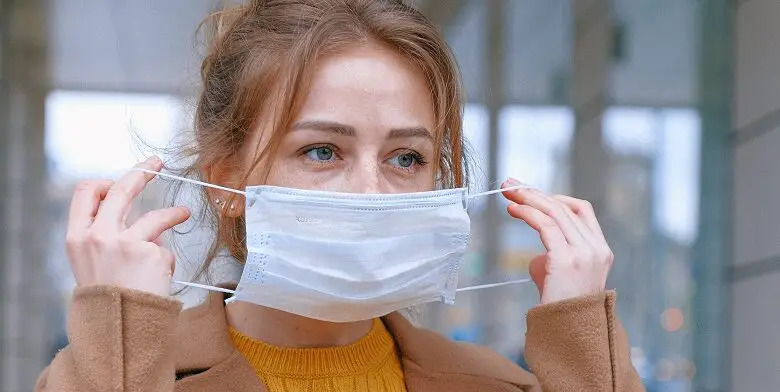 Wellbeing & Fitness
How the face mask exemptions have divided opinion – even between disabled people
Weeks after the latest face mask rules came into force, people are slowly having to come to terms with the new 'normal'. But for a number of people with a health condition or disability that makes wearing a face mask impossible, they've had added pressure.
Will their disability or condition mean they are definitely exempt? Will they be fined or unable to go to the supermarket? How can they show that they are exempt? If that wasn't enough, the exemptions have divided opinion, with some people taking to social media to shame others.
Our writer Raya, who has been shielding since March but won't be able to wear a mask when she goes out because of her ventilator, looks at the issue and people's differing views.
The Covid-19 pandemic swept through our world at such a fast pace it didn't give people time to understand it fully. As a result, it has split opinions and generated extremely contradictory behaviour.
From the outset, people have been divided about the lockdown – some were against it all together while others accepted the measure as essential for all our safety. When the restrictions were eased, some applauded it, while others were anxious.
Now, as mask coverings have been made mandatory in many setting, the public has been divided again.
Read our full guide on face mask rules and exemptions to find out where it is mandatory to wear a face mask and who the exemptions apply to.
Face masks
No one can deny that wearing a mask/face covering is uncomfortable. But with the lockdown being eased, there is the potential risk of infection rates rising again.
The World Health Organization (WHO) advice states that although face masks shouldn't be the only measure used to prevent the spread of Covid-19, non-medical face coverings should be worn in public where social distancing is not possible.
We all know that Coronavirus is primarily transmitted through droplets that are sprayed into the air when an infected person talks, coughs or sneezes.
Wearing a face mask can help to prevent these from spreading if you have the virus – and you can be infected before you have symptoms.
But not every single person can wear a mask due to health or disability issues, and that's where the problem lies.
Face mask exemptions dividing opinion
Online and public abuse of people unable to wear a mask seemed rife when the new rules were announced and these abuses are making disabled people who are unable to wear a covering fearful of going out in public.
In an interview with the Metro newspaper, Fazilet Hadi, a policy manager at Disability Rights UK, said the charity had received numerous reports of people being confronted on trains and buses.
Such incidents have been increasing, with the BBC recently reporting on the incident of 16-year-old Saule Pakenaite, who lifted her face mask so her sister could read her lips and was verbally abused by a train passenger. Her sister Karolina is registered as deafblind, and but the passenger just kept questioning whether she is 'really' disabled.
A wide range of charities – including Mind, Dementia UK, the National Autistic Society, Mencap, Asthma UK and Sense – want the government to deliver a public awareness campaign about hidden disabilities and the mask exemption rules.
As a person with respiratory failure and reliant on a ventilator, added to severe sinus issues, I simply can't wear a mask. I am lucky as I have the option of staying home, which means it does not affect my mental well being. For the time being, at least, this is a luxury that not many can afford.
But lots of people have to go back to work or need to go out to do their shopping. If they can't wear a mask, for whatever reason, they risk being at the end of abuse and uncomfortable comments.
I felt the need to explore this further and find out how other disabled people feel about the mask exemptions and cards, and it seems that even the disabled community are divided on this matter.
---
If you're genuinely exempt from wearing a face mask, buy our face mask exemption card.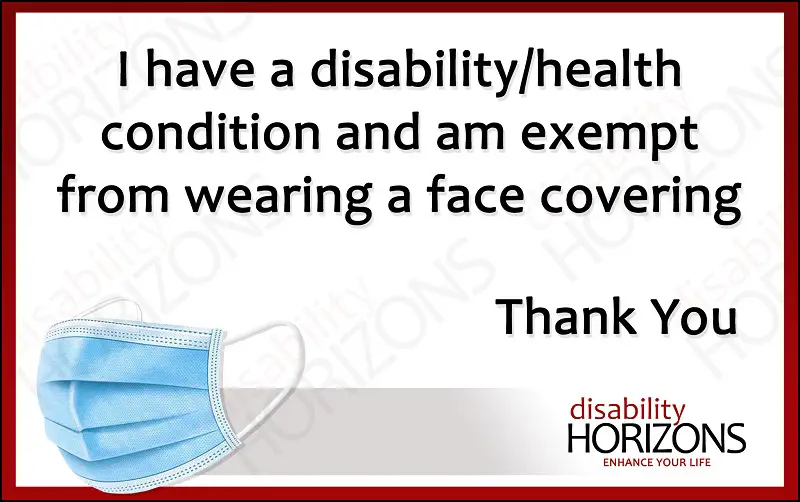 ---
Em McGowan, who can't wear a face mask because it causes her severe anxiety, spoke explicitly about her reasons for not wearing one. "I would have a meltdown – I am triggered when my mouth and nose are covered due to post-traumatic stress disorder from childhood trauma."
Putting a face mask on would mean a panic attack for Em as she struggles to breathe as soon as something covers her face. She is also partially deaf in both ears and cannot lip read or read facial expressions if others wear masks.
She continued: "I can even struggle with the masks with plastic inserts. This is because in certain lights the shine affects my photophobia and I can lose my focus".
But not everyone would understand or appreciate Em's reasons, putting her at risk of judgemental looks and hurtful verbal comments.
Looking through disability groups, I found many others who are in a similar situation to Em – unable to wear a mask but fearful of what will happen if they don't. One person wrote: "I'm a genuine asthmatic.. and I suffer from severe anxiety. I have a volumetric Ventolin inhaler to prove it."
As Em pointed out, these comments have a bigger impact long-term. "They can be very cruel and thoughtless and even aggressive and threatening.
But they can also result in the person effectively being bullied while having to explain/justify their reasons. This causes so much unseen damage and creates more fear and withdrawal from the outside world."
There are also valid concerns around people too easily saying they are exempt or getting a card when they don't have a reason not to wear a mask but simply don't want to.
Becca Torricellim, who has Spinal Muscular Atrophy type 2, said, "It's way too easy to get an exemption card. My understanding is that you don't have to provide evidence of a disability that would affect mask-wearing."
She's right, you can effectively 'self-certify', so there is no need for a doctor's note or proof. In fact, on the Government website it states:
"Those who have an age, health or disability reason for not wearing a face covering should not be routinely asked to give any written evidence of this, this includes exemption cards. No person needs to seek advice or request a letter from a medical professional about their reason for not wearing a face covering."
However, anyone without a genuine reason is open to being fined £100 or more and refused entry. But will people still try to flaunt the rules?
Becca added that she thinks exemptions should, "Only be for people in exceptional circumstances. I have 40% lung capacity and I still wear one."
As not everyone can wear a mask, we as the disabled community must be more understanding. We are often faced with judgemental attitudes and prejudice, so we know what it feels like. How, therefore, can we practice what we detest for ourselves?
Scrolling through social media and, including disability-related groups, I noticed so many negative comments and shaming going on for anyone voicing their concern about their inability to wear a mask.
"They are all frauds."

"So many excuses, think of other people other than your self."

"If you can't wear a mask then stay away from other people. Figure out another way. It's quite simple."

"If my disability meant I couldn't wear a mask/visor – I'd be staying home. There are thousands of community volunteers offering services for people who are isolating/high risk."

"Even if you have COPD or severe asthma, if a mask causes respiratory problems, then I would suggest you are possibly not well enough to be going out and about."
These are just some of the examples I found, but there were sadly many more.
I was astounded by how truly ill-informed many people are about the reality of life for many disabled people. Such a huge lack of understanding and empathy.
For many disabled people, it isn't a simple choice of staying away from others. For example, some have to use personal assistants or carers, and others need to go shopping to buy the essentials – not everyone is eligible for help.
It was disturbing to see people turn into a judge, effectively sentencing people to 'imprisonment' – stay at home and never go out, just because they are medically unable to wear a mask.
It's almost like saying if you are visually impaired, don't go to the cinema or theatre, or if you are a wheelchair user don't bother going out. Where is inclusion in this attitude?
These comments are driving people to put their health at risk and wear a mask to 'please' others when they aren't able to.
One person commented that they will try and wear a mask, even though they will find it incredibly difficult. They said: "It's horrible that you get all this vitriol accusing of anyone who's not wearing one."
Do get an exemption card if you need one and don't let others push you into something that could potentially harm you. But, equally, if you can wear a mask then you must do so – everyone has a part to play in stopping the spread of Covid-19.
Read our filter vs medical vs fabric face masks to find out more about the different types of masks and which can protect people best.
By Raya AlJadir
More on Disability Horizons…