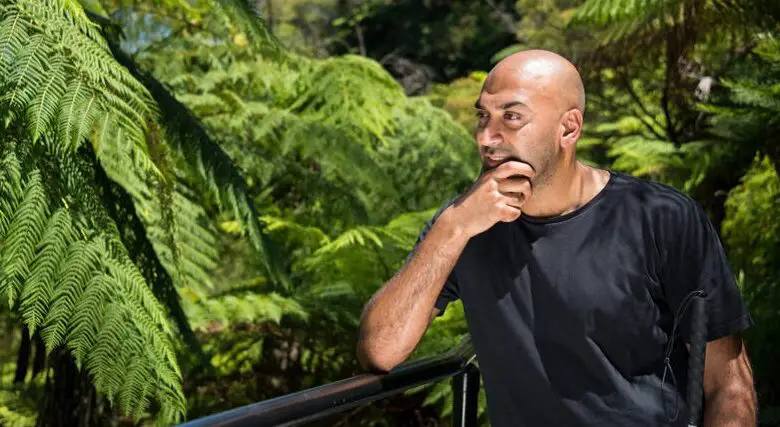 Lifestyle
Amar Latif: entrepreneur, TV personality and first blind Masterchef contestant
Amar Latif is a blind entrepreneur, public speaker, TV personality and traveller. He lost his sight at the age of 18 due to an incurable condition, but that hasn't stopped him from pursuing his goals. In this interview, he shares his experiences of the daily challenges he faces and the solutions he has found, his passion for travelling and starting his own business, and how you can do the same.
Scottish-born Amar Latif has retinitis pigmentosa, a genetic eye condition, and was told at the age of four that his sight would deteriorate by his mid-teens.
Despite knowing what would happen, he initially found it hard to accept, in part because so many people told him what he'd no longer be able to do.
However, after taking the opportunity to study for the third year of his maths and statistics degree in Canda, he proved that travelling was not only possible as a blind person, but also can be an incredible experience.
This and his new-found love of travel prompted him to start his own company, Traveleyes, in 2004. It helps blind and visually impaired people to explore and experience the world in their own way, using all their other senses.
Amar Latif started his career in TV after appearing on the BBC's reality series Beyond Boundaries in 2005. It followed a group of disabled people, including presenters Sophie Morgan and Ade Adapitan, as they trekked through Central America.
He has since made appearances on and directed a number of shows, including Channel 4's documentary Sightseeing Blind and The Last Leg Goes Down Under, and BBC's Love Soup and Ready Steady Cook. He also co-presented How to Get Fit Fast from 2017 to 2018 with Anna Richardson. 
Last year, he fronted the documentary Travelling Blind, where he went to Turkey with comedian Sara Pascoe as his sighted guide. He was also part of the series River Walks, where he explored the Yorkshire's river valleys.
Earlier this year he became the first blind person to take part in Masterchef. Competing against 10 other celebrities, he made it all the way to the semi-final, with his sighted guide only there to ensure he stayed safe.
Find out more about Amar Latif in his own words, and read his tips to living independently and creating your own business.
Amar Latif on being visually impaired
What daily challenges do you face as a blind person, and how do you overcome them?
On a day-to-day basis, I'd say the main challenges are practical ones, such as making sure my clothes are the right colour or telling the difference between tins of food.
A few years ago, I'd have had to get a sighted person to come over and help me out, but these days there are so many apps that I can rely on!
I find BeMyEyes really useful. It puts me in touch with sighted volunteers from all over the world. Microsoft's SeeingAI is also great. It analyses written text and turns it into speech.
As I always say, technology is the number one liberator for disabled people!
What motivated you to start your own business?
When I was a student, I decided to take a year abroad, studying at Queens University in Kingston, Canada. This was the first time I'd been away from Glasgow by myself since fully losing my sight at 18. It turned out to be a life-changing experience for me.
I learned so much – not just about the world around me, but about myself and what I was really capable of as a blind person.

It taught me that life was still out there waiting for me and that I could live as independently as my sighted counterparts.
The experience sparked a passion for travel in me – I knew there was more of this big, beautiful world out there, and I wanted to explore it!
The problem was, when I approached mainstream travel companies, they all rejected me, saying that they wouldn't take me abroad without a carer.
I knew I didn't need a carer, but also realised that if I wanted something in this world that didn't exist, I'd either have to go without or build it myself.
And so, Traveleyes was born!
Traveleyes and being a blind traveller
Please tell us more about your company and how it aims to help blind and visually impaired people?
Traveleyes is a world-unique tour operator specialising in travel for blind and vision-impaired (VI) travellers. On each trip, we bring a group of individuals – half of which are blind or VI, and the other half is sighted – and go out on adventures designed to make the most of the full sensory experience.
The sighted travellers guide their VI partners through the visual parts of the tour, and the VI travellers help their sighted partners really experience everything else from a different perspective. It's a wonderful experience for both groups, and we've developed a really lovely community along the way!
You love to travel, what countries have you visited and how did you find navigating the places you have been to?
I've been to so many countries I can't even count them anymore! One thing that is surprising, though, is the way that accessibility varies from country to country.
Sometimes you're in the wealthiest places in the world – the US or the UAE, for instance – and you can't use the lift as a blind person because all the controls are just flat touchscreens.
But then you go to somewhere really remote, where you'd expect accessibility to be relatively minimal, and all the lift buttons are labelled in perfect braille!
What is your favourite holiday destination?
Cuba! It's got such an interesting history, and it's such a great place to go as a blind person. Whether it's salsa dancing on warm, sandy beaches or tasting pineapple its freshest, there's so much going for it!
Amar Latif on being a disabled entrepreneur
What advice would you give to other disabled people who may wish to start their own business, but don't know where to start?
Try looking into funding or support options offered by your local authority. There's actually a surprising amount of options available to new businesses on regional and even national levels.
Often, the best thing to do is open up your favourite search engine and keep an open mind!
What are your top 5 tips on being a successful entrepreneur?
1. Have confidence in yourself
These days, our travellers love our tours, but when I first started people didn't even understand why blind people would want to go travelling in the first place. Refusing that negativity was crucial to getting Traveleyes off the ground!
2. Make sure you stay open to input
Listen to advice from others, even when it's from places you don't expect it. It's easy to develop all sorts of preconceptions about the people around us, but if we put up those walls it means we end up missing out on everything they can offer us!
3. Keep your finger on the pulse 
Knowing what's going on in the industry you're working in is key. Entrepreneurship is about innovation, and innovation is about finding new paths forwards.
Sometimes it's possible to reinvent the wheel, but more often than not it's better to build at the cutting edge rather than starting from scratch.
4. Know your markets
Your enterprise will only stay afloat as long as your customers are there to buoy you up, so it's important to make sure that whatever you're doing will find support.
This doesn't always mean doing only what people want you to though – sometimes you'll know what your market wants better than they do! The trick is understanding the market and your customers well enough to get to this point.
5. Get good at teamwork
We're all familiar with the image of the intrepid entrepreneur, venturing out alone into the uncharted territory of commerce or industry to break new grounds and reach new heights.
But the truth is that very few people do it alone. Whether it's your business partner, your employees or your suppliers, it's all a team effort!
Living through the Covid-19 pandemic as a blind person
With a second lockdown, how are you finding having to stay at home due to the Coronavirus outbreak?
It's been much better than the first time, to be honest. I think it took us all a little while to get used to things back in March, but now there's hope for a vaccine, and I've picked up a few tricks to help make things more bearable!
One example is that I've worked out a way to get out and about for walks without making physical contact with a guide. I now just call up a friend on Facetime or Whatsapp video and have them guide me about through the camera on my phone.
I can even ask them to hang up for a while so that I can enjoy being in nature by myself, which is something I haven't been able to do since losing my sight. It's incredible!
How are you managing your career and business during the lockdown?
The travel industry is having a really tough time of it at the moment, so we at Traveleyes have been looking into creating a new product to help make things easier for blind folks – the Companion Cane!
Whilst we can't really rely on strangers for physical contact guiding at the moment, we're hoping that the cane will offer a way of keeping two meters apart whilst also receiving safe navigation assistance in public.
How are you finding using public transport with Coronavirus and keeping your distance?
There are good things and bad things about it. On the one hand, it's nice to get the extra space on the train – on the other, actually getting through the station to your seat has become a bit of a nightmare!
Before Coronavirus, the standard practice for us blind folk would be to take the arm of a station assistant, but social distancing guidelines mean that that's not really possible anymore. It's technically allowed, but that doesn't make it safe!
What do you like to do in your spare time?
I normally like to go out and enjoy time with friends, but that's obviously been a bit tougher lately, so at the moment I'm mostly just looking for new ways to avoid having spare time!
If I really can't avoid it, I like to play the guitar or listen to audiobooks. I'm getting very into autobiographies at the moment!
Amar Latif on Masterchef and cooking
Do you have a favourite meal that you like to cook?
It's not exactly one meal, but I love experimenting with curries! They're so versatile, and it's such a sensory experience to prepare.
The kitchen comes alive with the sounds and smells of everything I'm cooking, and as long as you sort of know what you're doing it'll probably taste great!
What's next for you and what are your future plans?
I'm actually very excited because I'll be on the first-ever Celebrity Masterchef Christmas Cook-Off this year!
There'll be two episodes, each featuring a different group of four – my group's cook-off will be airing on BBC One at 9pm on the 23rd December.
If you've ever wondered who would be a better cook between me, Craig Revel Horwood, Spencer Matthews and Crissy Rock, make sure to tune in!
Watch Amar's Ted Talk where he shared his experiences as a blind person and how to think without limits.
You can get in touch with Amar Latif via his website, through his company Traveleyes and you can follow him on Twitter @AmarLatif_ and Instagram @theamarlatif. 
Interview by Zubee Kibria
More on Disability Horizons…