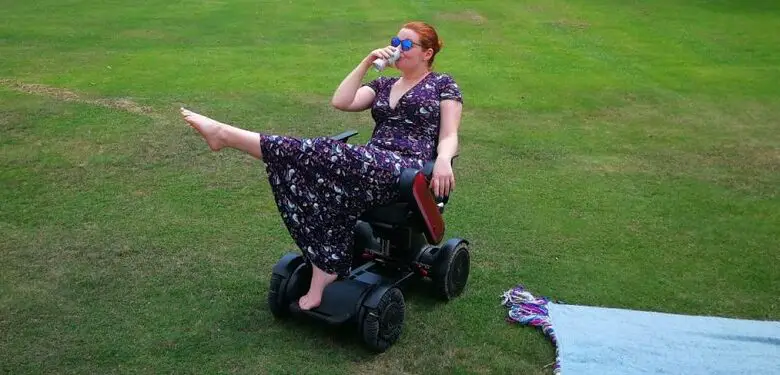 Dr Hannah Barham-Brown has quite an extensive CV. She is a junior doctor, a campaigner on medical ethics and law, a speaker, blogger, media commentator and deputy leader of the Women's Equality Party. In this article, our writer and editor Martin Warrillow introduces us to Hannah's extraordinary career and education, as well as her proactive work in raising awareness of disability representation to create societal change.
Hannah's enthusiasm for life practically fizzes down the line as she speaks to me, and if I included every killer quote, this feature would be at least twice as long as I have space for.
Hannah was diagnosed with Ehlers-Danlos syndrome (EDS) when she was 27. She is a wheelchair-user and tireless campaigner for the rights of disabled people, especially in the world of work.
She has Bachelor of Arts degrees in English, Theology and Arabic from Durham University, paediatric nursing from Northumbria University and degrees in medicine and surgery from the University of London. She is also a member of the council of the British Medical Association.
I first heard about Hannah through her appearance in August 2020 on the BBC's The Naked Podcast. Plenty of people in the disabled world might shiver at the thought of appearing on such an open and no-holds-barred podcast. I won't give anything away, but I will say that you should Google it and have a listen.
In my view, Hannah does more for the cause of disabled people as ordinary, contributing members of society in 55 minutes in that podcast than some have done in years.
The disabled community needs more campaigners like Hannah Barham-Brown – people who are prepared to point out the basic failings within a society, which doesn't take enough account of its 14 million disabled citizens.
The disabled community needs more campaigners like Hannah Barham-Brown – people who are prepared to point out the basic failings within a society that doesn't take enough account of its 14 million disabled citizens.
I'll let Hannah tell you the rest of the story in her words…
The word 'inspirational' can be patronising for disabled people
I'm a very privileged person, in many ways. I won't sit there proudly while people tell me how inspirational I am.
Being disabled and a doctor doesn't make me inspirational. By calling people like me 'inspirational,' you are mothering us. I don't exist to make people feel all gooey inside. As a doctor, I'm doing the same job as my colleagues, I just do it differently.
I could get behind the word 'inspirational' if what I do inspires people to do something to change the situation disabled people are in, but other than that, no, thanks.
Acquiring Ehlers-Danlos syndrome
After my brother died over Christmas 2014, I ran a half-marathon in his memory. During that race, I dislocated my knee and it was during the subsequent investigations that EDS was diagnosed.
That meant getting around with walking sticks initially, but as time has gone on, I have needed to rely more heavily on the use of a wheelchair.
I used a conventional manual wheelchair at first, which was at times frustrating and caused massive biceps! Eventually, I decided to get a powerchair.
However, I didn't just go into the local mobility store and get out my credit card – I decided to be proactive and crowdfund it.
I was literally about to get up and do some more emails… #Simbastatin pic.twitter.com/pto9dOy4uH

— Dr Hannah 'Female Thor' Barham-Brown (@HannahPopsy) February 8, 2021
Speaking out about disability rights
When able-bodied people see a disabled person, they see the wheelchair first and I believe we have to challenge that perception.
Disabled people are still fighting for basic rights because people won't talk about disability, whether it be disabled people ourselves or society generally. I think it's really important that we do talk about it.
That's why I appeared on The Naked Podcast. I spoke frankly about my frustrations with using (or trying to use) a wheelchair on public transport, about buying my first walking stick, and about the difficulties of dating as a young disabled person.
I made a point of talking about topics that might generally be seen as 'too controversial' for general debate.
I also take my role as deputy leader of the Women's Equality Party very seriously. I strongly believe that politicians should have experience of life and being a doctor gives me that, especially seeing what the NHS is dealing with at the moment with coronavirus.
I feel that the health and social care system is deeply unfair to women. 75% of unpaid care work is done by women and our existing benefits process, which is catastrophically badly designed, puts even more pressure on them.
Interview with Dr Hannah Barham-Brown by Martin Warrillow 
Follow Hannah on Twitter at @HannahPopsy and take a look at her blog Hannah Barham Brown and TEDx Talks.
More on Disability Horizons…