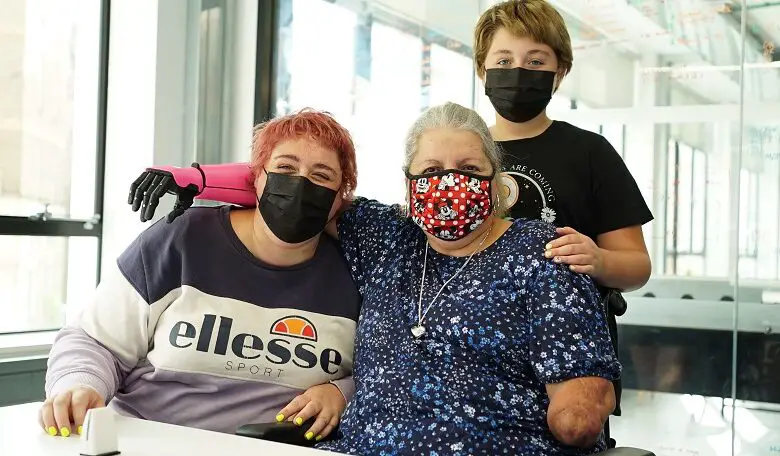 Open Bionics was founded in 2014 with the goal of developing affordable, assistive devices that enhance the human body. In other words, Open Bionics turns disabilities into superpowers. The Bristol-based bionics company is known globally for using 3D printing and 3D scanning to make advanced, affordable and accessible bionic limbs.
Here, Open Bionics shares the story of one of its customers, a mum of five who lost all four limbs to a life-threatening sepsis infection.
In October 2020, we launched the latest version of our Hero Arm, our flagship product. The Hero Arm uses myoelectric sensors that detect underlying muscular contractions generated from specific muscle groups in the arm. These are then amplified and converted into intuitive and proportional bionic hand movements.
Our new model has greater reliability, comfort and quality, more robust laser-sintered frames, innovative socket technology, and new magnetic covers. 

This year, we saw the power of what our products can do for people's lives after a devoted mum from Chichester was fitted with our Hero Arm to help her regain independence having lost all four limbs.
Susan Neil, a mum of five, went from being a healthy lady in her 40s to fighting for her life following a routine trip to the dentist.
"I went for a routine checkup where the dentist nicked my gum. It caused the most horrendous abscess that left me fighting for my life with sepsis.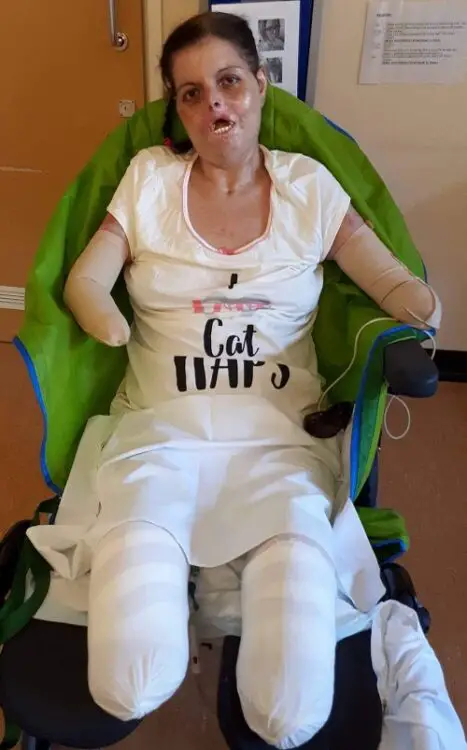 I went on to spend four terrifying months in intensive care and a whole year in hospital recovering from the infection that led to the amputation of all of my limbs, as well as part of my nose, tongue, and mouth.
Once I was able to go home, I remember the moment I realised that life would never be the same – my arms were too short to fully wrap around my kids and cuddle them.
Despite this, I felt lucky to be alive and became determined to get my life back on track. I started by researching bionic limbs and discovered the Hero Arm, a multi-grip bionic arm manufactured by Open Bionics.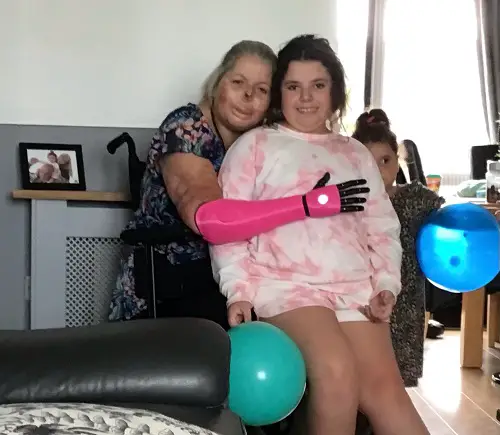 Following a successful crowdfunding campaign, I was fitted with a Hero Arm built custom for my amputated arm and matches my individual prosthetic requirements and design preferences.
I credit those arms with giving me a new lease on life.
Now celebrating bionic hugs with the family, I am is looking forward to being able to do simple things, such as eat a packet of crisps, and brush my hair without needing assistance."
Commenting on Sue's journey Samantha Payne MBE, CEO at Open Bionics, said: "We are so pleased to see that the Hero Arm is helping Sue re-gain independence and confidence.
We really love seeing the videos Sue posts of her completing new challenges with her new hand. We hope that NHS England will adopt this technology so that British people can stop using Crowdfunding to pay for their healthcare needs."
Open Bionics is waiting for NHS England to update its guidelines to enable amputees in the UK to access advanced multi-grip technology that costs less than older NHS myoelectric prosthetics.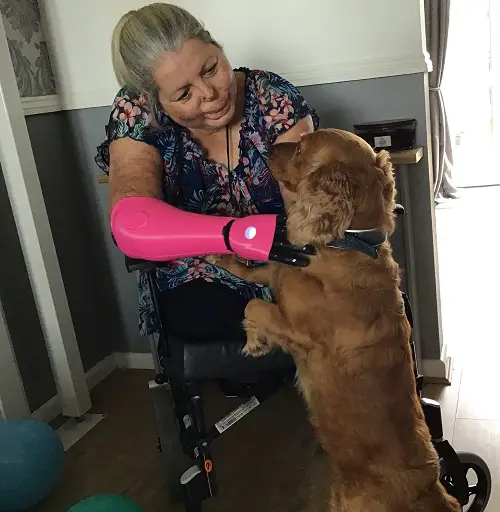 For anyone interested in finding out more about the Hero Arm, which can be used by adults and children, visit the Open Bionics website.
You can also register your interest in a Hero Arm to find out whether it's right for you and whether you can qualify for FREE Hero Arm funding.
By Open Bionics and Susan Neil
More on Disability Horizons…