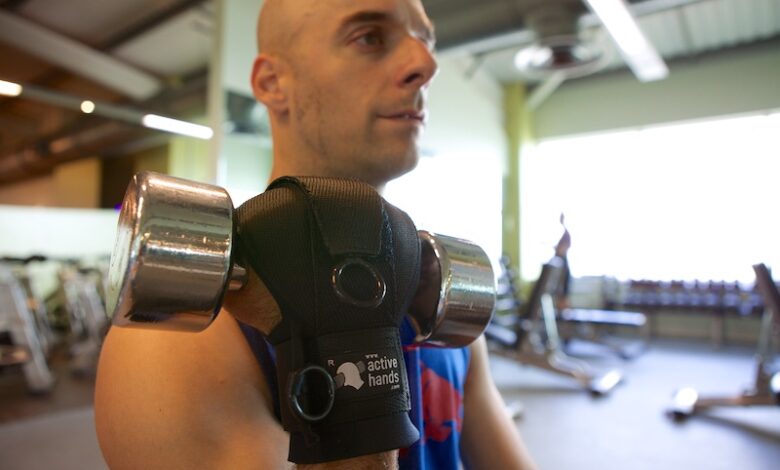 Rob Smith is a disabled entrepreneur and sportsman who designed the Active Hands gripping aids, which allow people with limited hand function or an upper limb difference to grip everyday items with ease.
Our writer, Emma Purcell, got the opportunity to interview Rob Smith about living with his disability, designing the Active Hands gripping aids, competing as a wheelchair rugby player and long-distance racer, and being a disabled parent.  
In 1996, Rob was a 20-year-old student studying Mechanical Engineering at Warwick University. Then, during a holiday with friends, he fell down a cliff and suffered a high-level spinal cord injury leaving him with partial paralysis in all four limbs.
His injury was an incomplete injury (the spinal cord was not completely severed) so he has some core strength and some movement in his arms and legs.
Rob spent nine months in a Salisbury spinal rehabilitation unit. After that, he was able to return to university as a disabled student to complete his degree course.
Although Rob was able to find suitable equipment to overcome his mobility issue, he could not find anything that enabled him to overcome his grip problems.
Rob and his mum went on a mission to design a unique gripping aid. When they discovered that it could help more disabled people, The Active Hands Company was born.
Since Active Hands became a limited company in 2007, the company has won numerous awards, including the UK Disabled Entrepreneur of the Year Award in 2011 and the Shaw Trust Power 100 lists in 2018, 2019 and 2020. Rob was also awarded an MBE by Prince Charles in 2020.
Away from Active Hands, Rob has competed as a wheelchair rugby player and is currently a T52 British long-distance and marathon wheelchair racer. He is married to his wife Jo and they have an eight-year-old son and a three-year-old daughter.
Read more about Rob Smith from Active Hands in his own words.
Rob Smith living with his disability
What was it like becoming disabled following your accident?
It was quite a shock as I had spent the first 20 years of my life being able-bodied. All of a sudden, one night, after falling down a cliff while on holiday with friends, I was welcomed into the world of disability, a totally new place to reside for the rest of my life.
It was quite a difference from my previous life, and it took me a while to get used to. I was in a spinal injury unit in Salisbury for nine months. I had a long time to get my head around what had happened and get used to the new implications for my life going forward.
At the time, because I had an incomplete injury, I had some use of my lower body. I didn't quite know what the rest of my life would hold for me. I didn't know whether, with increased physiotherapy and rehab, I might have got back to some level of what I was like before my injury.
But after a few years, I was able to see what was going to happen with my physical ability and eventually came to terms with that.
How does your disability affect you on a daily basis?
I'm a wheelchair user and my hand function is severely affected, so I have very little movement in my fingers. I also have to face all the other things that come along with a disability – internal organ health, bladder control and bowel function.
There are ways to overcome being a wheelchair user and other mobility issues, but having limited hand function has been a constant frustration for me, especially when I was training to be an engineer at university.
Rob Smith on creating the Active Hands gripping aids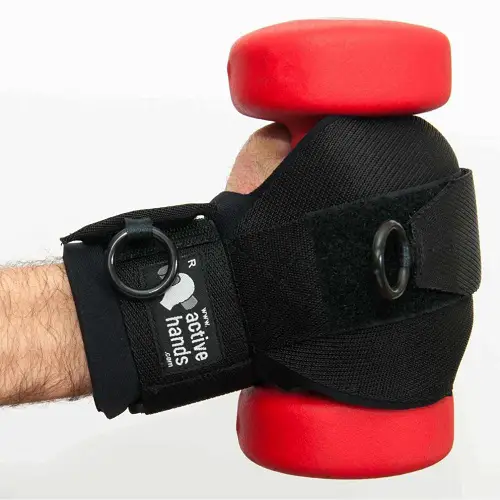 Your mum made the first Active Hands gripping aid. How did the initial idea come about and become a successful brand?
I was a frequent gym user and sports enthusiast before my injury. Then, all of a sudden, I couldn't access most of the gym equipment. My lower body wasn't strong enough and to do my upper body stuff, most of the time, I couldn't grip well enough to actually work it.
To keep active, I started playing wheelchair rugby. I wanted to increase my upper body strength, but the frustration was that I just couldn't grip a lot of the gym equipment.
To solve that, I started to use a winter ski glove that I adapted by sewing a few bits of Velcro onto each of the fingers, enabling me to put them in different positions to hold onto things, but that didn't work.
We then went through a few different development stages, just with my mum at home and her sewing machine, trying to work on a number of ideas.
Eventually, we got to a product quite similar to what our general-purpose gripping aid is today, and that worked really well for me. It enabled me to get back into the gym and grab some of the equipment and hold onto it.
Which gripping aids are the most popular and why?
I think our general-purpose gripping aid is still the most versatile as it allows you to do the highest number of jobs. It's appropriate for many different physical disabilities, impairments and conditions.
It allows you to grab dumbbells and weights, exercise machines, DIY tools, kitchen utensils, and many more items. It's the most flexible and useful one.
Even though we've got lots of new products out, that one still tends to be our most popular and commonly used.
You do a lot of video demonstrations of your products on Facebook. What tips can you give to other entrepreneurs about making videos for social media?
If you look at a still picture of the gripping aid, it's great to be able to see it with or without a hand wearing it – but nothing compares to video.
People can really see how easy it is to put on, how easy it is to grasp something and how easy it is to take off.
In general, people love to see a moving image of how a product works so that they can understand it properly. We realised that very early on and then started making videos straight away.
However, most of them were pretty rubbish. I was trying to work from a script and tried to say exactly the right thing. After a while, I learnt my strengths and weaknesses and that sticking to a script didn't really work for me. I just needed to demonstrate the product and talk naturally to the camera.
Sometimes it takes a few attempts because I say a few words in the wrong place, or I don't say it quite the way I wanted to, but we got good fairly quickly by trying different methods.
Now, the technology in phones is so good – the cameras and the mics are really advanced in the last few years – so we do most things on a phone and then we use editing software, such as iMovie.
It's quite easy to put together a 30 second or one minute video. People can then absorb this much more easily than trying to understand it through text or pictures, and they can see how something works.
How does it feel to know that famous people, such as Alex Brooker and some Paralympians, use your products?
It's a really good feeling to know that our products are used by all kinds of people, from an elderly lady with MS or a person just trying to use a rowing machine in the gym, all the way to Paralympians.
We've known for a long time that many Paralympic athletes use them, especially the wheelchair rugby guys, because that's my background. They have been buying from us right from the early days and using them in the gym.
But now we've seen a lot of people using them to actually compete with. For example, the kayaking team use them to paddle, the seated throwers use them to hold the throwing chair, and our products are known to be used in archery too.
Having Alex Brooker use our gripping aids is amazing. We'd been trying to get some products to him for some time, but it just wasn't happening.
In the end, I went to the Shaw Trust Power 100 event where Alex was getting the first place award. I took one with me and I managed to put it into his hands and show him how it worked.
At the time, it was a fairly new product for people with limb differences and those who have missing fingers and parts of hands.
Alex was so pleased with it and I think it's been a bit of a game-changer for his attitude to disability equipment.
He has said in interviews that meeting me and seeing our product really changed his mind about products that are available for disabled people.
Previously, he'd been quite anti-disabled products, essentially because they aren't generally very cool and don't look great. He instead tried to adapt the way that he did things. But having seen our products, he's really on board with how the right disability aid can be extremely useful.
He's got massive influence within the disability community, so that helped to get the word out about our products as well, which is also great.
Read our interview with Alex Brooker, in which he mentions how life-changing the Active Hands gripping aids are for him.
Active Hands has won numerous awards. Can you tell us which one you're most proud of and why?
The biggest award for us was the UK Disabled Entrepreneur of the Year Award in 2011, which is supported by the Stelios Foundation.
It has a long application process and there was a big financial reward. At that point, we were still a pretty small company, and my sister and I were doing it in our spare time, just paying ourselves expenses. But that financial part of the award allowed us to take it on and earn a salary from it.
Knowing that we had a bit of money in the background to keep this going, even if we couldn't develop it into a full business, was a big step forward for us.
You were also awarded an MBE. What was that like and how was the ceremony?
We were very, very lucky with that one. I was awarded it in March 2020 by Prince Charles at Buckingham Palace, and that was one of the last events that happened before the first lockdown.
I managed to go along with my wife and son so that they could watch the ceremony. It was a really brilliant occasion for me and nice to get some recognition too.
What advice would you give to other disabled entrepreneurs starting their own businesses?
If you have an idea or a product, then go ahead and make it. Don't mess about with trying to look through the technicalities of it too much.
Just get on with making it so that you can get some good feedback. If it's a good product, people will be interested in buying it.
Put yourself out there and be confident because you will have some barriers to overcome, such as people's attitude to your disability.
Sometimes you have to be a bit pushy to get past those barriers, but once you've got your foot in the door and can show what you can offer, people will start to change their attitude and you can move forward from that point.
Rob Smith competing in disability sport
You compete in a few sports. What kind of sports do you take part in and what's your favourite?
I started off playing wheelchair rugby quite soon after my injury. Within a year, I was playing rugby at a fairly decent level – I even did some international games.
I really enjoyed the team side of it and the fact that there were loads of people with similar disabilities, all working together and being independent. Being part of a club and a team was really enjoyable.
I then moved on to wheelchair racing because I wanted to complete a marathon.
It was one of those things that many able-bodied or disabled people have on a bucket list, and I thought, "Yeah, I can do this in a wheelchair. Let's go and train for it."
So, I bought a second-hand racing wheelchair and trained up. I did the Great North Run and then the London Marathon. Not long after that, I got hooked on racing and I've been doing that ever since.
Could you see yourself at the Paralympic Games one day?
I've been close. There has always been a possibility for selection. I've been chosen for the European Championships and I won a silver medal in Swansea. But I'm more of a long-distance racer.
Annoyingly, the International Paralympic Committee has taken out the marathon and it has announced that it's going to remove the 1,500 metres from the Paris Paralympics. As a result, my training is focused on marathons and on-road races.
How do the Active Hands help you to take part in sport?
I use my Active Hands products all the time in training – when I'm lifting weights and using exercise equipment in the gym.
Also, although this is not an Active Hands product, I also designed my own racing gloves. Like a lot of wheelchair racers, we use a kind of plastic molded glove. I've used my engineering knowledge to work out the best glove for me to use.
Rob Smith as a disabled parent
What is it like parenting with a disability and do your children have a good understanding of your limitations?
I don't think it's much different. There are certain things that I can't do, particularly because of my hand function. It was really difficult for me to dress a wriggly toddler or do nappy changes – I haven't done very many of those when I haven't had very good hand function.
Also, it's difficult for me to take out our three-year-old. When my eight-year-old son was younger, he was quite good at just sitting on my lap fairly sensibly as I pushed him around.
But our three-year-old is an entirely different child. If she decides to run off in the middle of a car park or road, it is difficult for me to deal with the situation, which can cause frustrations and restrictions.
But as they get older, I think it'll be easier and they'll be able to understand the situation more.
They already understand how my disability affects me and how I'm different from other parents, even though that's their experience of being a child of a parent with a disability.
I think they will get used to what my limitations are, but hopefully there will be some benefits that they'll gain from it as well. There are pros and cons, as with anything.
What tips would you give to other disabled parents?
Be as understanding and helpful as possible to your other half because there are things that they will need to take on that you can't help with. Make sure that you take on enough other duties if you can, and be as considerate as possible of that other person.
Also, help your kids to understand disability in general. You don't need to talk to them about it all the time, but just allow them to grow up and see the way that disability affects you,
Plus, let them ask the questions rather than worrying that there's going to be things that they don't understand. They'll work it out and they'll ask you.
As long as you give them space to be able to ask the questions, they will ask them when they feel it's important to them.
Find out more about Rob Smith and the Active Hands Company by following Active Hands Facebook, Twitter, Instagram, LinkedIn and YouTube.
Check out all the Active Hands products available on the Disability Horizons Shop.
Interview by Emma Purcell 
More on Disability Horizons…