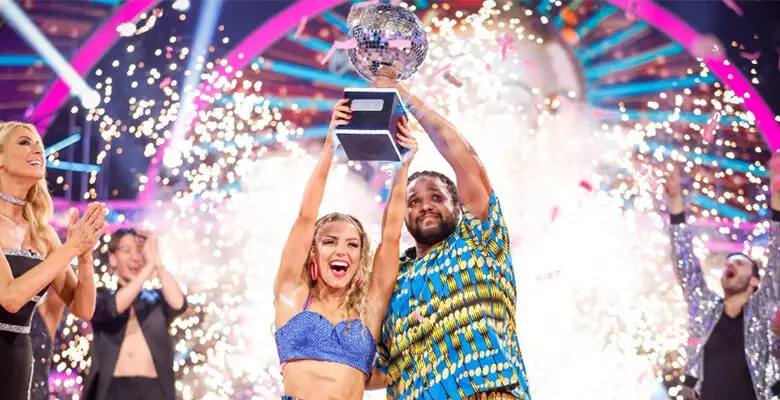 Wildlife cameraman and presenter Hamza Yassin – who has dyslexia – was crowned winner of Strictly Come Dancing 2022. He believes his learning difference is a unique "gift" and could have been his secret weapon in lifting the glitterball trophy.
Who is Hamza Yassin?
Hamza Yassin is a 32-year-old wildlife cameraman and television presenter. He is best known for his role as Ranger Hamza on the children's channel CBeebies and his work on shows such as Countryfile and Animal Park, as well as presenting programmes about Scottish wildlife.
He moved from Sudan to the UK aged eight and later in life got a degree in Zoology with Conservation from Bangor University and a Masters in Biological Photography and Imaging from the University of Nottingham.
Hamza Yassin living with dyslexia
Hanza was diagnosed with dyslexia as a teenager and he believes his learning difference is a unique "gift" that may have helped him win Strictly.
He reckons being dyslexic gave him a photographic memory, helping him remember the tricky steps during training sessions with his professional dance partner Jowita Przystal.
According to the Mirror, Hanza said: "I think in 3D, I think in pictures, I have a photographic memory and that is all due to my dyslexia… …l truly believe my dyslexia is my gift and I am the man I am now because of it."
He added: "If I can connect with one struggling kid who thinks he or she is not going to be anybody, if that kid can say, look at Hamza, he has dyslexia but he is living his dream, I'd be happy.
Dyslexia is a common learning difference that mainly causes problems with reading, writing and spelling. It's estimated up to 1 in every 10 people worldwide has some degree of dyslexia.
Many other celebrities such as Shaun Ryder, Holly Willoughhby and Tom Cruise are known to live with the condition too and have gone on to have successful careers in the entertainment industry.
Hamza Yassin on his Strictly Come Dancing journey
Hamza Yassin competed in the 20th series of Strictly Come Dancing and was crowned winner alongside his professional dance partner Jowita Przystal.on Saturday 17th December 2022.
From week four, Hamza's scores didn't dip below 30 points. He racked up 24 10s, just two less than finalists Fleur and Vito, and topped the leaderboard five times over the series.
He remained a firm favourite throughout the series, never having to face the dance off.
Overall, he performed better with his ballroom dances, getting an average score of 34.75 ahead of the final, the highest score of any of the finalists.
The couple gave it their all in the final, starting off the night with their Judges' Pick, an action-packed Salsa to Ecuador by Sash!, which got the same score as when they first performed it – 39.
They then performed a sophisticated Ballroom-inspired Show Dance to Let's Face The Music and Dance by Irving Berlin. The judges were less complimentary about this dance, pointing out a couple of mistakes Hamza made. He scored 34, the lowest score of the night.
They then finished up with their favourite dance of the series, an amazing Afrobeats Couple's Choice routine to Jerusalema – Remix by Master KG ft. Burna Boy and Nomcebo Zikode. Having scored 38 the first time, they were elated to receive a perfect 40 for it in the final – their first of the series.
When they were announced as winners, Hamza said: "Words can't describe how I feel. I want to thank one person in particular, Jowita – you are an angel disguised as a human being.

You are amazing. Thank you to everyone out there for voting for us. This is the best thing that's ever happened to me!"
Jowita also had some lovely words, adding: "Just so you know, anything is possible. Anything is possible and he [Hamza] is just the proof that anything is possible, and he came here on the show with no dancing experience. With pigeon toes and he made it!"
She added: "He worked hard and he made it. I'm so proud of you and I would love to thank everybody, and to all of you guys [fellow Finalists], because you are amazing."
Hamza and Jowita's routines were a huge hit with the Judges and audience at home alike, earning them the coveted title of Strictly 2022 champions!
It is a huge achievement for both dance novice Hamza and Pro dancer Jowita, who takes home the trophy in her first year with a partner, having joined the Strictly family in 2021.
Other disability representation on Strictly Come Dancing
As most Strictly fans and regular readers of Disability Horizons should already know, Hamza is not the first disabled person to appear or win the dancing show.
Since 2017, Strictly has featured a wide range of contestants and professional dancers with impairments and health conditions, making it one of the most inclusive TV programme in the UK.
In this series, Hamza competed against former Paralympic swimmer Ellie Simmonds, who has a form of dwarfism.
Last year, deaf actor Rose Ayling-Ellis won the show and inspired more people to learn sign language.
Other disabled celebrities who have taken part in previous series of Strictly include Jonnie Peacock, Lauren Steadman, Katie Piper, Will Bayley and JJ Chalmers.
There are also two professional dancers who have opened up about their health conditions.
In 2020, Amy Dowden shared her diagnosis of Cron's disease and broadcasted a documentary – Strictly Amy: Crohn's and Me – about living with the condition.
Also, in November 2022, pro-dancer Nitika Kuzmin opened up about his diabetes diagnosis as a teenager and how it worried him for his future as a dancer.
The 24-year-old Ukrainian dancer appeared on BBC's Morning Live last month and spoke about his upbringing and how his health condition affected his prospects.
In case you missed Hamza Yassin lifting the glitterball trophy, you can watch the Strictly Come Dancing final on BBC iPlayer.
By Emma Purcell 
More on Disability Horizons…