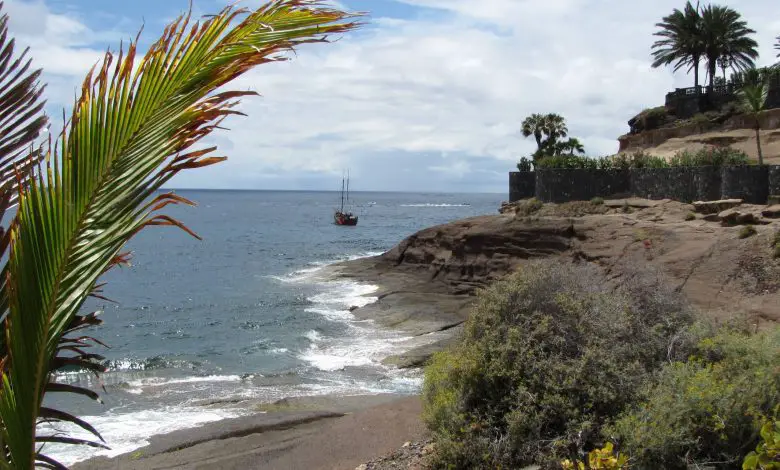 Disability Horizons co-editor Srin Madipalli, recently went on a holiday to Tenerife, he writes an article about travelling to one of Europe's holiday hotspots and his experience going scuba diving again.
It was late January and I had been back in the office for three after weeks taking four months off to go travelling around. While it was great to see all my friends and colleagues at work after being away for such a long time, getting back into a daily work routine was a little difficult. London at the end of January can be a pretty grim place. Its cold, the days are short and the general festive cheeriness of December is a long distant memory and replaced with something more like a prolonged and dreary festive hangover.
The travel bug has taken over me since I got back to London, and couldn't wait to go somewhere again. An opportune moment to take some time off arose when a lovely young couple living in London named William and Kate decided to get hitched just after the long Easter weekend. To celebrate their wedding the entire country got the day off. By taking three days off work using my annual leave allowance between Easter and the Royal Wedding, I ended up getting eleven days off work, which was just too good an opportunity to miss!
Normally, I book my own holidays and make all my own special disability related arrangements. However, this can be rather time consuming, so this time I thought I would try using a specialist tour operator. I discovered an agency called Accessible Travel & Leisure ("Accessible Travel") last year, when trying to research holiday destinations during my sabbatical. Unfortunately, none of the trips I was interested in could be organised within my schedule, but I had nonetheless kept them in mind. I had a search of some places to go for a one week trip on their website and I initially thought of going to Egypt. But that idea was soon shelved when the revolution started! In the end, I decided on Tenerife. I had never been, but I was attracted by the thought of trying another scuba dive with a company I had heard off who were able to arrange adapted diving sessions and being able to relax a bit in some nice weather. Once I had decided on Tenerife, a long-time friend of mine, Toby, was also taking time off during the period, and was going to join me on the trip.
When travelling with a disability, preparation and planning is the most important and time consuming aspect. This is where Accessible Travel were great. All we had to do was outline what we needed and they were able to find the hotels, transport and equipment we needed. They arranged bookings at perfectly accessible hotels and organised airport transfers and hoist hire. This took a massive burden of me as I didn't have to sort all things out myself and it also meant that I did not have to take my own hoist, which can be a pain sometimes.
Travelling to Tenerife and reaching our hotel went very smoothly. We flew on EasyJet who safely transported our two powered wheelchairs without any problems. An accessible taxi was waiting for us at the airport, which took us to our hotel in Los Cristianos.
When I go on holidays these days, I need to move around and see as many things as possible and do as much as I can. So we also hired an adapted wheelchair accessible van for our PAs to drive for four of the days during the trip from a car hire firm called Cicar.
Tenerife, and Los Cristianos in particular is a place that is well suited for wheelchair users. The shorefront has solid paths to move over and many beaches have wooden platforms to allow you to get near to the sea. Most roads have easy to drive on footpaths with dropdowns, and shops, cafes, restaurants and various local amenities are easily accessible.
While Los Cristianos is a nice place, I would have struggled to stay there for the whole week, and this is where the adapted van became very useful as it allowed us to explore the rest of Tenerife, which can only be described as spectacular. The highlight of our road trips around the island was easily our mountain trip up the El Teide volcano, which was over 3,000 metres above sea level and is the tallest peak in Spain. Although, the cable car to the top wasn't fantastically accessible, there were lots of people to help carry me and the wheelchair up the steps.
The views from the top of El Teide were simply stunning. At that height, we were way above the clouds and the experience was just awesome. I felt sad at having to eventually come back down through the clouds to ground level!
The next equally amazing highlight was the scuba diving experience. Since my trip to Bali last year, this is something that I am now quite hooked on. I arranged a dive with a company called Blue Explorers, which is based in a small town called Abades. Like in Bali, the dive was so much fun. Even though the water was much colder, the experience was just as thrilling. The freedom I feel at being out of my wheelchair and underwater is very difficult to describe in words, but hopefully the general sentiment of absolute elation I felt is something that I am able convey to you as you read this article!
Here is a video of while underwater:
The remainder of our time in Tenerife was spent driving to different parts of the island, but also taking the time to simply relax a little. Eventually it was time to go back home to the UK and on the day of our flight back home, the accessible taxi was waiting at our hotel to take us back to airport. Again, EasyJet were brilliant. Our wheelchairs came back in one piece without any damage and we got back home without any difficulties.
For the disabled traveller, Tenerife is a place I would definitely recommend, especially if you are looking to build up your confidence in travelling abroad. It is relatively easy to travel to, but is also far enough from the UK to require that you be properly prepared and organised. The island is definitely mindful and well aware of the needs of a disabled traveller, and from personal experience, there are many more places in Europe that are more difficult to travel around for a person with a disability. If you decide to use a tour operator as we did, you can be assured that operators such as Accessible Travel are very knowledgeable of a popular destination like Tenerife and can provide you with many travel options depending on what you require.
Finally, I also think it is a destination that can cater for many tastes. There is something for those who prefer to relax and stay in one place, but there is also plenty for those who prefer to move around and be more active. Either way, I am sure that any disabled traveller that goes on holiday to Tenerife would find a way to have a great time.
By Srin Madipalli