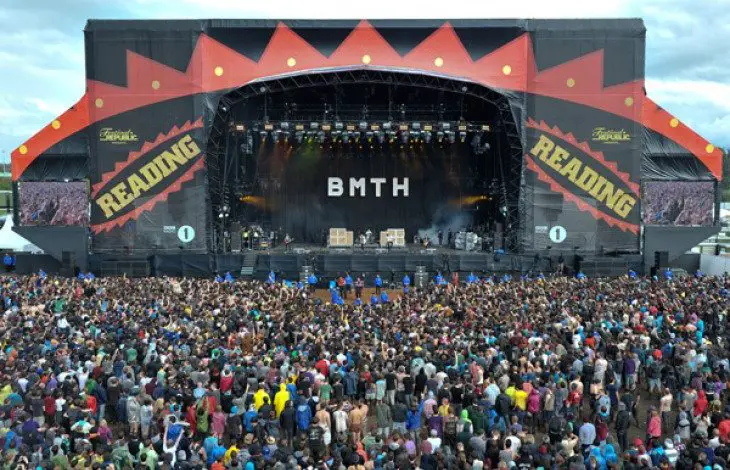 Lifestyle
Reading Festival: how accessible is it?
Summer festivals may seem a distant memory, but people are already planning next year's events; tickets for Glastonbury 2013 sold out in record time! To get you in the ready for the 2013 festival season, hear about wheelchair user Emma Purcell's first festival experience at Reading Festival.
My name is Emma Purcell, I'm 18 years old and I'm a student just going into my third year of A-Levels. This summer I had the opportunity to go to my first festival: Reading Festival.
As a disabled person, it takes a lot of preparation, organisation and patience to pull off an adventure like this. Not only do I have cerebral palsy but also a visual impairment. I lost my vision due to a virus in my eyes about ten years ago. However, neither has stopped me when it comes to my education and fulfilling my dreams, so it certainly wasn't going to stop me going to a festival!
Like with any festival, the first step is purchasing a ticket. I'm not sure how the system worked in previous years at Reading Festival, but this year they launched the '2 for 1 scheme' where you can get a free carer ticket or, as they called it, a PA Pass. You could only apply for the scheme during May – July 2012, and for this you needed to provide proof that you are entitled to the scheme, such as a Disability Living Allowance.
Unfortunately this scheme only covers one person accompanying the disabled person, therefore if there is more than two of you in your party, you'll have to negotiate who will accompany the disabled member in the disabled sections, such as viewing platforms.
Alternatively, if you wish to stay together, you can gather to watch performances from a distance on a big screen. But in my opinion this is rather unfair; we have a right to hang out with whomever we wish.
On the other hand, I do understand that there is limited space in the disabled areas and they need to keep them clean due to health and safety; but there should be a compromise. At one point my carer, who went to get some food, almost wasn't allowed back in because during that time the viewing platform began to get crowded. Luckily, she managed to regain entry, but it's clear the current system needs to be changed.
As the old saying goes "first come first served. "So my advice, if you're keen to see your favourite musicians and want the best seats, is to get there extra early. Even if it means waiting a while for the set to begin, I promise you it'll be totally worth it.
As for the view of the stages, due to my poor vision, I can't describe it exactly. However, from what I could see and from the reaction of other people, it was pretty spectacular.
Each stage has a viewing platform at the back designated for disabled people. It's approximately 6ft high and therefore at eye level with the stage. Fortunately, unlike other concerts and stage productions I've been to, the barrier is at a perfect height so the stage can be seen over it.
The security is also good; they're great at stopping people standing in front of you, making sure they sit on chairs, on the floor or stand at the back. The downside to this is that your carer has to sit elsewhere, which is tricky if you need assistance. Plus, when it gets busy it's harder to get off the platform. For that reason, I suggest that if you will need constant help then get there early to find space for your carer to sit with you and place yourselves somewhere that has easy access to leave if necessary.
Another thing to consider is arranging accommodation. For us, we opted to stay three nights in a hotel. There is a disabled campsite available, but due to my complex care routine, we thought the hotel would be a safer and easier choice.
If you feel a whole weekend would be too much, you can get a day ticket and pick which day suits you. Personally, I found a whole weekend more satisfying as we got to see a variety of different bands across the three days. Furthermore, it gave me more time to catch up with my friends.
Most importantly, a festival wouldn't be a festival without its music. I've enjoyed music from a very young age, but since losing my vision, I've begun to love and appreciate music even more. I like a variety of genres, although in the past eighteen months or so I've become interested in more rock and alternative music. As Reading Festival is known for its rock legends, I thought this was a perfect festival choice.
If someone asked me which my favourite band was, I couldn't possibly choose. I found Kaiser Chiefs a perfect sing-along act. Django Django had the most bizarre style and Foo Fighters had excellent stage presence and performed a magnificent closing performance.
As well as seeing favourite bands, it's a great chance to experience new artists. Stages such as Radio 1/NME and BBC Introducing showcase new and unknown bands who soon could become big stars.
When watching performances, I felt like I was in a different world. I loved the feeling of the vibrations going through my body. It felt like my heart was beating to the music.
Despite the fact I couldn't see the acts on the stage, I found the lighting brought an artistic quality to the performance. The different colours, patterns and movements went well with the beat, rhythm and notes of the music. Additionally, the fact that I was able to be part of the crowd and join in with the singing and cheering  was mesmerizing. Even when we were waiting for acts to come on, DJ's would play tracks so the crowd could sing along. It was like a never ending party.
Everyone has their hobbies (sport, art, reading etc). Mine is definitely music. Nothing should stop you enjoying your passions. Reading Festival was a magical time and I hope to experience more festivals like this in the future.
By Emma Purcell
Check out…
• Accessible festivals: bringing music to the masses.
• Disability and the media: music and song lyrics.
• XENI: fashionable clothing for disabled women.
Got a story to tell? Get in touch by emailing us at editor@disabilityhorizons.com, tweeting us at @DHorizons or messaging us on Facebook.