Every week, we'll be posting a selection of holiday rentals that have been posted to our new listing service, Accomable. So if you're looking for that perfect place to get away and have a break, take a look at some of these…
An accessible apartment near Barcelona
We are located at the base of the Natural Park of Montseny, in 1978, UNESCO included El Montseny in the MAB (Man and Biosphere) World Network of Biosphere Reserves.
Somlom is different from others hotels as we are specialists in health and wellness.
• Therapeutic: where you will find specialists in natural medicine, homeopathy, nutrition and dietetics, acupuncture, osteopathy, psychotherapy and psychology or speech therapy among others.
• Area of health and welfare: where you can enjoy a Finnish sauna and a wide variety of massages as Zero Balancing, Ayurvedic massage, lymphatic drainage, reflexology or shiatsu.
—————————————————————————————————————————————
The Merce Iaia, Masia Rural is the perfect choice for a relaxing holiday in the vicinity of L'Aldea and disconnect from the daily routine. Our house has everything you need to spend a few days off with maximum comfort and in a unique location. Our house has spacious rooms with terrace, television, air conditioning, heating, showers, and a variety of modern amenities that enliven their stay. Enjoy a weekend or a relaxing holiday has never been so easy and affordable.
—————————————————————————————————————————————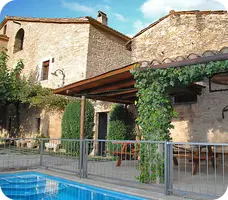 Traditional Catalan Villa with private pool
The whole villa is for a group from 12 up to 20 people, with eight beautiful bedrooms (one is adapted for disabled people), six bathrooms, a large kitchen – dinning room with a fireplace, a spacious living-room with TV satellite (international channels) and DVD, a reading room, a games room (a football table, a tennis table, another football table and games for children,…), a wellness room, internet-wifi…
Outside, there is a covered porch with a barbecue which is ideal for eating outside all year round, swings for children and a nice private swimming-pool with an hidromassage bench only for you, you don't have to share it.
—————————————————————————————————————————————
At the Barcelona Catedral Hotel we have thought of everything and in everybody. We have adapted rooms where the spaces and complements are in harmony with the needs of guests with reduced mobility.
The entrance to the swimming-pool and solarium has the necessary equipment for an easy access.
And best of all is that you can count with the special care of all the Barcelona Catedral's team, the best assistance you can have and, of course, accordingly to your needs.
—————————————————————————————————————————————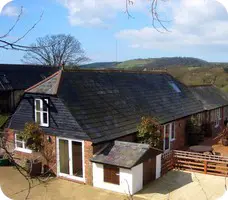 Luxury adapted barn, Isle of Wight
The property is fully accessible throughout with 4 bedrooms and 2 wet-room style bathrooms (one with fold down shower table). This large property sleeps 7 people.
Free wi-fi, washing machine, dishwasher and (metered) tumble drier.
Extra equipment, such as hoists, air mattresses, etc. available for hire by arrangement.
Hot tub hire can be arranged on request.
—————————————————————————————————————————————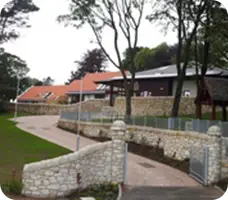 Four accessible, luxury, self catering lodges
Opened in September 2014, Lundin Links-based charity, Homelands Trust-Fife (SC027281), has four accessible, self catering lodges, specially designed and equipped to meet the needs of people with a range of disabilities.
The lodges are luxuriously furnished to a very high standard. Specialist equipment/ facilities available include ceiling tracking hoists, a wet floor shower room, profiling bed, airflow mattress, Clos-o-Mat toilet, riser/recliner chair, mobile hoists, various shower chairs, a shower trolley, and equipment for people who have a hearing loss.
—————————————————————————————————————————————
By Disability Horizons/Accomable
If you'd like to post a property, you can do this for free at Accomable.com.