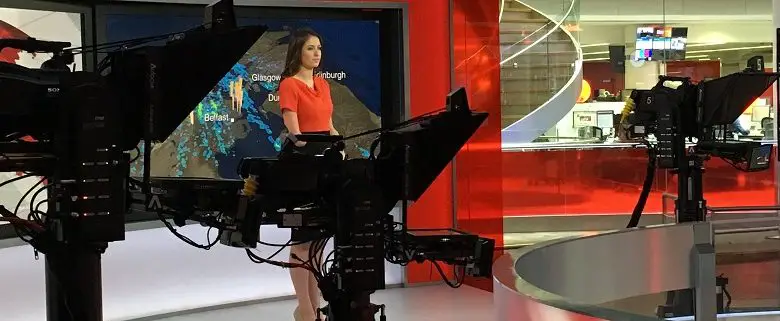 Lucy Martin, who was born without her right forearm and hand, is the first visibly disabled BBC weather presenter. In 2015, she took part in a BBC initiative that offered disabled people with a passion for weather and the environment the chance to learn about the job. Following a three-day workshop, Lucy was offered the opportunity to start training to be a weather presenter.
Our regular writer, Emma Purcell, interviewed Lucy to find out more about how she got the job, the highs and lows of presenting, and what impact her disability has had on her career and life.
What was it like for you growing up with your disability?
I was born with only one hand, so it is all I have ever known. It's therefore totally normal to me. Kids are really straightforward, so although I was frequently asked what had happened to my hand, that was usually the extent of it – they just saw me as Lucy.
I did everything that the kids around me were doing, and I never felt it held me back. I rode bikes, swam, played musical instruments and did lots of dance and drama. I was perhaps a bit over capable – in nursery, I used to tie the other children's shoelaces for them and cut up their lunches!
My family just expected me to would get on with things and not hide away. I think that helped my attitude to life a lot. We were also members of the charity Reach, which supports children with upper limb differences. It was great for me to be able to meet so many other children like me through the charity.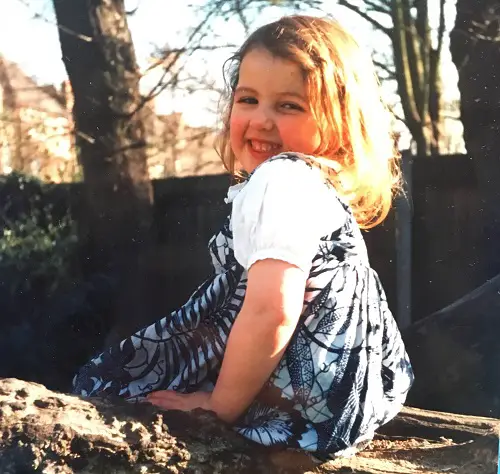 Have you ever tried or considered a prosthetic or bionic arm?
Yes, I have. It's advised that you get fitted for a prosthetic arm as soon as possible so that you can learn to use it as you grow. Because of this, my mum took me to get one as a baby. I have very vague memories of this, but I never really got on with it – my mum says I spent most of my time taking it off and putting it in the toy box.
In primary school, I was fitted with a movable prosthetic hand. Before taking it home, I had to go to appointments to learn how to use it. Once home, I took it to school and did a 'show and tell' of it to pretty much the whole school!
But, by the next day, I had decided I didn't want to take it to school again as it was too heavy and I felt I didn't need it.
What got you interested in weather/meteorology?
I have always been interested in the weather – I'm British! I also love geography and the variety and breadth of topics that come within it, so I decided to take a degree in it.
As part of my geography degree, I did meteorology. It's one of those subjects where the more you learn, the more you want to know.
---
Head to the Disability Horizons Shop to find stylish and practical solutions to everyday problems. 
---
How did you come across the BBC initiative and what was involved in the workshop?
I was at a school friend's house and her mum saw an advert from the BBC about the initiative. I didn't hesitate in applying. To my excitement, I was offered a space on a three-day workshop in July 2015.
The workshop was quite intense – there's a lot more involved in weather presenting than perhaps initially meets the eye. There were lots of different sessions, including voice coaching and storytelling. I meet with a mentor to help guide me through the day and tell me more about what the job is like. I also got to spend time with a make-up artist and be in the studio actually practising presenting.
When presenting the weather, you don't have autocue or a script, and you mostly use a green screen, so you have to get used to talking without being prompted and pointing at the right place!
Have you always wanted to be a weather presenter and found it hard to do so because of your disability?
Not really, if I'm honest. I always thought presenting looked great fun, but imagined I'd end up working in an office.
Weirdly, it's perhaps the reverse – my disability led me to the BBC initiative, and then I was lucky enough to be offered training. With a lot of hard work, I have ended up doing it fulltime.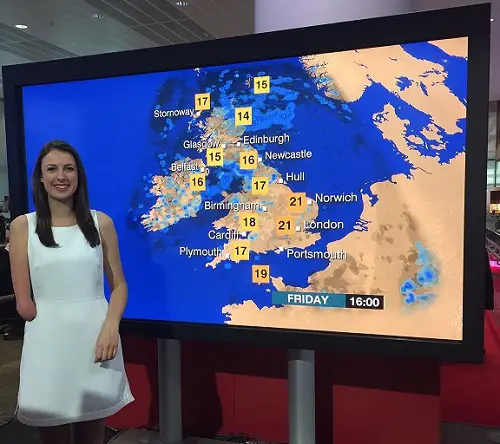 Have any viewers made comments on your disability?
Yes, I have had a real mix of comments, 99% of which have been positive. A lot of people have said that they find it inspiring or refreshing to see me on screen, and are supportive of what I'm doing. There has also been a lot of interest in what exactly happened to my hand.
Sadly, as always with a career in media, I have had a few nasty comments. But they have been few and far between.
How did it feel to be nominated for an Icon Award, which recognises people who champion diversity?
I was really chuffed to be nominated. I personally feel that, despite lots of good work to improve representation, disability is currently underrepresented on TV and in the media. I am really happy to be a part of changing that.
I have received lots of lovely messages of support from people saying that my work has had a positive impact on them or people they know, so to be nominated for an Icon Award by the public really solidified that.
Unfortunately, I couldn't attend the ceremony as it was my granny's 80th birthday and I couldn't miss that!
What is your least favourite thing about weather presenting?
The early starts! My alarm regularly goes off before 4am. Also, presenting is also a high-pressure job, which can be pretty exhausting and am not great at functioning on little sleep.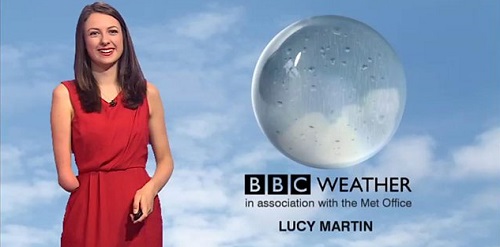 How do you see yourself going forward in your career?
I'm not really sure. I hoped to do the national forecasts and have been lucky enough to do so on occasion. I am very happy with where I am at the moment – I love presenting the weather and am learning new things every day. I didn't expect to be where I am, so I'm going to continue as I am and see what comes up next and where it takes me in the future.
To find out more about inclusive careers at the BBC for disabled people, visit the BBC's Extended Hub.
By Emma Purcell
More from Disability Horizons…
Get in touch by messaging us on Facebook, tweeting us @DHorizons, emailing us at editor@disabilityhorizons.com or leaving your comments below.