Wheelchair user Derry Felton has a spinal cord injury, which means he cannot move anything below his neck and requires the use of a ventilator for the majority of the day. But he's also an avid traveller who has visited a number of far-flung places across the world, including Paris, Sweeden and Spain. Here, he shares his experiences of accessing Vienna and Bratislava.
In the last few years, I have done quite a bit of travelling with various personal assistants from my care team. Before this trip, I had been to five countries with them. But, this time was a little different as my younger sister, who is a nurse, was coming with me.
When I go away I usually go for two to four nights in a European city. To maximise my time and see all the sights, I get as early a flight as possible and a late flight when returning.
We were flying from Gatwick, so a very early start was required. My three carers, sister and I were all at my house and ready to go at 4.30am. Getting up that early hasn't got any easier yet!
Travelling by plane to Vienna and Bratislava
We arrived at Gatwick and got all the luggage out of my van. For the first time, I decided to take my own hoist with me as it collapses and can be carried around relatively easy. When it was time to travel, we packed it all into another van to take us directly to the aeroplane.
But there was a problem. When we got to the plane, we were told that there was an issue with the hoist – security was not happy with the battery still being attached. Added to that, due to health and safety, none of my party was allowed to remove it and we were told couldn't board the flight.
We got back on the van and returned to the airport very disgruntled. We removed the battery but then had to wait for the five o'clock flight. Only another eight hours!
Eventually, it was time to board the plane – for real this time! We flew over to Vienna extremely tired, but still excited. Well, I was anyway!
When we landed I was packed into an aisle chair and wheeled out to a transporting van. A carer and my sister came with me. I was then transferred into my wheelchair and we were driven to the airport.
We were met by one of the airport's disability stewards, who led us to the car park where my wheelchair-accessible minibus was waiting. It was all a bit more straightforward than at Gatwick, thankfully!
Accessible Vienna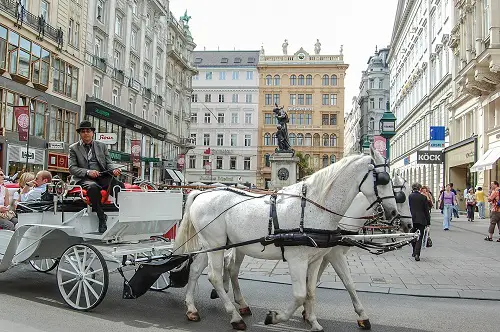 We were taken to the Pension Arenberg Hotel, which was a very unusual place to stay. It is in a multi-story building where a hotel, people who actually live in apartments and a couple of businesses are side-by-side! The rooms are very small, but they are okay if you are not planning on staying in much and going to explore the city as I did.
After unpacking our luggage, we went for a little walk and for a couple of drinks at a local bar to celebrate the fact that we had actually arrived. Tomorrow was going to be a busy day – I had a whole day to make up for!
Exploring Vienna
The following day I woke up early. There is a 5.3km route around the sights in Vienna called the Ringstrasse. Luckily, the hotel was right in the middle of it. Despite this, we actually ended up going the wrong way around it!
Parter amusement park
Happily, it meant we unintentionally arrived at a location I wanted to visit – the Prater amusement park. As it was November, the majority of the attractions were closed. But the main attraction was not – The Viennese Giant Ferris Wheel. It was erected in 1897, is 212 feet tall and is accessible for wheelchair users. Once on it, you can see the whole of Vienna. 
Vienna Central Park and Opera Theatre
After the thirty-minute ride, we got back on the Ringstrasse walk and headed for Vienna Central Park. It is a beautiful park with magnificent statues of famous composers. It also has flat paths all the way around, so is also accessible – bonus!
After this, we went over to have a look at the Vienna Opera Theatre. It looks incredibly grand from the outside, so I enquired about watching an opera. Unfortunately, all the wheelchair spaces were sold out – at least we know it has accessible seats.
Schonbrunn Palace
Unexpectedly, a man outside of the opera sold us tickets to watch one at the famous Schonbrunn Palace – so we snapped them up. To get there we took the underground. Every train is accessible from the rear, making it extremely easy to get where you need to go.
Once at Schonbrunn, we were led to the front of the hall by extremely helpful stewards. The accessible seats are near the front, so we had a great view. The opera was absolutely fantastic! 
There was so much to see at the Schonbrunn Palace that we went back there on my last day in Vienna. Its many gardens were opened to the public around 1779 and are a regular attraction for locals and tourists alike. It's accessible throughout and the staff were really helpful whenever we had a question or needed assistance.
The area is 1.2km from east to west and approximately one kilometre from north to south, so there are plenty of things to see. If you are visiting Vienna, this is a must see.
The Hofburg
Before we'd headed to the opera, we had some time to kill, so we walked to The Hofburg, one of the biggest palace complexes in the world and home to numerous museums. The oldest parts date back to the 13th century, with construction having continued right into the 20th century.
To access the building you have to position your wheelchair on a marked square on the ground and press a button, making it all start to rise. This puts you up to door height. Very cool.
St. Stephen's Cathedral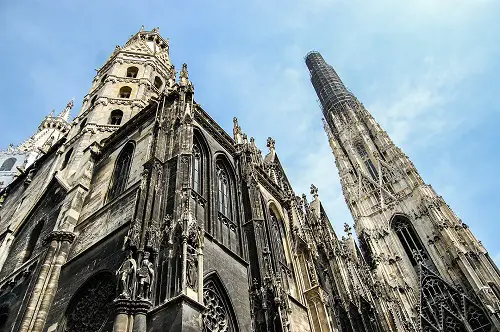 On our last day, after looking around the Schonbrunn Palace again, we had just enough time to visit St. Stephen's Cathedral. It is a beautiful building inside and out, is fully accessible to wheelchair users and attracts vast numbers of visitors every year. It was a nice way to spend our last few hours in Vienna.
Accessible Bratislava, Slovakia
During my time in Vienna, I decided to take a day trip to Bratislava in Slovakia as it only takes an hour by train. One of my carers also lives there, so was able to give my sister and me a guided tour.
Getting onto the train involved driving onto a small portable lift. which then raised me up to door level – similar to at The Hofburg. The train was accessible inside and the journey was extremely picturesque.
Once we arrived in Bratislava, we met with my carer who took us to all the major sights. To get around, we used a combination of trams and buses, which are free with a train ticket from Vienna to Bratislava. They were also all brilliantly accessible.
Bratislava Castle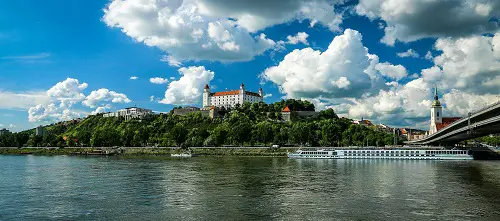 Out first stop of the day was the Bratislava Castle. It is absolutely amazing and looks out onto the Danube River. It wasn't open, so I don't know what it's like inside. It was still impressive to admire from the outside.
After having a look around, we headed into the old town, which was absolutely stunning. We stopped and had traditional Slovakian food, after which we went for a walk along the Danube River. The sun was setting, making it an amazing sight.
Bratislava Shopping Centre
We also visited the Bratislava Shopping Centre, a very accessible and modern centre, where we had a drink. 
All-in-all I had a great time, as did my sister. So much so that she'll be joining me on my next two holidays to Berlin and Copenhagen.
By Derry Felton
More on Disability Horizons…