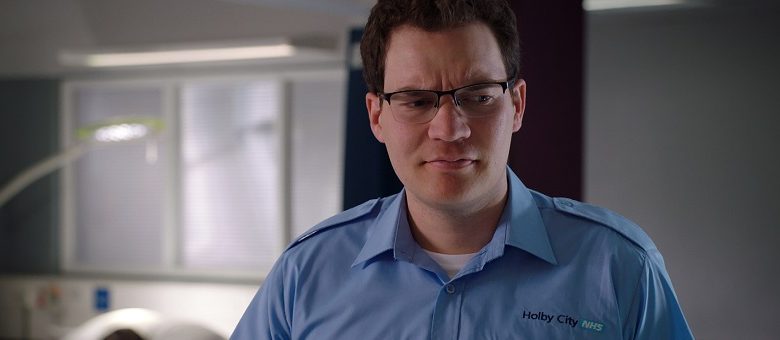 Jules Robertson is a 27-year-old actor from London, best known for playing autistic character, Jason Haynes, in the BBC medical drama, Holby City. Jules himself has Asperger's syndrome, a form of autism, a neuro-diverse disability that causes difficulties in social interactions and repetitive patterns of behaviour and interests. With a desire to act, his parents – author Kathy Lette and human rights barrister Geoffrey Robertson – discovered a theatre company called Access All Areas. It transformed his life.
Emma Purcell had the opportunity to interview Jules and find out more about what life is like with Asperger's and his successful acting career so far.
Jules Robertson on living with Asperger's
When were you diagnosed with Asperger's syndrome?
I was around three, I think. I don't really like labels. Mum always says that they're nothing more than something on the side of a jam jar. But having a diagnosis did help to point me in the right direction to get a better education and more understanding from teachers. However, during most of my time at school, I still just tried to make myself invisible.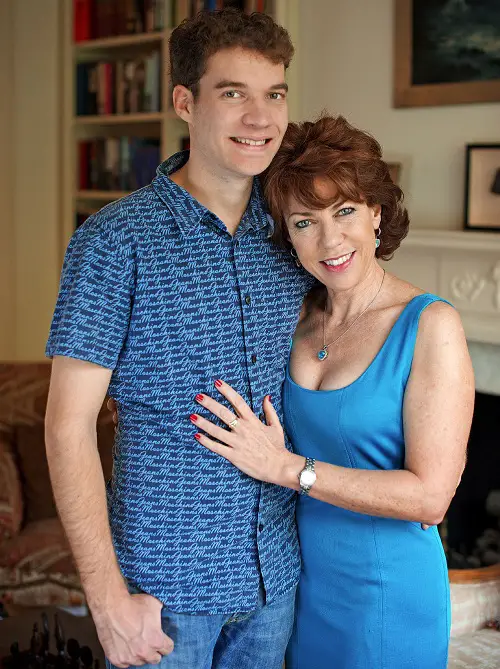 What was it like growing up with Asperger's? 
Well, I didn't really notice it. I didn't necessarily know that I had a condition because we didn't talk about it very much until I was quite a bit older.
But, when we finally did, it became challenging. Nobody ever talks about the upside of Asperger's syndrome. For me, the best thing about it is having a really good memory and remembering specific dates. For instance, when I meet people, I remember when it was, what day of the week it was, what they were wearing and what we talked about.
Because of my memory, mum doesn't even have a diary, she just asks me: "So, where was I on January 1st, 2007?"
It also means that I have a lot of passions – which tend to become obsessions – and drive to pursue. I love the theatre, tennis, cinema and music, and have numerous lists relating to them and remember detailed facts about them. Mum says that I'm like Wikipedia with a pulse.
I remember the formats of tennis matches and know all the tennis numbers and scores, from any game in the world. I used to dazzle teachers with my ability to write down the Wimbledon Final scores from memory. Remembering dates and numbers is always very comforting to me.
Then, later on, my obsessions grew to interests, I particularly like Shakespeare, the Beatles and now movies and actors. This special gift of memory is something that I'll be proud to have for the rest of my life. I'm not ashamed of it in any way – I don't think I should be.
I wish people would stop trying to make autistic people act normal and just let us be our best autistic selves.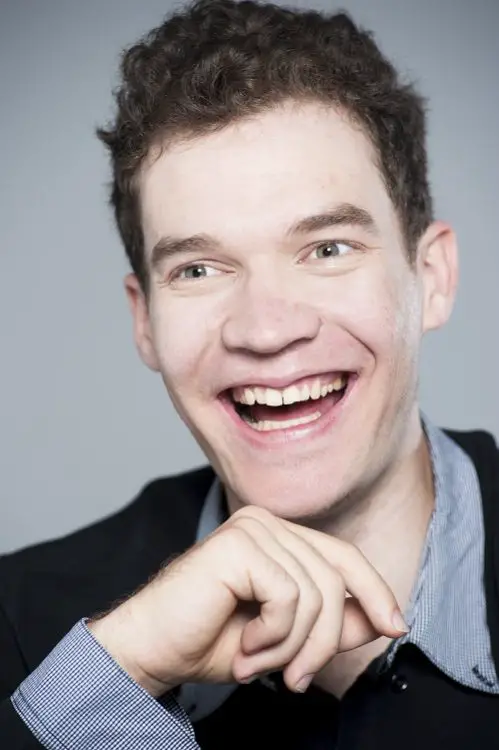 What is the most difficult thing about living with Asperger's?
I think the difficult thing is socialising and communicating with people. I sometimes feel socially awkward,  or don't know what to say, so end up saying the wrong thing. It can be really hard to be independent as well as everyday tasks, such as cooking and cleaning, are tricky.
Also, sometimes, when I don't see someone for a while, I can get silly thoughts about them that aren't true, so I like to keep myself occupied.
Jules Robertson as an actor
What inspired you to become an actor?
Probably watching movies with great actors. I used to think: "I'd like to be able to do something like that one day." So I enrolled in drama classes and really enjoyed the liberating feeling of being able to play someone else. It's a very exciting being able to play a character that isn't you.
When you think about it, autistic people are acting every day – acting at being 'normal', to fit in and not be anxious.
How did you feel enrolling in the Access All Areas theatre company and what was your highlight of being there?
I did a year-long course there in 2015 and, at the time, I thought it was really hard. But I had no idea that it would lead to something so great as Holby City and that my life would become more exciting from there.
There were some really fun things we did in the workshops. I did my Steve Martin show there, which was called 'Steve Martin and Me'. He's another obsession of mine. I had loads of posters of him on my wall as a child. I actually used to think he was my biological dad!
I have also always thought that Steve Martin looks a bit like a dolphin. So I had a pretend tennis match against an inflatable dolphin – marrying two of my obsessions. I'm such a good actor that my mum now wonders: "Gosh, I'm not sure! Did I have an affair with Steve Martin?"
Overall, I think that Access All Areas has been really helpful to me and without it, I wouldn't have got my Holby City audition or job. The way in which I havee progressed and worked up to where I am now has been a very interesting journey.
Jules Robertson and Holby City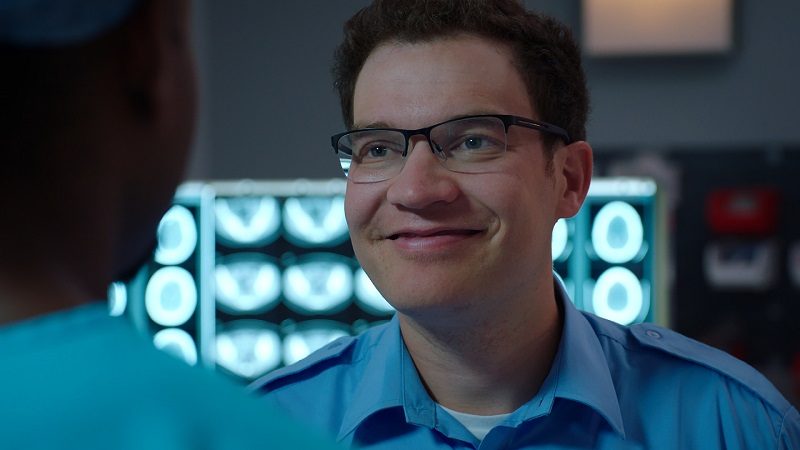 How did you get the role of Jason Haynes in Holby City?
Through Access All Areas. It's really incredible actually. It's all thanks to the producer, Simon Harper, who fought for an autistic actor to play the autistic character. Otherwise, it would have been another example of a non-disabled actor playing a disabled role, like Dustin Hoffman playing Rain Man.
What do you enjoy most about being in Holby City?
I really like the other actors and the people behind the scenes. The makeup team and camera crew are brilliant. We laugh a lot. It means that I love being on set. I love everything about it, actually. It's such a fun place to work.
Also, Catherine Russell, who plays Aunty Serena, is my true inspiration. She's a great actress and so good to work with. I've learnt a lot from her and I think our scenes have real authenticity and poignancy. I was nominated for a BAFTA, thanks to her.
What is it like playing a character with your disability and do you think you have similar characteristics to Jason?
It's really interesting playing a guy with the same condition, but with a different sort of Asperger's to myself. In some ways, we're very similar. I think we're both very matter of fact and straightforward. But, in many other ways, we're not. I think he's a bit more nerdy and geeky than I am.
I also wouldn't be able to hold down the responsibilities that he has; the baby, the wife and the difficult porter's job. I wouldn't be able to handle any of that myself. Mind you, Jason can't make as many jokes as I do or entertain the crowd with my superb renditions of Chicago and Jesus Christ Superstar. Clearly, he's not as humble either!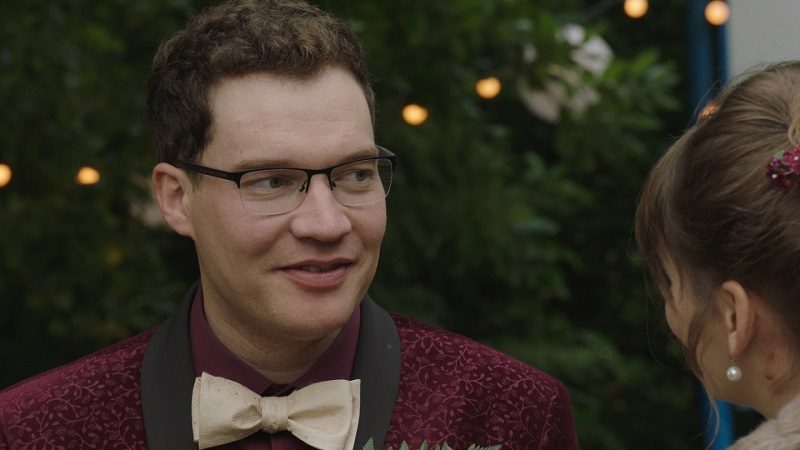 Do you think perceptions of autism have changed since you've been on Holby City?
Yes, I think Jason's character in Holby City has done more to take the stigma out of autism than a hundred dry documentaries. The audience sees Jason's real emotions and can relate to his problems. It makes them feel sympathetic, but also amused and intrigued by the way his brain works.
I even think that people working on Holby City have changed their mind about the abilities of people with autism. I've been able to show them that we are able and capable, as well as being fun and clever.
Does Jason have some exciting storylines coming up soon?
Yes I believe so, we'll be seeing how his marriage with Greta develops.
Jules Robertson's other acting roles
You also appeared in an episode of the ITV drama Endeavour. What was that experience like?
That was also really fun. My character was completely different from Jason. He was the president of the Oxford Union. We didn't see a lot of him, but it was still exciting. It was great filming in the Oxford debating hall.
I also had no idea that I'd work with Marcus Griffiths from Holby City again. We're clearly doing a trilogy together – Holby City, Endeavour… and I don't know what's next. We might do a movie together next time, a bromance comedy with lots of wisecracks.
Also, I just want to say thanks to the casting agent, Susie Parris, who was brave enough to think outside the neurological box.
Have you ever considered performing on stage or on the big screen?
Yes, of course. I'd love to be Judas in Jesus Christ Superstar – a very misunderstood man – and Billy Flynn in Chicago – the baddie you love to hate. Maybe Javert in Les Mis as well!
Do you plan to appear in any future roles this year?
I don't know what, but I would like to. I'd like to play the first autistic Hamlet. Clearly, Hamlet was on the spectrum, but not diagnosed. He's obsessive, anxious and emotionally stunted. He doesn't even notice that Ophelia is suicidal. I would love to play him as autistic.
Jules Robertson on employing people with autism
What would you say to employers about the benefits of employing people with autism?
Only 15% of people with autism are in the workforce, which is a much lower inclusion rate than other disabilities. With the right help and encouragement, autistic people can give back to society in the most enthralling and innovative ways, if people would just give us a chance.
What advice would you give to other disabled people who are seeking a career in acting?
Always believe that you can do it. There are going to be tough and challenging times, but just be yourself and do your best.
To find out more about Jules Robertson and get up to date news, follow him on Facebook. You can watch him on Holby City at 8pm on Tuesday on BBC One.
By Emma Purcell – follow her blog Rock For Disability.
More on Disability Horizons…