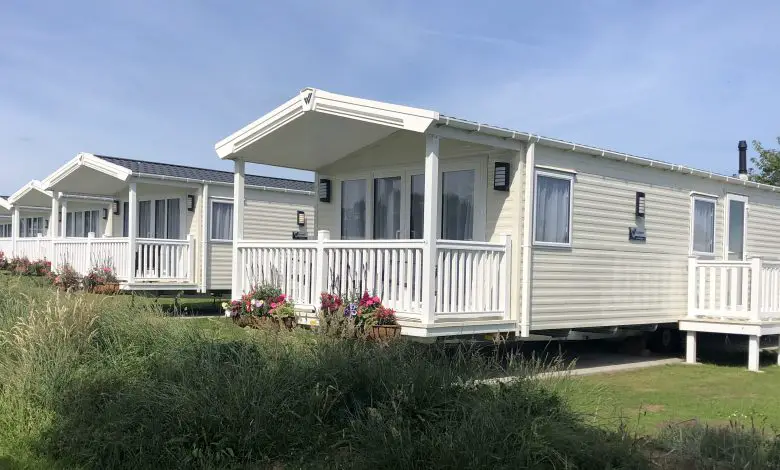 A new luxury, accessible caravan has opened at Belle Aire Holiday Park in Norfolk. We sent our writer, Emma Purcell, who uses a wheelchair and is partially sighted, to the holiday park to review the new caravan and check out everything else the park has to offer for a fun-filled holiday.
About Belle Aire Holiday Park
Belle Aire is a family-run holiday park based in the seaside village of Hemsby, on the east coast of Norfolk. It houses more than 300 chalets, 90 static caravans and is set in 20 acres of grounds.
For 2019, the park has refurbished and invested in more chalets and caravans, including a new luxury accessible caravan, which I was lucky enough to stay in for three nights.
Belle Aire Holiday Park's luxury accessible caravan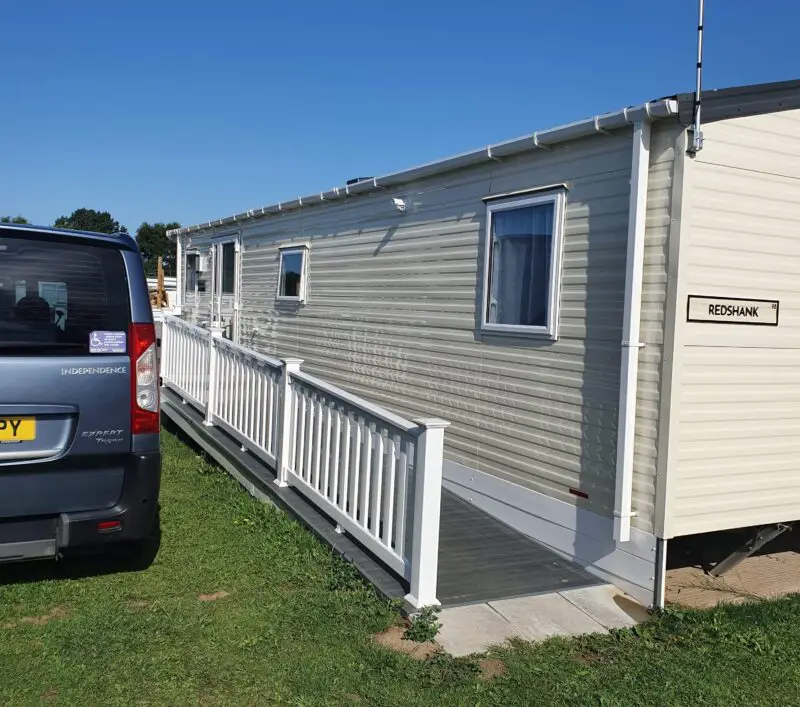 Redshank is the park's accessibly caravan for guests with disabilities. The luxury caravan is stylishly decorated and comes with central heating and double glazing as standard, so you shouldn't be as cold as some caravans.
It also has a fully-fitted kitchen and an en-suite cloakroom for the master bedroom. Lastly, there is a small south-facing balcony to enjoy the sunshine.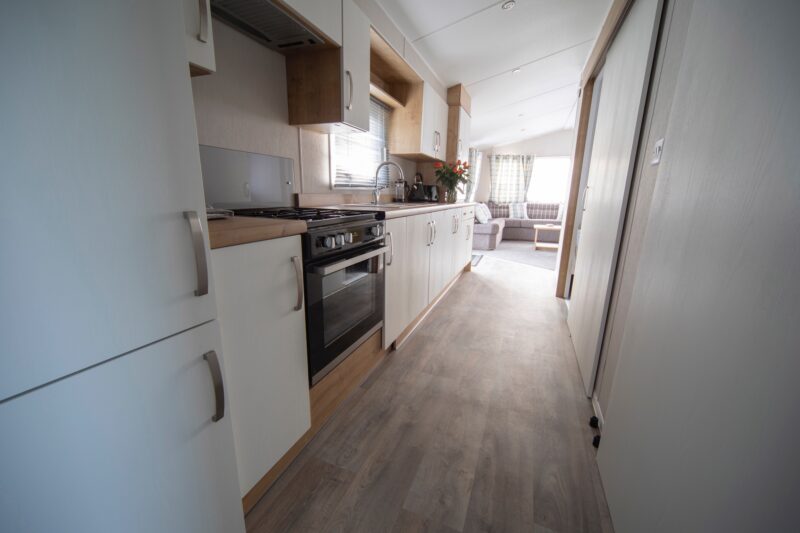 The accessibility features include:
accessible ramp

low-access threshold

wide-access galley kitchen

wide exterior door

wide sliding interior doors

two accessible twin bedrooms

one accessible WC with shower

adapted wetroom with fold-out seat and handles for showering with and without assistance.

self-hoist handle stored under the bed in the master bedroom.

guard rail for a bed (on request)

shower chair (on request)

v-shaped support pillows (on request)
Other caravan features include:
fully integrated and modern kitchen

70/30 fridge freezer

microwave

wi-Fi

flat-screen Smart TV

kitchen starter pack

flame-effect electric feature fireplace

towels and toiletries included (beach towels available for hire)

high thread count bed linen

hairdryer
Overall I was thoroughly impressed with the accessible caravan.
The outdoor ramp was easy to navigate and the front door is wide enough. However, it does have a slight bump as you go over the threshold in a wheelchair.
The lounge and kitchen are very spacious for a wheelchair. They house a reasonably-sized table, which you can use to eat and drink from or use your computer or tablet on.
There are several cupboards within the kitchen so you may need assistance accessing the oven, cooker or sink if you're in a wheelchair.
The wetroom is accessible and I was able to use the shower sitting in my shower chair – which I don't get to often do on holidays.
The only change I had to make was in my bedroom. The doorway is wide enough for my wheelchair, but as the foot of one of the bed faces the doorway, it doesn't leave much room for my wheelchair to get in. My friend managed to turn the bed 90 degrees so that the feet were facing against the sidewall, which then gave more room for me and my mobile hoist.
The bed did have a gap underneath it so that the legs of my hoist could go straight under without having to use bed feet raisers or books to prop the bed up. This was a real bonus as it's not something that's very common at holiday accommodation or in hotels, even if a room is labelled as 'accessible'.
Additionally, I also would like to praise the quality of lighting in the caravan. The lounge and kitchen area have these white spotlights across the ceiling, which was the perfect brightness at night time for my vision. Hopefully, this lighting will also benefit others with visual impairments.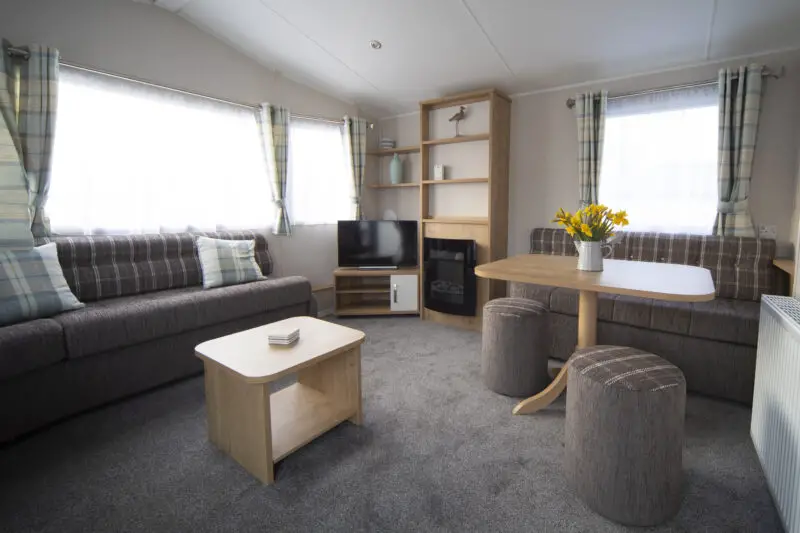 Belle Aire Holiday Park facilities, activities and entertainment
Belle Aire Holiday Park has a range of facilities, activities and entertainment that the whole family can enjoy.

The Club Belle is a bar, restaurant and performing space. It serves food and drink from 4.30pm and hosts a variety of live events for every age and taste. Entertainment includes karaoke, bingo, comedy acts, singers and musicians.
In terms of access, the main door is not particularly wide, but luckily my wheelchair managed to squeeze through. If you have a larger wheelchair, you may struggle. However, I believe there is a side door with a ramp available.
On the first night that we went to Club Belle we found that is was too crowded and there was nowhere suitable for us to sit. But the staff were great and reserved a table for me and my friend on the second night.
Unfortunately, mobility scooters are not allowed in Club Belle because it opposes a fire risk. I raised this issue with the owner Sally Burrell, who said that it is part of the fire regulations. But she assured me that they might consider changes in the future – meaning mobility scooters could enter without compromising health and safety.
Shop Belle is an on-site store that sells essential items such as milk, eggs and breakfast goods. It also stocks a range of gifts and souvenirs. Furthermore, there is a café that serves cooked and continental breakfasts, plus hot and cold drinks.
Unluckily for wheelchair users and people with mobility issues, there is a step to get into Shop Belle and the café. However, Belle Aire staff have informed me that they are in the process of fitting a ramp soon. Moreover, because I couldn't access the café. the staff allowed me to eat my breakfast in Club Belle.
The park also includes a children's play area, licensed bar and is dog-friendly.
Visiting Hemsby beach and Great Yarmouth
As well as activities inside Belle Aire Holiday Park, there are numerous places to explore outside too.
Hemsby beach is a five-minute walk from the park along Beach Road. On route to the beach, you will find plenty of amenities and attractions, from cafes and restaurants to arcades and bars. There are also typical seaside attractions, such as rides, games, go-karts and crazy golf.
To be honest, I didn't get a chance to try out any of these attractions, but from what my friend and I saw, most places looked reasonably accessible.
The pavements along Beach Road are quite narrow and crowded so, on some occasions, I drove my wheelchair down the side of the road instead.
Sadly, Hemsby beach is not very accessible. But it does have a bit of gravel at the top where we can look down at the view of the beach.
We also took a seven-mile drive south to Great Yarmouth beach, which was a lot more accessible. There are pavements along the seafront and ramps that take you down onto the sand.
However, I think my wheelchair would've just sunk into it. Luckily the beach does provide beach wheelchairs for hire, which are available from the Tourist Information Centre.
The beach also has plenty of cafes, restaurants, food stalls and gift shops. Again, I didn't explore all of it, but most of it looked reasonably accessible. The only downside was that we had to pay £4 for two hours of parking – regardless of having a Blue Badge.
Other recommended places by Belle Aire include:
Winterton beach

Horsey beach

Norfolk Broads (rivers and lakes)

Norwich
WATCH: Emma's highlights at Belle Aire Holiday Park, Norfolk 
Book your next break at Belle Aire Holiday Park
Lastly, I want to give a big thank you to everyone at Belle Aire Holiday Park for looking after us so well and taking my suggestions for accessibility improvements on board.
I would definitely say Belle Aire Holiday Park is perfect for families, particularly those of you who have disabled children or are disabled parents.
The cost to stay at Belle Aire Holiday Park varies on when you book and how many days you plan to stay. According to Sally Burrell, the average price is between £280 to £340.
To book your next break, visit the Belle Aire Holiday Park website or call on 01493 277020.
By Emma Purcell
Check out more of Emma's work by visiting her blog Rock For Disability
More on Disability Horizons…