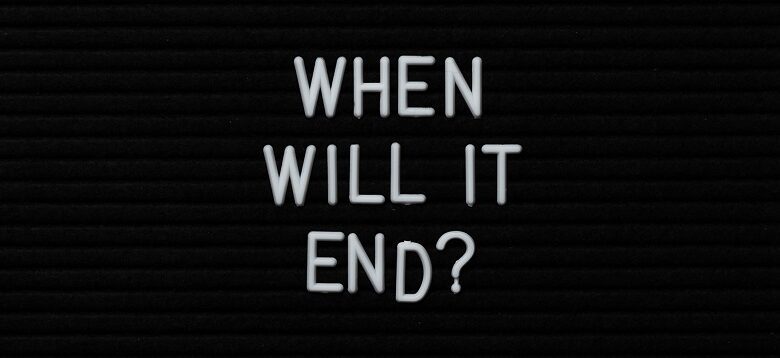 Wolf, a disabled blogger and traveller living in New Zealand, shares helpful information about the different stages of grief that many people are experiencing due to the Coronavirus pandemic. Our routines have completely changed, but Wolf explains how we can take control, where possible, to maintain healthy wellbeing.
At the moment no one is in control. People all over the world are in a holding pattern, a wait and see the situation. We simply don't know what's going to happen. Our fear of this uncertainty is evident. 
Our lives have changed. We are missing friends and family. Our comfort zone is reduced. We had to change our daily routine. We are grieving.
Grieving because of Covid-19
The illustration below shows the different stages of grief and is suitable for all sorts of situations. 
It is something that many of us experience at one time or another, and not just because of the loss of a person. It can be caused by acquiring or coming to terms with a disability – in my case the effects of my stroke – illness or a virus.
It is often caused by a significant change of lifestyle – and we as humans don't like change. 
To avoid misunderstandings, I want to make it very clear that there is no particular order. People also don't have to go through all stages, but we all go through some of them. 
Outside factors and a person's resilience influence how much time (or no time at all) one spends in different stages. It varies from individual to individual.
Denial
We don't like bad news. Is it surprising that we try to ignore it? It is understandable, particularly at the onset of this pandemic.
As natural as it is to deny something so unexpected and unbelievable, maintaining an open mind and looking at it rationally is essential in helping to adjust to our new way of life. 
Anger
This can range from mild frustration to domestic violence. Anger is a sign that the person does not deal well with the situation. Unfortunately, it is often directed at the person closest, when this might not be the intention.
Thankfully, these people often understand the most how we are feeling. Their support is what is going to carry you through these difficult times. Don't push them away. 
Bargaining
This means that whatever higher power a person believes in, they make promises in prayer. This could be something like: "Oh ……., if I don't get the Coronavirus, I promise I will never…"
Depression
There are always problems and negative thoughts floating around. But several little problems can grow into a big one, until it seems insurmountable.
When a problem arises, deal with it immediately. Don't carry negative thoughts around with you and, most of all, don't be too hard on yourself. It is also important to stick to a routine.
Acceptance
Accept change. Accepting also means you soften the blow. Like it or not, Covid-19 will, most likely, influence your life for a while. However, the restrictions we face at the moment pave the way to a better future. 
Stocktaking
This is where you take a step back from your life and look at it from a distance. Note what's good about your life and (be honest) about what's not so good or needs improvement.
Sure, there are inconveniences at the moment, but it could be worse. Most of us still enjoy the basics. Spare a thought for those refugees, for example, who had to endure the European winter without the most basic of necessities.
Adopting
Make the new circumstances your own. Don't fight them! Own them! Prepare to live with them! Now, you have a second chance.
Adapting
You are in control. You decide how you want to live post-corona.
We all have to learn how to live in the future. Yes, it is a challenge, but a good one. From here it can only get better.
By Wolfgang
You can find out more about Wolf's mentoring by visiting his website The Stroke Mentor. 
More on Disability Horizons…