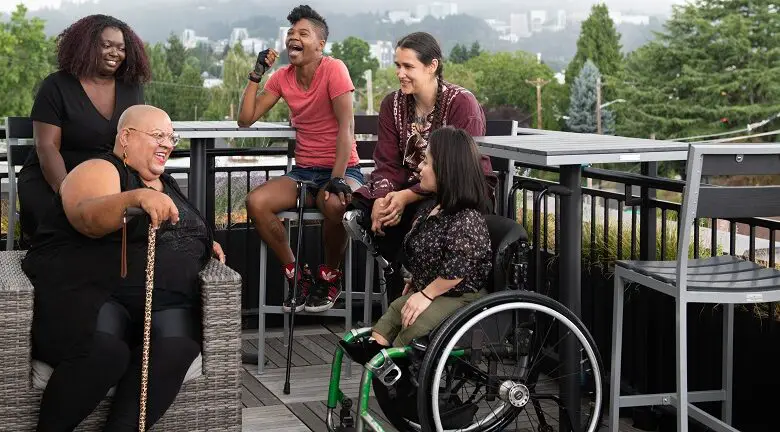 Mel Halacre is an integrative counsellor specialising in disability and trauma, which means that she draws on different theories to support her clients. Along with her partner Steve, who is physically disabled, she created Spokz People, a mental health service for disabled people and their families.
Today, she is launching the new Spoke Wellbeing Community and Programme to give more disabled people access to low-cost mental health services.
Here, we speak to Mel about how Spokz People started, how it differs from other forms of therapy, her relationship with Steve and the stigmas of having a disabled partner, and how the new platform can help you to improve your wellbeing.
As a champion of looking after your mental health and breaking the taboo around talking about it, we've proudly partnered with Spokz People to launch its new online wellbeing community and programme.
It enables disabled people and their families to work with a peer to improve their mental health and wellbeing. It includes information and tool kits on how to improve self-esteem and how to manage the many challenging situations being disabled brings.
There is also a forum, a chat room, regular live events and Q&As, and videos from disabled people, including The Last Leg presenter Alex Brooker, disability advocate Simon Minty, and our Co-founder Martyn Sibley.
Join the Spokz People Wellbeing Community and Platform now for £50 a year or £5 a month membership

. You can also get a one-month 

FREE 

trial to see how it can help you. 
Please can you tell us about your background and what made you decide to start Spokz People?
My partner Steve, who has a spinal cord injury, founded the company Spokz, which sells disability lifestyle, leisure and sports products aimed at enhancing physical, mental and sexual wellbeing.
When he first started it, I went with him to exhibitions, such as the Mobility Roadshow and Naidex. At the time, I was training to be a counsellor.
As we spoke to customers, we were reminded of how much of a focus there is on physical rehabilitation in the UK, but less so on wellbeing and mental health when living with a disability.
This is something that Steve himself has experienced, both personally and when working as a mentor for the charity Back-Up and as an independent living adviser.
Since the age of 10, he has been acutely aware of the additional challenges that come with a disability and maintaining wellbeing.
Since being with Steve, I too have had many experiences of feeling different and being in a minority group.
Both Steve and I have struggled at times with wellbeing due to living with a disability and have found it incredibly difficult to get the right support.
We have tried eight different therapists and none really understood disability. These experiences are what prompted us to create Spokz People in 2009.
We designed it so that our companies can offer a holistic approach to disability – Spokz offers disability aids and accessories and Spokz People offers wellbeing services.
Please tell us about Spokz People and the mental health services you provide.
At Spokz People, we have provided both support groups and one-to-one support, which includes therapy, but also psychoeducational information, coaching and advocacy.
The support we offer is very different from what you would get through NHS mental health services or private practitioners.
Most therapists aren't educated about working with disability. There is so little understanding of disability, disability theory and how society oppresses disabled people through its structures and how it is organised.
Therapists often think that they can work effectively with any disabled client without receiving additional training or supervision.
Disabled people are also often unaware of how little training therapists receive on disability and sadly still often have negative experiences when they do manage to find a therapist with an accessible venue.
This also means that few disabled people are able to train as therapists because of financial and access issues, so there are not yet enough voices on the inside advocating for change.
Over the years, we've been developing a disability-affirming therapy approach. It involves working in a more flexible way around the daily lives of disabled people and also more holistically. It includes coaching, psychoeducation and sometimes advocacy where needed.
We are passionate about taking it forward to train other therapists and improve access to helpful mental health and wellbeing services for disabled people and their families.
For 2022/23 we will be working on this by developing a training programme for therapists across the UK so that more people can benefit from 1-2-1 services.
We want to encourage equality in our society, and that includes equal access to the right wellbeing services. This is where the idea for our wellbeing community and programme came from.
What prompted you to start the Spoke People Wellbeing Community and Programme?
Over the years, we have seen that many disabled people struggle to afford one-to-one therapy due to being on low incomes.
In addition, being one of very few therapists trained specifically in therapy for disabled people, we were developing a waiting list – we simply didn't have enough time and resources to support all the people that needed it.
So, a few years ago, we started to consider how an online community platform could help open up options for many more disabled people.
There is a lot of research that says that peer support is as important as therapeutic support – sometimes even more important. For many of us, isolation is a key issue, and we hope to help address that through the community.
But it took a number of years to make this idea a reality as we had difficultly accessing funding. We soon realised that the structures that segregate disabled people in society also exist in funding circles.
Funders are unconsciously biased against engaging with disability unless it revolves around aids and equipment.
The only funding we consistently received was £10,000 a year from Awards For All. This enabled us to keep Spokz People running and sometimes offer 1-2-1 therapy at a reduced rate or even free. But this wasn't enough to help the number of people who needed our support.
Then, two years ago, the lottery agreed to fund the platform, enabling many more disabled people and their families to access wellbeing support tailored for living with a disability.
Find out more about the Spokz People Wellbeing Community and Programme to discover how it can help you.
What kind of live events/Q&As will you be hosting on the online community and can you share details of the first few coming up?
Initially, the live events will focus on supporting members to use the platform, explaining in more detail the reflections and exercises that are part of the programme. We also want to ask members to vote on what they would like us to cover in the first few live events.
When we have a sufficient number of members, we will be asking guests with experience of specific issues to join the live events, so that members can delve deeper into certain topics.
For example, we are already working on new chapters around pain and exercise. For this, we will ask a disabled therapist specialising in pain to share their story and ideas on how to manage this better.
We also hope to attract more disabled people with high profiles to share their personal journeys of mental health.
In addition to the wellbeing programme, which includes information, videos and activities, the platform also has a forum, group and one-to-one chat where members can talk amongst themselves as well as ask us for support and input.
We are also encouraging a buddy programme where people who are isolated can connect with another member to work through the programme together.
Improving our mental health and wellbeing is hard to do alone. It is far easier to make positive changes when you have someone you can talk to about progress and setbacks and to get new ideas on what to try next.
How and why did you partner with Disability Horizons?
We have known about Disability Horizons for many years and love the community it provides and the vast array of topics it discusses. We have also noticed that there has been more and more focus on mental health over the years as well.
Both Spokz and Spokz People are part of the Kandu Group – a group of ethical disability businesses and services – alongside Disability Horizons and several other disability organisations.
When Disability Horizons joined Kandu and we received lottery funding for the platform, it felt like an important partnership to pursue.
We can offer Disability Horizons' readers more in-depth support around mental health and wellbeing should they desire it, and Disability Horizons can help us to launch the platform and reach more disabled people.
On top of that, Martyn Sibley (Disability Horizons Co-founder) and Liz Ransome-Croker (its CEO) have been so enthusiastic about the partnership and volunteered their time to be interviewed for the peer videos.
We have thoroughly enjoyed talking to Liz and Martyn about mental health as they both see the value of self-care and utilising support when you need it. We hope that Disability Horizons' readers will enjoy and benefit from watching their videos in the Spokz People member area.
Long-term, both Spokz People and Disability Horizons are passionate about reducing the stigma around disability and mental health.
One day, we hope it won't be seen as a 'double whammy' of stigma, but instead, our society will recognise that how society treats disabled people and their family members is going to have an impact on our wellbeing.
As Jenny Morris said: "Perhaps mental health issues are normal when you are living in an insane world?" Our partnership will strengthen this message and also provide a stronger community where we all can be more real with each other.
What is the greatest mental health challenge you've faced personally as a person with a disabled partner and how have you managed/overcome it?
Personally, Steve and I have struggled with managing the juggling act that living with a disability brings. We run two businesses, attend medical assessments and home school our child. We have always approached disability as a family unit, as much as we can together.
Due to my childhood experiences of trauma, I developed hypervigilance, which means I am less resilient to chronic stress.
As most of us know, living with and disability brings daily microaggressions or micro-traumas (we discuss this in the wellbeing programme), so this wasn't a great combination for me.
My training in disability and trauma also helped me to find more healthy ways to manage these daily microaggressions better and reduce stress.
Steve and I have worked on our communication and understanding of each side of the coin as a disabled person and as a partner.
Depending on your relationship, partners also experience discrimination, stigma and daily thoughtless or ignorant comments by members of the public. I have struggled with the isolation that came from this. Meeting other couples living with a disability was a breath of fresh air.
I know that for Steve, one of his biggest challenges has been around managing anger and frustration from living with a disability and the daily micro-aggression.
He has spent a lot of time learning about how his childhood experiences impact how he deals with current challenges. This has helped him to find better ways to manage and maintain good mental health.
What advice would you give to disabled people dealing with mental health problems?
The key message I have often given people who first contact our service is that needing emotional support does not mean you are 'crazy'.
Surprisingly,  this is one of the first questions I am often asked and indicates how much we are aware of this 'double whammy' of stigma I mentioned earlier.
My response is that humans struggle with one major change in our life, for example, divorce or moving house. Living with a disability, whether you are disabled from birth or later on, often involves major changes in lots of areas at once and it is normal and OK to need support.
The other key message is around silencing. For so many of us, Steve and I included, there are very few spaces where we feel heard and understood, where we feel we can be real and share our experiences.
Sometimes this repetitive rejection also means that we silence ourselves, pre-empting rejection. You can be surrounded by people and yet feel very isolated.
Maintaining good mental health as a disabled person or family member is all about finding belonging in the disability community. This sounds counter-productive, especially for those who became disabled later in life.
For most of us, our initial response is to not engage with the disability community, to not want to meet other disabled people as on some (usually unconscious) level we feel it may increase our stigma.
But research shows that the more we actually identify with and find belonging in our minority group(s), the more we can build resilience against the challenges out there in society.
Finding the right people that we can be open and honest with about all the ups and downs is vital if we want to live a life that is meaningful, real and has more connection, love, joy and personal growth.
Our new community provides this space, learning and sharing together and giving those who are isolated the opportunity to connect with a buddy or peer to support them as a look at the changes they would like to make in their wellbeing. We look forward to welcoming everybody.
Go to our mental health support page to find out more about Spokz People and how to sign up for the wellbeing community and programme, as well as the membership fees and a one-month FREE trial to see how it can help you. You can also follow Spokz People on Facebook or Twitter. 
As a partner of Spokz People and this new online platform, Disability Horizons will take a small percentage of the money made after costs are paid for. This will cover our promotion of the platform, now at the launch and on an ongoing basis.
As a small and largely voluntary-run organisation, looking to become fully sustainable and pay more disabled people, partnerships like this will help to secure our future. 
Interview by Disability Horizons 
More on Disability Horizons…