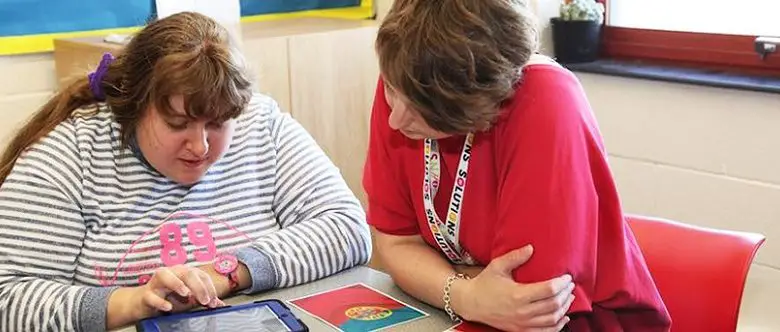 The Jumblies Project is sensory theatre experience, imagined and created by students with a range of learning difficulties from St. John's School and College in Brighton. Regular Disability Horizons writer, Raya AlJadir, speaks to the school to find out more.
Could you tell Disability Horizons readers about St. John's School and College?
St. John's is a special educational needs school and college, as well as registered charity, based in Seaford and Brighton.
We support, educate and care for young people, aged 7 to 25, who have complex learning disabilities and special needs. We currently have more than 100 learners with autistic spectrum conditions, Down's Syndrome, Asperger's Syndrome, rare diagnoses and severe communication difficulties.
Our many personalised programmes cater for young people whose learning needs are often too complex for a mainstream educational system to be able to support. We offer these young people the chance to gain independence and practical work experience. We give them a chance to become part of their local community and develop the skills and opportunities necessary to lead happy, fulfilled lives.
What is The Jumblies Project and how did the idea for it come about?
Based on the classic poem The Jumblies by Edward Lear, where the characters sail off to see in a sieve, we're creating an immersive sensory theatre event to be performed at the Brighton Fringe Festival (starting this week) and Brighton Digital Festival.
In collaboration with Spectral Spaces and OptiMusic, we'll be using the latest in immersive theatre technology, cutting edge audio and visual elements, and good old-fashioned theatre and story-telling to reimagine the Jumblies' journey.
We've been using this poem at St. John's for a little while now to enable learning. So why do we like it? Well for a start it's daft fun. I mean, who goes to sea in a sieve?
Secondly, it has a sea theme – and we are based by the sea – so it gives us some great opportunities to play with the sounds and sights of travelling the stormy seas. Thirdly, it has great repetition of certain phrases, sibilance and words, such as sea, sieve, green, blue and so on, which is great for learning.
How will the project benefit your students and what exactly is involved?
At the college, there are some fundamental areas in which we work to support and stretch our students, including their communication and problem-solving skills.
Using our new immersive OptiMusic theatre, we will be able to create meaningful interactions within the story that enable all our learners to participate in the performance. This can be anything from triggering an audio-visual event, reciting parts of the poem to just being an audience member and triggering subtle background actions using an iPad.
Our learners will be involved in all aspects of the production. Anyone can contribute to making original artwork, creating sound effects and music, and our more technically minded students will be able to get involved in some of the programming and prototyping of the interactions.
What obstacles, if any, have you encountered throughout the project?
Initially, our biggest obstacle was being able to attract funding, which we needed to enable us to work with Spectral Spaces. Thankfully, our message – that we want to continue to meet the needs of our learners in new and innovative ways – hit home, and we've raised more than £5,400 to date.
Another obstacle was getting buy-in from teaching staff at the school. The project is an ambitious one that has inevitably required commitment from our music and drama teachers. Thankfully, they are both fully on board.
The obstacle we are yet to face, which I think will be exciting, is to see what demand there is for it once we've completed the project and done an initial showcase. Our intention is to make it something that other schools, colleges and SEN providers can take and use in their own settings. We want this to be as accessible as possible, and sometimes that means physically going to others rather than them coming to you.
What do you hope the project will achieve?
First and foremost, I hope that the learners are proud of what they have already achieved and have had a lot of fun taking part.
I hope that we will then be able to take what we have created on the road, as we would love for as many people as possible to experience this project.
I also hope that it will showcase what happens when you use the talent that exists within an organisation. This project really is a huge example of why collaboration is so important and how it can be so effective.
What other projects are you currently working on and what is your vision for the future?
My vision for the future is to continue to develop opportunities for collaborative projects, to promote the voice of our learners in the local, national and international communities.
We're looking to work with local groups within other countries around the world, specifically those where access to specialist education is limited or non-existent, on projects like this one.
We want to enable our learners to meet people from other parts of the world and other cultures, and to understand the needs of others who may not have access to the same resources they do. We would fundraise and send the technology needed, (dependent on the infrastructure available), to be able to facilitate the project so that both sides can perform it.
You can see The Jumblies Project performed at the Brighton Fringe Festival, which is on from the 5th May to 4th June 2017, and the Brighton Digital Festival, which runs from the 15th September to the 13th October.
If you would like to offer more support to the project, visit The Jumblies Project fundraising page, its blog thejumbliesproject.wordpress.com, or follow The Jumbles Project on Twitter.
You can also find out more about St. John's School and College by visiting its website.
By Raya AlJadir