The physical and mental benefits of regular exercise are well documented. If you're disabled, incorporating regular and appropriate exercise can help with many health conditions, while keeping you supple and active, improving your mood and wellbeing. And, depending on the type of activity, there's the added social element too.
That's why we've asked Able magazine to share its article on how to incorporate exercises into your daily life to help you get fit and stay healthy.
Video created using Invideo.io.
One problem with new fitness regimes is that they can be hard to stick to. So, to ensure your new goals will last the distance, it's important to be realistic and choose activities that you'll enjoy and that you can easily incorporate into your daily routine. Here's how…
1. Start slowly with exercises that will suit you
If you've lots of ideas bubbling up, you may accidentally make your decision too complicated or ambitious. Stripping it back to a few simple goals will help you to practically work out how to achieve them.
It's particularly important to be realistic if you've not exercised for a while or have limited mobility. It can be exciting to pick a big goal, such as signing up for a half-marathon. But if it's not achievable or feels too large you can quickly get overwhelmed (and disheartened).
The NHS recommends at least 150 minutes of exercise a week to boost your health and wellbeing. Break this down and it comes in at around 20 minutes a day, or 30 minutes a day, with weekends off.
So, whether it's as simple as using meditation apps on your smartphone or trying a new exercise class, incorporating some regular exercise or activity into your life is a good enough place to start.
It can also make a massive difference over time. Regular exercise can help protect against a range of health conditions, including stroke, heart disease, diabetes and cancer as well as helping you to be more mentally resilient and happier.
2. Give healthy habits a helping hand
It takes a little while to create a new 'get active' habit. It's, therefore, a good idea to start with small, healthy changes to your day-to-day, instead of introducing sweeping fitness reforms that could clash with your essential routine.
The way to start is to look at your typical day and see where exercise could be naturally introduced. Why not:
walk the children to school;

park your car further away in the supermarket car park;

get up and change the TV channel instead of using the remote;

use stairs if you can, instead of a lift in the department store;

take a daily stroll to the local shop to get your bread instead of saving it for the big weekly food delivery;

or do some simple stretching in the kitchen while you wait for the washing machine to finish and so on?
Getting active each day can be the sum of shorter bursts of activity that all add up.
3. Create an exercise routine
You could also boost your daily activity by adding some simple but effective exercises that can be slotted into your routine, without the need for expensive equipment. The following are just some of the possible exercises you could do at home.
Deep breathing – a few conscious deep breathing sessions a day are great for relaxation and can even help with pain management.
Seated leg raises – with your feet flat on the floor, slowly raise both legs until they are straight out in front. Hold for a few seconds then lower to the ground.
Sit to stand – from a seated position, tilt your body forward slightly and push yourself up with your legs to a standing position. Slowly lower back into your seat.
Arm stretches – this is great for your posture. Sit on the edge of a chair and pull your shoulders back and down. Extend your arms out to your sides and push your chest forward until you feel a nice stretch. Hold for 10 seconds, release and repeat.
Body twist – sitting in your seat, cross your arms across your chest and then slowly twist your upper body to the left, hold for fi ve seconds, then repeat to the right.
Seated triceps dip – in your chair or wheelchair, hold onto the arms and push yourself up until your arms are fully extended, then lower yourself back down.
Seated shoulder press – using hand weights (you could also use tins of beans or water-filled plastic containers), hold them either side of your head with arms bent and then push upwards until your hands meet in the middle. Bring back and repeat.
Cardio boosts – time outside is good for both body and mind, so check out your local park for wheelchair or mobility friendly routes. Or take a look at an organised route – visit Park Run for events near to you.
For more exercises to do at home, visit: https://www.nhs.uk/live-well/exercise/sitting-exercises/
4. Don't do it alone
There's nothing like doubling up with a friend for extra motivation. It means you are more likely to keep going if you have an exercise buddy you don't want to let down.
But joining classes or groups is also a great way to find new friendships, widen the range of activities you do and set continual fitness goals.
Look at the activities you like doing – perhaps swimming, dancing or enjoying the great outdoors – and find a local group you can join. Or make an effort to get to know other people in your exercise class at the gym and make it a social meet-up too.
You could also look for new twists on your usual routine – wheelchair line-dancing for example – and book yourself onto a class. Contact your local sports centre for guidance on suitable activities and groups in your area.
5. Go large
To turn your fitness goals into an integral part of your life, you need to keep yourself nicely challenged. So once the seeds of regular daily activity have taken hold and your confidence and fitness are improving, you may want to start setting your sights higher.
Some of your favourite activities could be the way to go, by looking at joining a local sports team or club to enjoyably build on your already significant achievements. Swimming, weightlifting, walking, running, wheelchair exercise classes and dancing are just some of the activities that could take you and your fitness goals to a whole new level and make your new fitness goals a long-term lifestyle.
For information on sports clubs and teams for disabled people, visit the 'find a club or activity' section on the Parasport website. 
We'd love to hear about how you stay fit and active. Share your tips with our community by leaving your comments below, messaging us on Facebook or tweeting us @DHorizons.
Able magazine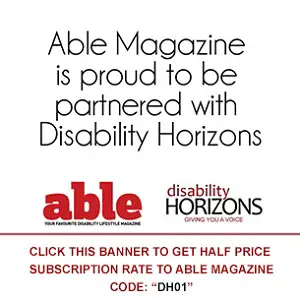 This year marks 25 years since the first issue of Able magazine rolled off the press. Able magazine has been a leading contributor and analyst regarding 'What disabled people can do, not what they can't'.
To keep the celebration vibe going throughout their silver jubilee, it'll be treating readers to great giveaway prizes every month until the end of 2019 and will be putting together a very special 25th Anniversary Edition for its May/June 2019 issue. Find out more about Able's Silver Jubilee on its website.
Our partnership with Able magazine means that you can get 50% off the price of the subscription – simply use the code DH01.
By Alison Dando