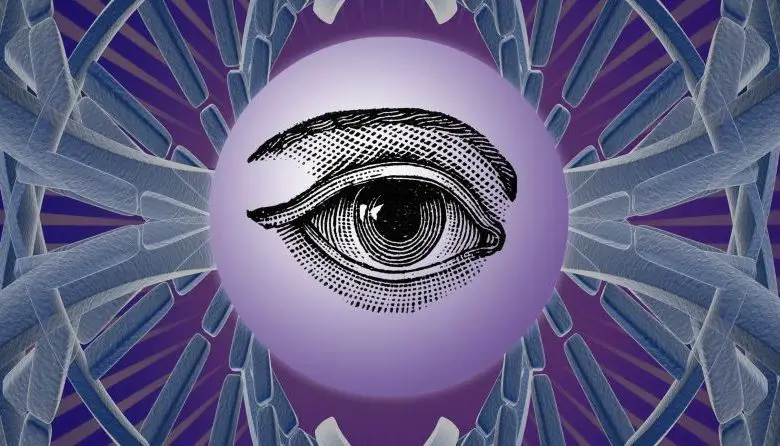 New play 21st Century Dinosaurs, which looks at the attitudes towards visual impairments, is opening this coming week and we're offering two tickets to the lucky winners of our Twitter competition. Read on to learn more about the play and how to enter.
Does the idea of genetic science conjure up visions of nightmare or perfection? Is an entire society about to be engineered out of existence?
Four performers, all with genetic visual impairments, will challenge preconceptions in 21st Century Dinosaurs, an exciting new multimedia theatre production with light, sound, music and video, from Chris Tally Evans, who is himself visually impaired.
Funny and tragic real-life stories ride alongside genetic science on a tropical island where 10% of people are colour-blind and an original view of Muslim women smash together. It's an adventure in vision. Worlds collide, and so do the actors.
21st Century Dinosaurs also explores attitudes towards blind Muslim women, a facet brought to the production by emerging actor and writer Nureen Naz and has an exciting new musical score by VI/deaf composer Lloyd Coleman.
One of the performers involved in the production is visually impaired actor, Lyn Street. Lyn says;
For me, being a part of 21st Century Dinosaurs is a fantastic, once-in-a-lifetime opportunity. I've been invited into a new, exciting and challenging world – a very different world from that of my everyday working life. And yet, I have a sense of having come home or rediscovered something I'd lost. I acted quite a bit in my 20s and lately I've felt younger, more alive, less tethered.
I am loving being part of the whole creative process. It's amazing to see how Chris has melded our stories, ideas and interactions together. In addition, passages from The Island of the Colour Blind (a book that explores the idea of all society being totally colour-blind) and medical texts have been weaved together to create a multi-layered, cleverly plaited play. And as we go into the ten days rehearsals, I can't wait to hone it further, and to experience the music, videos, lighting and atmosphere.
Back in 1983 I went on a residential drama course whose theme was the circus. I stood on really, really tall stilts, was part of a human pyramid and rode around the ring on the shoulders of the man who was riding the uni-cycle.  It was great fun, exciting and at times, like when I was told that I couldn't get down off the stilts until I'd dared to let go of the instructor's hands for at least a split second, palm-sweatingly scary!
I didn't run away with that circus, but there's a part of me that feels it would be a wonderful experience to run away with this one, at least for a while to exchange ideas for stages and performances. After all, both performances demonstrate two halves of the same very important whole – communication.
21st Century Dinosaurs is at 7.30pm, 27th, 28th, 29th March
Chapter Arts Centre, Cardiff
Box Office: 029 2030 4400
All performances will be audio described and BSL interpreted.
For more information visit Chris Tally Evan's website or Chapter.org.
To enter the competition to win two tickets (as well as a personal assistant ticket for both parties, if applicable) you will need to follow @DHorizons on Twitter and retweet one of our specified competition tweet: RT & follow @DHorizons to #WIN 2 tickets to see new multimedia play, 21st Century Dinosaurs, about visual impairments https://disabilityhorizons.com/2014/03/win-tickets-see-new-multimedia-play-21st-century-dinosaurs/#sthash.Auon1X4T.dpuf
The deadline will be on Monday 24th March at 5pm and the winner will be picked at random from those who are following @DHorizons and that have retweeted the competition tweet.
Once we announce the winner, please direct message us your email address over Twitter and we'll be in touch to find out where to send the tickets.
The tickets will be non-transferable. Should the winner no longer be able to attend the event, Disability Horizons reserves the right to hold the competition again.
Good luck!
By Disability Horizons
Check out…
Do you know of a new play or TV show that the Disability Horizons readers would be interested in? Then get in touch by emailing us at editor@disabilityhorizons.com, messaging us on Facebook, tweeting us @DHorizons or leaving your comments below.